Top Ten Smart Money Moves – Feb. 24, 2016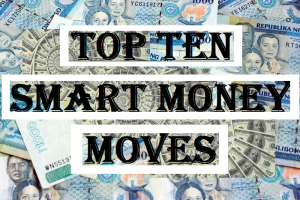 Top Ten Smart Money
Moves, starting January 2015, is the official trading
newsletter of The Responsible Trader
to promote
his advocacy, Responsible Trading
. This newsletter contains the previous day's data from PSE, the Top Ten Foreign Buying
and Selling, Top Ten in Total Traded
Value, including Trading
Notes based on the data of the previous day. This newsletter is given free to all the friends of The Responsible Trader
and to members of the Facebook group and the other organizations where he is a member. For the previous issue where complete details about the newsletter was fully discussed, please refer to: Daily Top Tens October 17, 2014.
Trading Notes for Today –  (Based on Feb.24, 2016  Data)
Total Traded Value –  PhP 5.139 Billion –  Low
Market Breadth and Sentiment indicated by Advances Declines Ratio – (Ideal is 2:1 to be considered Bullish or Bearish) 103 Declines vs. 71 Advances = 1.45:1  Neutral
Total Foreign Buying – PhP 2.738 Billion
Total Foreign Selling – (Php 3.160) Billion
Net Foreign Buying (Selling) – (Php 0.422)  Billion – 1st day of Net Foreign Selling  after a day of Net Foreign Buying
Data from the Philippine Stock Exchange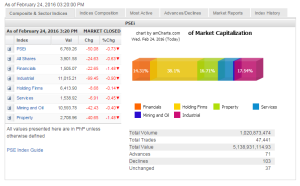 Screenshot courtesy of: www.pse.com.ph
PSE Heat Map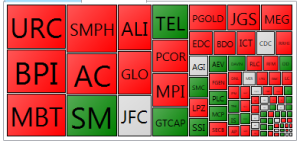 Screenshot courtesy of: PSEGET Software
Top Ten Foreign Buying
and Selling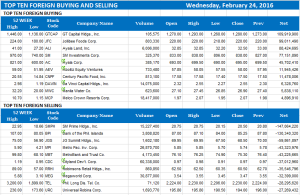 Top Ten in Total Traded
Value

From now on, I will just quote the related article from Business World so that we will have everything in one piece:
==================================================
Posted on February 24, 2016 08:11:00 PM
By Krista A. M. Montealegre, Senior Reporter
Stocks decline anew on yuan fix, oil price slump
STOCKS TREKKED lower yesterday ahead of a holiday, taking a hit from the lower fixing of the Chinese yuan and the overnight weakness in Wall Street following the drop in oil prices.
The benchmark Philippine Stock Exchange index (PSEi) tumbled 50.08 points or 0.73% to close at 6,769.26.
The all-shares index lost 24.63 points or 0.62% to 3,901.58.
"The Dow [Jones Industrial Average] was down again after Saudi Arabia denied production cuts. That has implications on us through our exposure in the Middle East," Alexander Adrian O. Tiu, senior equity analyst at AB Capital Securities, Inc., said in a telephone interview.
US benchmark indices sank more than 1% on Tuesday night after Saudi Arabia's oil minister Ali bin Ibrahim Al-Naimi dashed hopes for production cuts in the future to curb a global supply glut, sending oil prices — already trading at their lowest level in 12 years — lower.
"Yet again, adding to investors' woes was the People's Bank of China's action — cutting the yuan fixing rate to its lowest since Feb. 5 and reports showing previous efforts failed to prevent outflows last month," Justino B. Calaycay, Jr., head of marketing and research at A&A Securities, Inc., said in a report.
After a period of relative calm in global markets, concerns on the health of the world's second-largest economy were revived after China's central bank surprisingly softened the reference rate for the yuan.
All counters finished in the red. Financials shed 22.65 points or 1.48% to 1,505.07 and property slid 40.65 points or 1.47% to 2,708.96, leading the stock market's losses. Likewise, industrial fell 99.45 points or 0.89% to 11,015.21; services dipped 6.91 points or 0.44% to 1,538.92; mining and oil declined 42.43 points or 0.39% to 10,593.78; and holding firms went down 8.68 points or 0.13% to 6,413.90.
Value turnover thinned to P5.14 billion after 1.02 billion shares changed hands, from Tuesday's P12.56 billion.
Losers beat gainers, 103 to 71, while 37 issues were flat.
Net foreign selling came in at P421.84 million, a reversal of the previous session's net purchases worth P49.99 million.
Meanwhile, the local bourse announced in a statement yesterday that the component firms of the PSEi will remain unchanged based on the result of the regular index composition review covering the trading period of January 2015 to December 2015.
"Our recent review has shown that the top 30 companies in the main index have satisfied the PSE's criteria on free float level, liquidity and market capitalization that made them eligible to retain their membership in the PSEi," PSE President and Chief Executive Officer Hans B. Sicat was quoted as saying.
The PSEi is comprised of the country's 30 most traded, most liquid and well-capitalized listed firms.
Source: http://www.bworldonline.com/content.php?section=StockMarket&title=stocks-decline-anew-on-yuan-fix-oil-price-slump&id=123565
==================================================
Good
luck on all your TRADES
today
.
DISCLAIMER There is a very high degree of risk involved in TRADING
. Past results
are not indicative of future returns
. Nothing contained in this newsletter constitutes a solicitation, recommendation, PROMOTION
or endorsement of any security. In accordance with the Responsible TRADER
's Creed: I will never tell and you take full
responsibility for all your TRADING
results
NOTES:
Please take note of the following changes effective August 6, 2015:
1. Caption Market Breadth has been changed to Total Traded Value to simplify the presentation.
2. Market Breadth is expressed in terms of Number of Advances and Declines. Expressing this as a Ratio by using the larger number as Numerator we derive the Market Sentiment whether Bullish or Bearish.
3. Based on Past three-year data of Average Total Traded Values, following classifications will be used to make the presentation more relevant to present times. a. Low – Total Traded Value less than P8 Billion b. Medium – Total Traded Value P8 Billion but not more than P15 Billion c. High – Total Traded Value more than P15 Billion