Top Ten Smart Money Moves – Feb. 26, 2016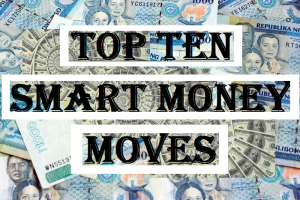 Top Ten Smart Money
Moves, starting January 2015, is the official trading
newsletter of The Responsible Trader
to promote
his advocacy, Responsible Trading
. This newsletter contains the previous day's data from PSE, the Top Ten Foreign Buying
and Selling, Top Ten in Total Traded
Value, including Trading
Notes based on the data of the previous day. This newsletter is given free to all the friends of The Responsible Trader
and to members of the Facebook group and the other organizations where he is a member. For the previous issue where complete details about the newsletter was fully discussed, please refer to: Daily Top Tens October 17, 2014.
Trading Notes for Today –  (Based on Feb.26, 2016  Data)
Total Traded Value –  PhP 6.458 Billion –  Low
Market Breadth and Sentiment indicated by Advances Declines Ratio – (Ideal is 2:1 to be considered Bullish or Bearish) 94 Advances vs. 83 Declines  = 1.13:1  Neutral
Total Foreign Buying – PhP 3.465 Billion
Total Foreign Selling – (Php 4.167) Billion
Net Foreign Buying (Selling) – (Php 0.702)  Billion – 2nd day of Net Foreign Selling  after a day of Net Foreign Buying
Data from the Philippine Stock Exchange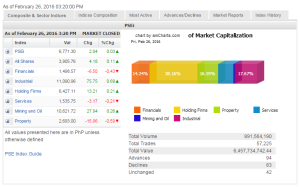 Screenshot courtesy of: www.pse.com.ph
PSE Heat Map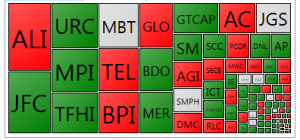 Screenshot courtesy of: PSEGET Software
Top Ten Foreign Buying
and Selling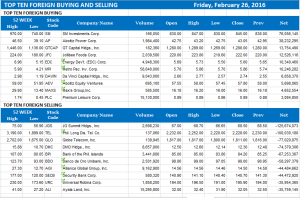 Top Ten in Total Traded
Value

From now on, I will just quote the related article from Business World so that we will have everything in one piece:
==================================================
Posted on February 28, 2016 05:11:00 PM
By Krista A.M. Montealegre, Senior Reporter
Selling likely as uncertainty dampens sentiment
STOCKS may be vulnerable to selling pressure as the bellwether index hovers around the strong resistance line and external concerns continue to cast a dark cloud on investor sentiment.
The benchmark Philippine Stock Exchange index (PSEi) slipped 20.76 points or 0.31% for the week to end at 6,771.30 on persistent worries on a global oil glut.
"Further consolidation is expected from the index this week as 100-day moving average at 6,850 continues to put pressure on prices. Weaker momentum readings increases the chance of a downward reaction back to previous support points," Luis A. Limlingan, business development head at Regina Capital Development Corp.
Bearish sentiment may come from the US market after its fourth-quarter gross domestic product growth was revised upward to 1% from 0.7%, bolstering the case for an interest rate hike ahead of the Federal Reserve's policy meeting on Mar. 16.
The spotlight will be on the non-farm payrolls data due Friday as well as reports on manufacturing and services for hints on the US central bank's next policy action.
"So far, concerns have eased but we're not out of the woods yet. Uncertainties remain and they will still be a factor moving forward," Lexter A. Azurin, head of research at Unicapital Securities, Inc., said in a phone interview.
After wild price swings at the start of the year, the PSEi has enjoyed a relative period of calm in the past several weeks highlighted by "narrower volatility," as prices seem to "'respect' technically defined support levels almost as equally it has validated resistance points,'" Justino B. Calaycay, Jr., head of marketing and research at A&A Securities, Inc., said in a report.
So far, the local barometer is up 2.76% this month, poised to take back some of the losses incurred in January and trim the equities market's year-to-date negative return which peaked at 12.45%.
The recent strength of local equities can be partly attributed to expectations of a resilient domestic economy and better corporate earnings results, analysts said.
"Earnings are quite significant. We're gonna see if these companies have managed to outperform despite the outlook for the global economy," Unicapital Securities' Mr. Azurin said.
The PSEi may have risen above the 6,550 bear market line and the short-term trend may be positive, but the local market remains locked in a general downtrend over the medium-term view, A&A Securities' Mr. Calaycay said.
"While the long-term trend is still positive with the 2009 bull line still intact (it has to make a sustained close below 5,700 to emit a stronger bear warning), the undercurrents in the short- and medium-term lines cannot simply be brushed aside," the analyst noted in the market report.
Source: http://www.bworldonline.com/content.php?section=StockMarket&title=selling-likely-as-uncertainty-dampens-sentiment&id=123706
==================================================
Good
luck on all your TRADES
today
.
DISCLAIMER There is a very high degree of risk involved in TRADING
. Past results
are not indicative of future returns
. Nothing contained in this newsletter constitutes a solicitation, recommendation, PROMOTION
or endorsement of any security. In accordance with the Responsible TRADER
's Creed: I will never tell and you take full
responsibility for all your TRADING
results
NOTES:
Please take note of the following changes effective August 6, 2015:
1. Caption Market Breadth has been changed to Total Traded Value to simplify the presentation.
2. Market Breadth is expressed in terms of Number of Advances and Declines. Expressing this as a Ratio by using the larger number as Numerator we derive the Market Sentiment whether Bullish or Bearish.
3. Based on Past three-year data of Average Total Traded Values, following classifications will be used to make the presentation more relevant to present times. a. Low – Total Traded Value less than P8 Billion b. Medium – Total Traded Value P8 Billion but not more than P15 Billion c. High – Total Traded Value more than P15 Billion