Top Ten Smart Money Moves – February 14, 2017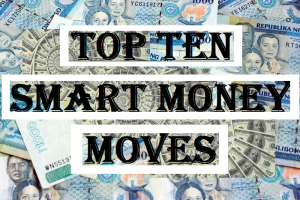 Top Ten Smart Money Moves, starting January 2015, is the official trading newsletter of The Responsible Trader to promote his advocacy, Responsible Trading. This newsletter contains the previous day's data from PSE, the Top Ten Foreign Buying and Selling, Top Ten in Total Traded Value, including Trading Notes based on the data of the previous day. This newsletter is given free to all the friends of The Responsible Trader and to members of the Facebook group and the other organizations where he is a member. For the previous issue where complete details about the newsletter was fully discussed, please refer to: Daily Top Tens October 17, 2014.
Trading Notes for Today –  (Based on February 14, 2017  Data)
Total Traded Value –  PhP  7.301 Billion – Low
Advances Declines Ratio – (Ideal is 2:1)   100 Declines vs. 95 Advances     = 1.05:1  Neutral
Total Foreign Buying – PhP 3.352  Billion
Total Foreign Selling – (PhP  3.942  Billion)
Net Foreign Buying (Selling) – (PhP  0.590  Billion) – 7th day of Net Foreign Selling after a day of  Net Foreign Buying
Data from the Philippine Stock Exchange
Screenshot courtesy of: www.pse.com.ph
PSE HEAT MAP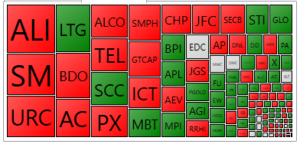 Screenshot courtesy of PSEGET
Top Ten Foreign Buying and Selling
Top Ten in Total Traded Value
From now on, I will just quote the related article from Business World so that we will have everything in one piece:
==================================================
Stocks fall as caution prevails ahead of Yellen
Posted on February 15, 2017
STOCKS tumbled on Tuesday as they took their cue from stock markets in the region, which were pulled down by earnings data at a time when investors are anxious over US monetary policy.
The Philippine Stock Exchange index (PSEi) gave up 87.83 points or 1.20% to close at 7,206.84, with all sectoral counters closing significantly lower.
"Philippine shares fell along with the rest of Asia as investors took their cue from earnings regionally, and awaited more announcements from [fiscal year 2016]," said Luis A. Limlingan, business development head at Regina Capital Development Corp.
Japanese shares also ran into trouble after Toshiba Corp. delayed an anxiously awaited earnings release, including details of a multibillion-dollar charge related to cost overruns at its US nuclear arm.
The Nikkei slipped 0.7% as Toshiba shed more than 8% under the weight of sell orders.
Mining and oil shares led the losers with a 2.66% fall or 327.52 points to 11,952.06.
The mining sector was the "biggest loser," according to Mr. Limlingan, after the recent announcement from the Department of Environment and Natural Resources (DENR) that it would cancel mineral sharing agreements.
Among the companies that disclosed receiving notice of cancellation of their mineral production sharing agreement was a unit of Marcventures Holdings, Inc. The order cited the mining operations of Marcventures Mining and Development Corp. as having impaired the functions of the watershed. Non-compliance to seedling planting was included in the order.
Benguet Corp. also received a similar order for the operation of its nickel project in Zambales under BC Nickel Mines, Inc. The unit plans to file an appeal for reconsideration to hold the cancellation order.
Next to mining, the property sector was the trading day's top loser with a 1.66% loss or 56.01 points to 3,306.82. Services followed, slipping by 1.18% or 17 points to 1,413.54.
A total of 100 issues declined yesterday, 95 advanced, while 44 stocks closed unchanged. Value turnover reached P7.30 billion from P5.86 billion the other day.
The day ended with a net selling of shares worth P590.85 million or more than three times the previous day's P163.04 million.
Outside the country, China's inflation rate in January came out at 2.5% year on year, or higher than market expectations and faster than the rate in December.
"This drove speculation as how and when the monetary board would tighten policy," Mr. Limlingan said.
"The biggest news item as to why markets are steering away would be later tonight, when Federal Reserve Chair Janet Yellen will appear before the Senate Banking Committee to deliver the Fed's semi-annual Monetary Policy Report to Congress and answer questions from lawmakers," he added. — Victor V. Saulon and Reuters
Source: http://www.bworldonline.com/content.php?section=StockMarket&title=stocks-fall-as-caution-prevails-ahead-of-yellen&id=140658
==================================================
We aim to continue promoting financial literacy on the area of stock market trading and investing to our countrymen both here and abroad through the following:
1. The Book: "The Responsible Trader – a Thinking Person's Guide for Trading the Philippine Stock Market" now earned the name "The Bible of Philippine Trading." You can download Chapter 1, Section 1 of the book here: http://theresponsibletrader.com/the-responsible-trader-hope-for-trading-knowledge-test/.
As requested by those abroad and those who want the book in digital form, we have produced an eBook version. For those interested please send email to: ninjatrader19@gmail.com Subject: The Responsible Trader – eBook Version.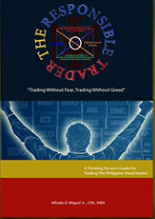 2. The Website: :http://www.theresponsibletrader.com where we publish our daily newsletter Top Ten Smart Money Moves, Stock Trading Lessons, and Inspirational Materials. (FREE)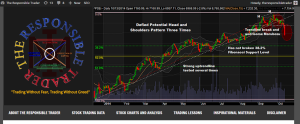 3. The YouTube Channel: https://www.youtube.com/theresponsibletrader – where you can learn the course "Master's Certificate in Technical Analysis" which was simplified in an easily understood manner. You can download these videos and learn them at your own convenient time. (FREE)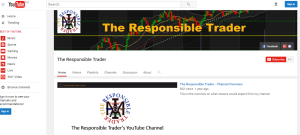 4. My Slideshare: http://www.slideshare.net/TheResponsibleTrader – where you can view and download copy of the Powerpoint Presentation of my TRT-POV (The Responsible Trader's Point of View) of the videos posted in our Youtube Channel. (FREE)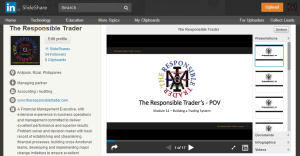 ===================================================
Good luck on all your TRADES today.
DISCLAIMER There is a very high degree of risk involved in TRADING. Past results are not indicative of future returns. Nothing contained in this newsletter constitutes a solicitation, recommendation, PROMOTION or endorsement of any security. In accordance with the Responsible TRADER's Creed: I will never tell and you take full responsibility for all your TRADING results
NOTES: Please take note of the following changes effective August 6, 2015: 1. Caption Market Breadth has been changed to Total Traded Value to simplify the presentation. 2. Market Breadth is expressed in terms of Number of Advances and Declines. Expressing this as a Ratio by using the larger number as Numerator we derive the Market Sentiment whether Bullish or Bearish. 3. Based on Past three-year data of Average Total Traded Values, following classifications will be used to make the presentation more relevant to present times. a. Low – Total Traded Value less than PhP 8 Billion b. Medium – Total Traded Value Php 8 Billion but not more than P15 Billion c. High – Total Traded Value more than Php 15 Billion