Top Ten Smart Money Moves – February 21, 2017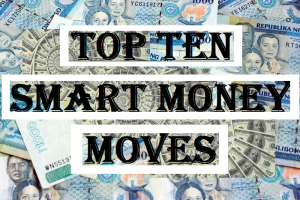 Top Ten Smart Money Moves, starting January 2015, is the official trading newsletter of The Responsible Trader to promote his advocacy, Responsible Trading. This newsletter contains the previous day's data from PSE, the Top Ten Foreign Buying and Selling, Top Ten in Total Traded Value, including Trading Notes based on the data of the previous day. This newsletter is given free to all the friends of The Responsible Trader and to members of the Facebook group and the other organizations where he is a member. For the previous issue where complete details about the newsletter was fully discussed, please refer to: Daily Top Tens October 17, 2014.
Trading Notes for Today –  (Based on February 21, 2017  Data)
Total Traded Value –  PhP  5.726 Billion – Low
Advances Declines Ratio – (Ideal is 2:1)   111 Declines vs. 85 Advances vs.  = 1.31:1  Neutral
Total Foreign Buying – PhP 2.742  Billion
Total Foreign Selling – (PhP  3.300  Billion)
Net Foreign Buying (Selling) – (PhP  0.558)  Billion – 3rd day of Net Foreign Selling after a day of Net Foreign Buying
Data from the Philippine Stock Exchange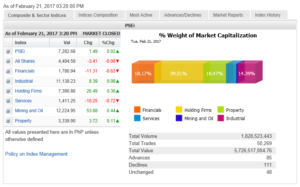 Screenshot courtesy of: www.pse.com.ph
PSE HEAT MAP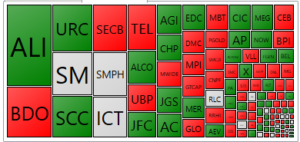 Screenshot courtesy of PSEGET
Top Ten Foreign Buying and Selling
Top Ten in Total Traded Value
From now on, I will just quote the related article from Business World so that we will have everything in one piece:
==================================================
PSE index barely changed amid lack of fresh leads
Posted on February 22, 2017
THE Philippine Stock Exchange index (PSEi) managed to eke out some gains on Tuesday in a trading session that lacked strong market movers.
The bellwether index inched higher by 1.49 points or 0.02% to close at 7,282.68 yesterday.
On the other hand, the broader all shares index gave up 3.41 points or 0.07% to close at 4,404.59.
"Spending most of the day under, the PSEi needed a last-minute surge to close the session in positive territory," said Justino B. Calaycay, Jr., head of marketing and research at A&A Securities, Inc., in a trading post yesterday, with gains minimal, or "statistically flat."
"Most sectors were in the green," Mr. Calaycay said, but noted that market breadth continues to be negative. Four out of six sectoral counters closed positively yesterday. More issues declined at 111, compared with 85 that advanced, while 48 stocks closed unchanged.
Value turnover slightly improved to P5.73 billion on Tuesday from P5.61 billion the other day, as trade volume increased to 1.83 billion shares, up 20% from Monday's 1.53 billion.
The mining and oil counter led sectoral gainers yesterday, rising by 0.44% or 53.68 points to 12,224.95.
Mr. Calaycay said that despite the controversies surrounding the Department of Environment and Natural Resources' (DENR) recent closure and suspension orders, Global Ferronickel Holdings, Inc. continues to negotiate and close supply contracts.
"Despite this good news from the corporate front, we remain cautious on the mining sector in general, which continues to face regulatory risks. Not particularly so on entities which fall under the umbrella of the DENR's recent orders," he said.
Holding firms also gained 0.36% or 26.49 points to 7,390.86; property rose by 0.11% or 3.72 points to 3,339.90; and industrials added 0.07% or 8.39 points to 11,139.23.
On the other hand, services dropped 0.72% or 10.25 points to 1,411.25 and financials went down by 0.62% or 11.31 points to 1,786.94.
Foreigners continued their exit to yield a net selling of P558.18 million worth of stocks, higher than Monday's P393.85-million net outflow.
Mr. Calaycay placed the PSEi's support level at 7,170 and its declining resistance over the next days at 7,240.
"If it breaks above the resistance mark accompanied by a spike in value turnover, say at least 1.2 times the averages, the PSEi could be en route to a target level of close to 8,000 — 300 points above our most optimistic forecast level for the year," the analyst said.
However, if the index breaks the support, it could fall below 6,400, he said.
Southeast Asian stock markets, except Vietnam and Indonesia, were tepid on Tuesday tracking Asian markets which were steady on a lack of global cues, with US markets closed for the Presidents' Day holiday on Monday. — Victor V. Saulon with Reuters
Source: http://www.bworldonline.com/content.php?section=StockMarket&title=pse-index-barely-changed-amid-lack-of-fresh-leads&id=141045
==================================================
We aim to continue promoting financial literacy on the area of stock market trading and investing to our countrymen both here and abroad through the following:
1. The Book: "The Responsible Trader – a Thinking Person's Guide for Trading the Philippine Stock Market" now earned the name "The Bible of Philippine Trading." You can download Chapter 1, Section 1 of the book here: http://theresponsibletrader.com/the-responsible-trader-hope-for-trading-knowledge-test/.
As requested by those abroad and those who want the book in digital form, we have produced an eBook version. For those interested please send email to: ninjatrader19@gmail.com Subject: The Responsible Trader – eBook Version.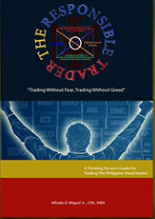 2. The Website: :http://www.theresponsibletrader.com where we publish our daily newsletter Top Ten Smart Money Moves, Stock Trading Lessons, and Inspirational Materials. (FREE)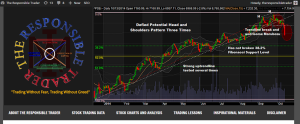 3. The YouTube Channel: https://www.youtube.com/theresponsibletrader – where you can learn the course "Master's Certificate in Technical Analysis" which was simplified in an easily understood manner. You can download these videos and learn them at your own convenient time. (FREE)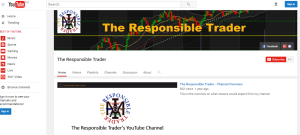 4. My Slideshare: http://www.slideshare.net/TheResponsibleTrader – where you can view and download copy of the Powerpoint Presentation of my TRT-POV (The Responsible Trader's Point of View) of the videos posted in our Youtube Channel. (FREE)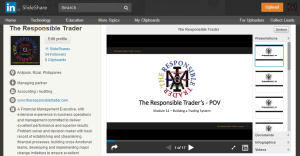 ===================================================
Good luck on all your TRADES today.
DISCLAIMER There is a very high degree of risk involved in TRADING. Past results are not indicative of future returns. Nothing contained in this newsletter constitutes a solicitation, recommendation, PROMOTION or endorsement of any security. In accordance with the Responsible TRADER's Creed: I will never tell and you take full responsibility for all your TRADING results
NOTES: Please take note of the following changes effective August 6, 2015: 1. Caption Market Breadth has been changed to Total Traded Value to simplify the presentation. 2. Market Breadth is expressed in terms of Number of Advances and Declines. Expressing this as a Ratio by using the larger number as Numerator we derive the Market Sentiment whether Bullish or Bearish. 3. Based on Past three-year data of Average Total Traded Values, following classifications will be used to make the presentation more relevant to present times. a. Low – Total Traded Value less than PhP 8 Billion b. Medium – Total Traded Value Php 8 Billion but not more than P15 Billion c. High – Total Traded Value more than Php 15 Billion