Top Ten Smart Money Moves – Jan. 20, 2016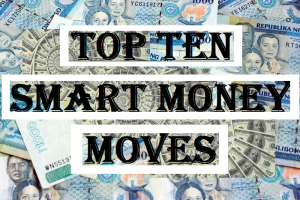 Top Ten Smart Money
Moves, starting January 2015, is the official trading
newsletter of The Responsible Trader
to promote
his advocacy, Responsible Trading
. This newsletter contains the previous day's data from PSE, the Top Ten Foreign Buying
and Selling, Top Ten in Total Traded
Value, including Trading
Notes based on the data of the previous day. This newsletter is given free to all the friends of The Responsible Trader
and to members of the Facebook group and the other organizations where he is a member. For the previous issue where complete details about the newsletter was fully discussed, please refer to: Daily Top Tens October 17, 2014.
Trading Notes for Today –  (Based on Jan. 20, 2016  Data)
Total Traded Value –  PhP 5.230 Billion –  Low
Market Breadth and Sentiment indicated by Advances Declines Ratio – (Ideal is 2:1 to be considered Bullish or Bearish) 114 Declines vs. 48 Advances   = 2.38:1  Bearish
Total Foreign Buying – PhP 2.872 Billion
Total Foreign Selling – (Php 2.998) Billion
Net Foreign Buying (Selling) – (Php 0.126)  Billion – 3rd day of Net Foreign Selling after a day of Net Foreign Buying
Data from the Philippine Stock Exchange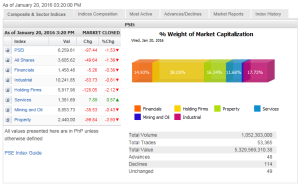 Screenshot courtesy of: www.pse.com.ph
PSE Heat Map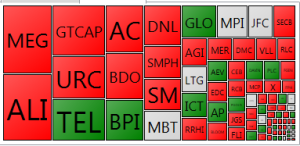 Screenshot courtesy of: PSEGET Software
Top Ten Foreign Buying
and Selling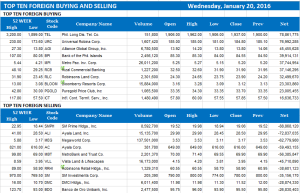 Top Ten in Total Traded
Value
From now on, I will just quote the related article from Business World so that we will have everything in one piece:
==================================================
Posted on January 20, 2016 08:31:00 PM
By Krista A. M. Montealegre, Senior Reporter
Tempered growth forecasts stoke investor gloom
PHILIPPINE EQUITIES suffered steep losses yesterday, dragging the bellwether index to a two-year low, after the International Monetary Fund (IMF) gave a bleak outlook on global growth that worsened sentiment already soured by oil prices' continued slump.
The benchmark Philippine Stock Exchange index tumbled 97.44 points or 1.53% to end at 6,259.61, its lowest finish since Feb. 18, 2014 when it closed at 6,193.97.
Year to date, the local barometer is down 9.96%, sinking deeper into "bear" market after shaving 22.98% from its record-high 8,127.48 logged on April 10, 2015.
The broader all-shares index pulled back by 49.64 points or 1.35% to settle at 3,605.62.
"The lower IMF global growth outlook coupled with China's economic growth data — the lowest since 2009 — pushed investors to cash in gains," Joylin F. Telagen, equity research analyst at IB Gimenez Securities, Inc., said in a mobile phone message.
The Washington-based multilateral lender downgraded its outlook for global growth, weighed by a slowdown in emerging markets led by China, falling commodity prices and rising interest rates in the United States.
On Tuesday, China released its gross domestic product data showing the world's second largest economy expanded 6.8% year on year last quarter, the slowest pace since 2009.
"Sentiment is still very bearish although there are some select issues that are bucking the trend. I guess as long as the trend is going down, there's not much we can do. World markets are still falling so what we can do is just step aside and wait for it to calm down," Miko A. Sayo, trader at Angping & Associates Securities, Inc., said in a telephone interview.
Asian equities market dropped to fresh four-year lows on Wednesday after US crude slumped to its lowest since 2003. An early rally on Wall Street fueled by hopes of more stimulus in China likewise ran out of steam on Tuesday night after the International Energy Agency warned the market could "drown in oversupply," as Iran resumes the export of the commodity with the lifting of international sanctions.
Property plunged 99.84 points or 3.93% to 2,440.00; holding firms sank 128.05 points or 2.11% to 5,917.98; industrial declined 83.73 points or 0.81% to 10,241.85; mining and oil went down by 38.53 points or 0.43% to 8,853.73; and financials slid 5.26 points or 0.35% to 1,458.48.
Services was the only counter that avoided the rout, rising 7.89 points or 0.57% to 1,381.69.
Value turnover improved to P5.33 billion after 1.05 billion shares changed hands, from P3.69 billion on Tuesday.
Losers dominated gainers, 114 to 48, while 49 issues were unchanged.
But net outflows thinned to P125.30 million from P512.73 million in the previous session.
Source: http://www.bworldonline.com/content.php?section=StockMarket&title=tempered-growth-forecasts-stoke-investor-gloom&id=121805=121732
==================================================
Good
luck on all your TRADES
today
.
DISCLAIMER There is a very high degree of risk involved in TRADING
. Past results
are not indicative of future returns
. Nothing contained in this newsletter constitutes a solicitation, recommendation, PROMOTION
or endorsement of any security. In accordance with the Responsible TRADER
's Creed: I will never tell and you take full
responsibility for all your TRADING
results
NOTES:
Please take note of the following changes effective August 6, 2015:
1. Caption Market Breadth has been changed to Total Traded Value to simplify the presentation.
2. Market Breadth is expressed in terms of Number of Advances and Declines. Expressing this as a Ratio by using the larger number as Numerator we derive the Market Sentiment whether Bullish or Bearish.
3. Based on Past three-year data of Average Total Traded Values, following classifications will be used to make the presentation more relevant to present times. a. Low – Total Traded Value less than P8 Billion b. Medium – Total Traded Value P8 Billion but not more than P15 Billion c. High – Total Traded Value more than P15 Billion