Top Ten Smart Money Moves – Jan. 28, 2016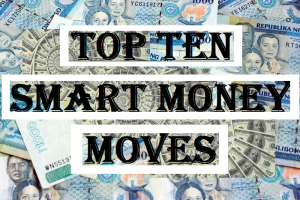 Top Ten Smart Money
Moves, starting January 2015, is the official trading
newsletter of The Responsible Trader
to promote
his advocacy, Responsible Trading
. This newsletter contains the previous day's data from PSE, the Top Ten Foreign Buying
and Selling, Top Ten in Total Traded
Value, including Trading
Notes based on the data of the previous day. This newsletter is given free to all the friends of The Responsible Trader
and to members of the Facebook group and the other organizations where he is a member. For the previous issue where complete details about the newsletter was fully discussed, please refer to: Daily Top Tens October 17, 2014.
Trading Notes for Today –  (Based on Jan. 28, 2016  Data)
Total Traded Value –  PhP 7.496 Billion –  Low
Market Breadth and Sentiment indicated by Advances Declines Ratio – (Ideal is 2:1 to be considered Bullish or Bearish)  122 Advances vs. 61 Declines  = 2.0:1  Bullish
Total Foreign Buying – PhP 4.271 Billion
Total Foreign Selling – (Php 3.486) Billion
Net Foreign Buying (Selling) – Php 0.785  Billion – 4th day of Net Foreign Buying after 5 days of Net Foreign Selling
Data from the Philippine Stock Exchange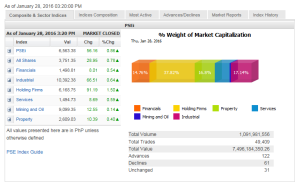 Screenshot courtesy of: www.pse.com.ph
PSE Heat Map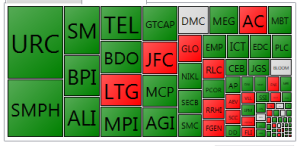 Screenshot courtesy of: PSEGET Software
Top Ten Foreign Buying
and Selling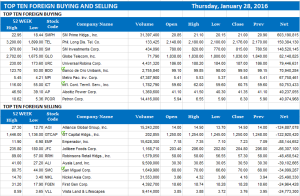 Top Ten in Total Traded
Value
From now on, I will just quote the related article from Business World so that we will have everything in one piece:
==================================================
Posted on January 28, 2016 08:01:00 PM
By Krista A. M. Montealegre, Senior Reporter
Stocks climb as GDP growth beats expectations
STOCKS sustained their rally yesterday, bringing the bellwether Philippine Stock Exchange index (PSEi) to a near three-week high, after the Philippine economy grew more than expected last year.
The benchmark PSEi climbed 56.16 points or 0.86% to close at 6,563.38, its highest level since Jan. 8 when it ended at 6,575.43.
The wider all-shares index climbed 28.95 points or 0.77% to finish at 3,751.35.
"Philippine stocks managed to reverse earlier losses as the market cheered the gross domestic product (GDP) figure that came in [yesterday]," Luis A. Limlingan, business development head at Regina Capital Development Corp., said in a telephone interview.
"The GDP data was slightly above expectations of a 5.7% and this is one of the reasons we had a more than 100-point swing. The positive GDP contributed to this bullish momentum," Alexander Adrian O. Tiu, senior equity analyst at AB Capital Securities, Inc., said in a separate interview.
The economy expanded by 5.8% last year, beating consensus estimates of a 5.7% increase, the Philippine Statistics Authority reported yesterday, but the pace of growth remained outside the government's 7%-8% target. The GDP print was also slower than the 6.1% registered in 2014.
The local barometer was nursing a drop of as much as 0.92% prior to the release of the economic data.
Asian markets also eked out gains as investors digested the US Federal Reserve's statement after keeping interest rates unchanged at the close of its two-day policy meeting and as oil prices declined after rising in the prior session.
The Fed left the door open for an interest rate hike at its next meeting in March, frustrating investors who had hoped that the US central bank will scale back its policy tightening amid concerns of a slowdown in global growth.
All counters ended in positive territory. Holding firms shot up 91.19 points or 1.5% to 6,168.75 to lead the broader market's advance.
Likewise, industrial gained 66.51 points or 0.64% to 10,392.38; services rose 8.69 points or 0.58% to 1,494.73; financials went up 8.01 points or 0.53% to 1,498.81; property advanced 10.39 points or 0.40% to 2,609.03; and mining and oil added 12.55 points or 0.13% to 9,099.35.
Value turnover picked up to P7.5 billion after 1.09 billion shares changed hands, from Wednesday's P6.69 billion.
Advancers outnumbered decliners, 122 to 61, while 31 issues closed flat.
Net foreign buying accelerated to P784.20 million on Thursday from P113.37 million in the prior session.
"Resistance is at 6,600 — the previous support of the market. We may retest that level tomorrow and a breach will push the index to 6,700, maybe even 7,000, but the uncertainties remain," AB Capital's Mr. Tiu said..
Source: http://www.bworldonline.com/content.php?section=StockMarket&title=stocks-climb-as-gdp-growth-beats-expectations&id=122251
==================================================
Good
luck on all your TRADES
today
.
DISCLAIMER There is a very high degree of risk involved in TRADING
. Past results
are not indicative of future returns
. Nothing contained in this newsletter constitutes a solicitation, recommendation, PROMOTION
or endorsement of any security. In accordance with the Responsible TRADER
's Creed: I will never tell and you take full
responsibility for all your TRADING
results
NOTES:
Please take note of the following changes effective August 6, 2015:
1. Caption Market Breadth has been changed to Total Traded Value to simplify the presentation.
2. Market Breadth is expressed in terms of Number of Advances and Declines. Expressing this as a Ratio by using the larger number as Numerator we derive the Market Sentiment whether Bullish or Bearish.
3. Based on Past three-year data of Average Total Traded Values, following classifications will be used to make the presentation more relevant to present times. a. Low – Total Traded Value less than P8 Billion b. Medium – Total Traded Value P8 Billion but not more than P15 Billion c. High – Total Traded Value more than P15 Billion