Top Ten Smart Money Moves – January 18, 2017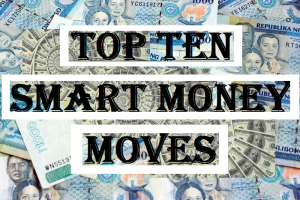 Top Ten Smart Money Moves, starting January 2015, is the official trading newsletter of The Responsible Trader to promote his advocacy, Responsible Trading. This newsletter contains the previous day's data from PSE, the Top Ten Foreign Buying and Selling, Top Ten in Total Traded Value, including Trading Notes based on the data of the previous day. This newsletter is given free to all the friends of The Responsible Trader and to members of the Facebook group and the other organizations where he is a member. For the previous issue where complete details about the newsletter was fully discussed, please refer to: Daily Top Tens October 17, 2014.
Trading Notes for Today –  (Based on January 18, 2017  Data)
Total Traded Value –  PhP  4.983 Billion – Low
Advances Declines Ratio – (Ideal is 2:1)  86 Advances vs. 85 Declines  = 1.01:1  Neutral
Total Foreign Buying – PhP 2.872  Billion
Total Foreign Selling – (PhP  2.845  Billion)
Net Foreign Buying (Selling) – PhP  0.027  Billion – 1st day of Net Foreign Buying after Net Foreign Selling for 3 trading days
Data from the Philippine Stock Exchange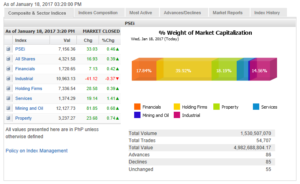 Screenshot courtesy of: www.pse.com.ph
PSE HEAT MAP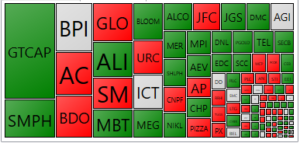 Screenshot courtesy of PSEGET
Top Ten Foreign Buying and Selling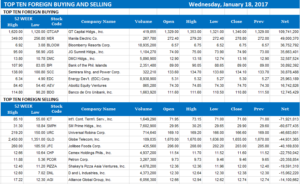 Top Ten in Total Traded Value

From now on, I will just quote the related article from Business World so that we will have everything in one piece:
==================================================
PSEi snaps 5-day losses on bargain hunting
Posted on January 19, 2017
THE LOCAL MARKET bounced back from a five-day decline, as investors hunted for bargains despite the lingering uncertainties over the leadership change in the United States and the looming departure of the United Kingdom from the European Union (EU).
The bellwether Philippine Stock Exchange index (PSEi) recovered 33.03 points or 0.46% to 7,156.36, while the broader all shares gained 16.93 points or 0.39% to 4,321.58.
The PSEi traded above its previous finish of 7,123.33 during the session that nevertheless remained volatile. The index opened at 7,136.15, touched its intraday low of 7,129.89 and peaked at 7,165.15 only within the first hour of trading.
"[Tuesday's trading] was some sort of capitulation, if I may say, because it was just too much. So, some investors tend to look for bargains and decided to buy amid the oversold situation," Aniceto K. Pangan, trader at Diversified Securities, Inc., said in a telephone interview.
The PSEi ended in the negative territory for the past five consecutive sessions, erasing more than a quarter of the 523.7 points gained during the first six days of this year's trading.
In the previous two sessions, the main index suffered from investors' positioning ahead of the inauguration of billionaire Donald J. Trump as US President and in the middle of renewed concerns over Britain's exit from the EU single market.
"Emotions, we think, will now be tempered and hopefully balanced as we take stock of the unfolding realities — Theresa May of Britain has just announced what sounds like a hard 'Brexit' underscored by 'no deal is better than a bad deal'," Justino B. Calaycay, Jr., head of marketing and research at A&A Securities, Inc., noted in a trading post for Wednesday.
The local market tracked the performance of peers in the region, which according to news service Reuters traded higher when investors picked up exporter shares after Mr. Trump expressed concerns over the dollar's strength keeping the US from competing with China.
All counters ended in the green, except for the industrial stocks that dropped 41.12 points or 0.37% to 10.963.13 after share prices in heavyweight Jollibee Foods Corp. and Universal Robina Corp. lost 1.36% to P203.00 and 1.42% to P166.60, respectively.
Advancers edged out decliners, 86 to 85, while 55 stocks were unchanged.
Value turnover dropped to P4.98 billion, after 1.53 billion issues changed hands.
The session, however, saw foreign investors switch to a buying position, registering P27.53 million in net purchases to reverse Tuesday's net sales of P311.99 million.
While it remains among the best performing in emerging Asia, the Philippines, Diversified Securities' Mr. Pangan said, will continue to experience volatility until investors can decipher the economic policy direction of Mr. Trump's administration as well as the impact of Britain's exit from the EU. – Keith Richard Mariano
Source: http://www.bworldonline.com/content.php?section=StockMarket&title=psei-snaps-5-day-losses-on-bargain-hunting&id=139280
==================================================
We aim to continue promoting financial literacy on the area of stock market trading and investing to our countrymen both here and abroad through the following:
1. The Book: "The Responsible Trader – a Thinking Person's Guide for Trading the Philippine Stock Market" now earned the name "The Bible of Philippine Trading." You can download Chapter 1, Section 1 of the book here: http://theresponsibletrader.com/the-responsible-trader-hope-for-trading-knowledge-test/.
As requested by those abroad and those who want the book in digital form, we have produced an eBook version. For those interested please send email to: ninjatrader19@gmail.com Subject: The Responsible Trader – eBook Version.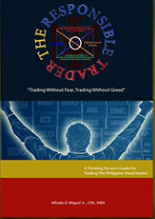 2. The Website: :http://www.theresponsibletrader.com where we publish our daily newsletter Top Ten Smart Money Moves, Stock Trading Lessons, and Inspirational Materials. (FREE)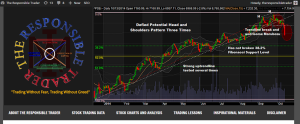 3. The YouTube Channel: https://www.youtube.com/theresponsibletrader – where you can learn the course "Master's Certificate in Technical Analysis" which was simplified in an easily understood manner. You can download these videos and learn them at your own convenient time. (FREE)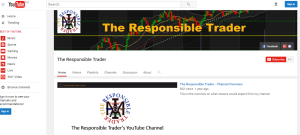 4. My Slideshare: http://www.slideshare.net/TheResponsibleTrader – where you can view and download copy of the Powerpoint Presentation of my TRT-POV (The Responsible Trader's Point of View) of the videos posted in our Youtube Channel. (FREE)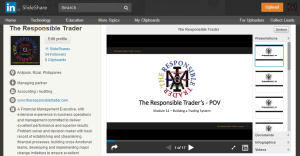 ===================================================
Good luck on all your TRADES today.
DISCLAIMER There is a very high degree of risk involved in TRADING. Past results are not indicative of future returns. Nothing contained in this newsletter constitutes a solicitation, recommendation, PROMOTION or endorsement of any security. In accordance with the Responsible TRADER's Creed: I will never tell and you take full responsibility for all your TRADING results
NOTES: Please take note of the following changes effective August 6, 2015: 1. Caption Market Breadth has been changed to Total Traded Value to simplify the presentation. 2. Market Breadth is expressed in terms of Number of Advances and Declines. Expressing this as a Ratio by using the larger number as Numerator we derive the Market Sentiment whether Bullish or Bearish. 3. Based on Past three-year data of Average Total Traded Values, following classifications will be used to make the presentation more relevant to present times. a. Low – Total Traded Value less than PhP 8 Billion b. Medium – Total Traded Value Php 8 Billion but not more than P15 Billion c. High – Total Traded Value more than Php 15 Billion