Top Ten Smart Money Moves – January 20, 2017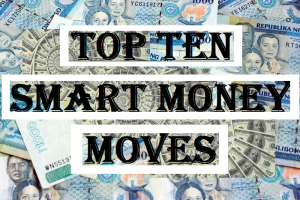 Top Ten Smart Money Moves, starting January 2015, is the official trading newsletter of The Responsible Trader to promote his advocacy, Responsible Trading. This newsletter contains the previous day's data from PSE, the Top Ten Foreign Buying and Selling, Top Ten in Total Traded Value, including Trading Notes based on the data of the previous day. This newsletter is given free to all the friends of The Responsible Trader and to members of the Facebook group and the other organizations where he is a member. For the previous issue where complete details about the newsletter was fully discussed, please refer to: Daily Top Tens October 17, 2014.
Trading Notes for Today –  (Based on January 20, 2017  Data)
Total Traded Value –  PhP  5.694 Billion – Low
Advances Declines Ratio – (Ideal is 2:1)  94 Advances vs. 84 Declines  = 1.12:1  Neutral
Total Foreign Buying – PhP 2.795  Billion
Total Foreign Selling – (PhP  2.674  Billion)
Net Foreign Buying (Selling) – PhP  0.121  Billion – 1st day of Net Foreign Buying  after a day of Net Foreign Selling
Data from the Philippine Stock Exchange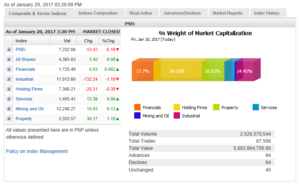 Screenshot courtesy of: www.pse.com.ph
PSE HEAT MAP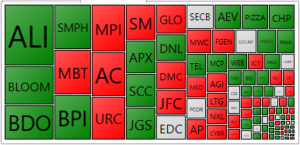 Screenshot courtesy of PSEGET
Top Ten Foreign Buying and Selling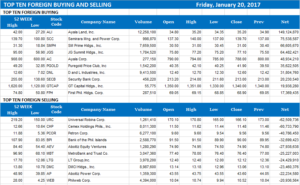 Top Ten in Total Traded Value
From now on, I will just quote the related article from Business World so that we will have everything in one piece:
==================================================
Local GDP data to boost stocks amid uncertainties
Posted on January 23, 2017
THE PHILIPPINES' growth story should cushion local equities amid persisting uncertainty over the economic policy direction in the United States, as the new leadership there ushers in a protectionist regime that may negatively impact emerging markets.
"The release of the GDP (gross domestic product) data this week will provide a glimpse of the strong fundamentals of the Philippine economy despite the headwinds from these global uncertainties," Aniceto K. Pangan, trader at Diversified Securities, Inc., said in a mobile phone message.
The Philippine Statistics Authority will release fourth-quarter and annual GDP growth figures on Thursday. After advancing 7% in the preceding quarters, the economy should have expanded 6.9% in the three months to December to hit the upper end of the government's 6-7% target.
The data should highlight the strong fundamentals of the Philippine economy and subsequently keep investors from pulling out the equities market, Mr. Pangan said.
The Philippine Stock Exchange index declined 5.86 points or 0.08% to 7,232.66 last week, as investors turned cautious ahead of US President Donald J. Trump's inauguration and amid renewed concerns over Britain's looming divorce with the European Union.
Investors were hoping for clarity on the "America First" agenda of Mr. Trump, who has threatened US companies against outsourcing jobs and tightening immigration controls, among others.
In his inauguration speech last Friday, Mr. Trump reiterated a protectionist strategy in advancing the US economy forward, saying: "We must protect our borders from the ravages of other countries making our products, stealing our companies and destroying our jobs. Protection will lead to great prosperity and strength."
Aside from protectionist policies, the market should watch out for aggressive moves to ramp up fiscal initiatives, which would bolster expectations of the Federal Reserve hiking rates further, 2TradeAsia.com noted in a report.
"With no major local headlines in place yet, the mart might begin to factor in the country's GDP report on Thursday to manage expectations for this year's performance, and realign their portfolios," it said.
2TradeAsia.com also cited the submission of the Philippine Development Plan, which should shed more light on the growth strategy of President Rodrigo R. Duterte's administration in the coming years. "Consequently, Trump and Duterte's policies seem to mirror similar sentiment when it comes to economic priorities, which could definitely level their playing field to adopt fair and market-based trading conditions," it added.
2TradeAsia.com pegged the local stock barometer's immediate support at the 7,150 mark and resistance at the 7,300 level, noting: "For now, it's better to wait on cues until the dust clears out." – Keith Richard Mariano
Source: http://www.bworldonline.com/content.php?section=StockMarket&title=local-gdp-data-to-boost-stocks-amid-uncertainties&id=139427
==================================================
We aim to continue promoting financial literacy on the area of stock market trading and investing to our countrymen both here and abroad through the following:
1. The Book: "The Responsible Trader – a Thinking Person's Guide for Trading the Philippine Stock Market" now earned the name "The Bible of Philippine Trading." You can download Chapter 1, Section 1 of the book here: http://theresponsibletrader.com/the-responsible-trader-hope-for-trading-knowledge-test/.
As requested by those abroad and those who want the book in digital form, we have produced an eBook version. For those interested please send email to: ninjatrader19@gmail.com Subject: The Responsible Trader – eBook Version.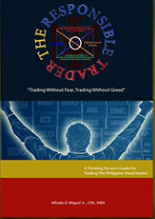 2. The Website: :http://www.theresponsibletrader.com where we publish our daily newsletter Top Ten Smart Money Moves, Stock Trading Lessons, and Inspirational Materials. (FREE)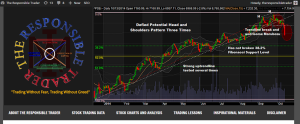 3. The YouTube Channel: https://www.youtube.com/theresponsibletrader – where you can learn the course "Master's Certificate in Technical Analysis" which was simplified in an easily understood manner. You can download these videos and learn them at your own convenient time. (FREE)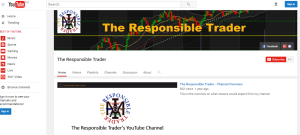 4. My Slideshare: http://www.slideshare.net/TheResponsibleTrader – where you can view and download copy of the Powerpoint Presentation of my TRT-POV (The Responsible Trader's Point of View) of the videos posted in our Youtube Channel. (FREE)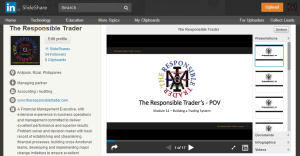 ===================================================
Good luck on all your TRADES today.
DISCLAIMER There is a very high degree of risk involved in TRADING. Past results are not indicative of future returns. Nothing contained in this newsletter constitutes a solicitation, recommendation, PROMOTION or endorsement of any security. In accordance with the Responsible TRADER's Creed: I will never tell and you take full responsibility for all your TRADING results
NOTES: Please take note of the following changes effective August 6, 2015: 1. Caption Market Breadth has been changed to Total Traded Value to simplify the presentation. 2. Market Breadth is expressed in terms of Number of Advances and Declines. Expressing this as a Ratio by using the larger number as Numerator we derive the Market Sentiment whether Bullish or Bearish. 3. Based on Past three-year data of Average Total Traded Values, following classifications will be used to make the presentation more relevant to present times. a. Low – Total Traded Value less than PhP 8 Billion b. Medium – Total Traded Value Php 8 Billion but not more than P15 Billion c. High – Total Traded Value more than Php 15 Billion