Top Ten Smart Money Moves – January 25, 2017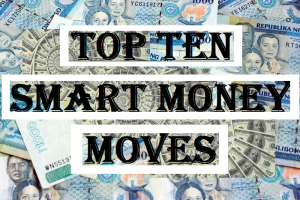 Top Ten Smart Money Moves, starting January 2015, is the official trading newsletter of The Responsible Trader to promote his advocacy, Responsible Trading. This newsletter contains the previous day's data from PSE, the Top Ten Foreign Buying and Selling, Top Ten in Total Traded Value, including Trading Notes based on the data of the previous day. This newsletter is given free to all the friends of The Responsible Trader and to members of the Facebook group and the other organizations where he is a member. For the previous issue where complete details about the newsletter was fully discussed, please refer to: Daily Top Tens October 17, 2014.
Trading Notes for Today –  (Based on January 25, 2017  Data)
Total Traded Value –  PhP  5.455 Billion – Low
Advances Declines Ratio – (Ideal is 2:1)  109 Advances vs. 79 Declines  = 1.38:1  Neutral
Total Foreign Buying – PhP 2.491  Billion
Total Foreign Selling – (PhP  2.575  Billion)
Net Foreign Buying (Selling) – (PhP  0.084)  Billion – 3rd day of Net Foreign Selling after a day of Net Foreign Buying
Data from the Philippine Stock Exchange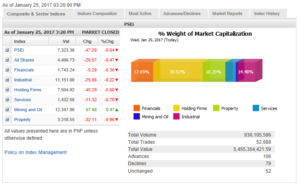 Screenshot courtesy of: www.pse.com.ph
PSE HEAT MAP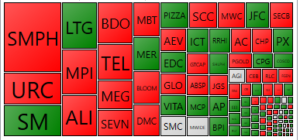 Screenshot courtesy of PSEGET
Top Ten Foreign Buying and Selling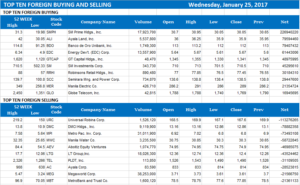 Top Ten in Total Traded Value

From now on, I will just quote the related article from Business World so that we will have everything in one piece:
==================================================
Stocks drop further ahead of GDP growth data
Posted on January 26, 2017
STOCKS dropped further yesterday as the market succumbed to profit taking ahead of the release of the Philippine gross domestic product (GDP) report that may rekindle sentiment toward local shares.
The benchmark Philippine Stock Exchange index (PSEi) lingered in negative territory on Wednesday, surrendering 47.29 points or 0.64% to settle at 7,323.36.
The broader all shares index likewise dropped 20.57 points or 0.46% to 4,406.73.
"The market was on profit taking since Tuesday after rising more than 140 points last Monday ahead of the GDP release on Thursday," Aniceto K. Pangan, trader at Diversified Securities, Inc., said in a mobile phone message.
The PSEi opened the week with a 141.69-point or 1.95% surge to 7,374.35 before retreating in the following session, shedding some 3.70 points or 0.05% to 7,370.65, as investors booked gains amid the uncertainty surrounding the policy actions of US President Donald J. Trump.
"The US market actually should have contributed to an advance today — which it did initially — but profit taking overcame the buying action," Juan G. Barredo, vice-president for sales and customer support services at COL Financial Group, Inc., noted in a mobile phone message on Wednesday. "Perhaps some wanted to remain defensive over the upcoming GDP report, given a possible sell on news attitude."
The mining and oil basket survived the profit taking, extending its gains by 57.58 points or 0.46% to 12,347.90. The other counters incurred losses, with the property sector declining by the most at 32.11 points or 0.95% to 3,318.55. Services, meanwhile, dropped by 11.32 points or 0.78% to 1,432.50; holding firms by 45.29 points or 0.60% to 7,504.92; financials by 5.29 points or 0.30% to 1,743.24; and industrials by 25.06 points or 0.22% to 11,151.60.
The session saw 106 stocks advance, 79 decliners and 52 that remained steady.
Value turnover decreased to P5.46 billion from the P7.89 billion seen on Tuesday as investors only traded 930.10 million issues.
Foreign investors posted P83.68 million in net sales, adding to the P822.87-million net outflow seen the previous session.
The market's uptrend, nevertheless, remains intact, COL Financial's Mr. Barredo noted, as the PSEi attempts to break through the 7,418-7,500 mark.
"But we are in a zone of resistance which is causing heaviness. We do expect choppiness here. It is a crucial zone that can (if broken) lift the market to over 7,500 to 7,700. But if resistance (7,418-7,500) holes another pull back, consolidation can follow."
Stocks may reverse their losses should the Philippine economy's growth in the fourth quarter exceed 7% and subsequently bring the annual reading at the upper end of the government's 6-7% target, Diversified Securities' Mr. Pangan said.
"This will manifest the strength of our economy going forward with the new government." — Keith Richard D. Mariano
Source: http://www.bworldonline.com/content.php?section=StockMarket&title=stocks-drop-further-ahead-of-gdp-growth-data&id=139627
==================================================
We aim to continue promoting financial literacy on the area of stock market trading and investing to our countrymen both here and abroad through the following:
1. The Book: "The Responsible Trader – a Thinking Person's Guide for Trading the Philippine Stock Market" now earned the name "The Bible of Philippine Trading." You can download Chapter 1, Section 1 of the book here: http://theresponsibletrader.com/the-responsible-trader-hope-for-trading-knowledge-test/.
As requested by those abroad and those who want the book in digital form, we have produced an eBook version. For those interested please send email to: ninjatrader19@gmail.com Subject: The Responsible Trader – eBook Version.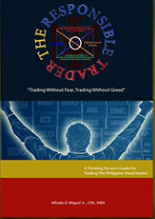 2. The Website: :http://www.theresponsibletrader.com where we publish our daily newsletter Top Ten Smart Money Moves, Stock Trading Lessons, and Inspirational Materials. (FREE)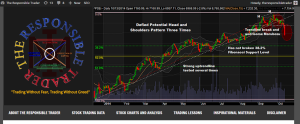 3. The YouTube Channel: https://www.youtube.com/theresponsibletrader – where you can learn the course "Master's Certificate in Technical Analysis" which was simplified in an easily understood manner. You can download these videos and learn them at your own convenient time. (FREE)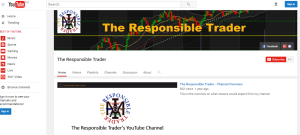 4. My Slideshare: http://www.slideshare.net/TheResponsibleTrader – where you can view and download copy of the Powerpoint Presentation of my TRT-POV (The Responsible Trader's Point of View) of the videos posted in our Youtube Channel. (FREE)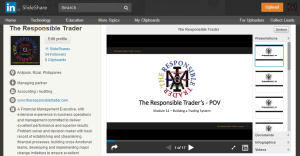 ===================================================
Good luck on all your TRADES today.
DISCLAIMER There is a very high degree of risk involved in TRADING. Past results are not indicative of future returns. Nothing contained in this newsletter constitutes a solicitation, recommendation, PROMOTION or endorsement of any security. In accordance with the Responsible TRADER's Creed: I will never tell and you take full responsibility for all your TRADING results
NOTES: Please take note of the following changes effective August 6, 2015: 1. Caption Market Breadth has been changed to Total Traded Value to simplify the presentation. 2. Market Breadth is expressed in terms of Number of Advances and Declines. Expressing this as a Ratio by using the larger number as Numerator we derive the Market Sentiment whether Bullish or Bearish. 3. Based on Past three-year data of Average Total Traded Values, following classifications will be used to make the presentation more relevant to present times. a. Low – Total Traded Value less than PhP 8 Billion b. Medium – Total Traded Value Php 8 Billion but not more than P15 Billion c. High – Total Traded Value more than Php 15 Billion