Top Ten Smart Money Moves – July 18, 2016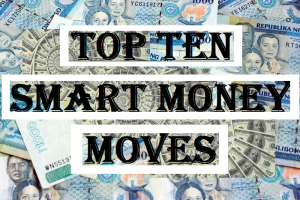 Top Ten Smart Money Moves, starting January 2015, is the official trading newsletter of The Responsible Trader to promote his advocacy, Responsible Trading. This newsletter contains the previous day's data from PSE, the Top Ten Foreign Buying and Selling, Top Ten in Total Traded Value, including Trading Notes based on the data of the previous day. This newsletter is given free to all the friends of The Responsible Trader and to members of the Facebook group and the other organizations where he is a member. For the previous issue where complete details about the newsletter was fully discussed, please refer to: Daily Top Tens October 17, 2014.
Trading Notes for Today –  (Based on July 18, 2016  Data)
Total Traded Value –  PhP 8.704  Billion –  Medium
Market Breadth and Sentiment indicated by Advances Declines Ratio – (Ideal is 2:1 to be considered Bullish or Bearish)  99 Advances vs. 94 Declines  = 1.05:1  Neutral
Total Foreign Buying – PhP 4.929 Billion
Total Foreign Selling – (Php  4.431) Billion
Net Foreign Buying (Selling)  Php 0.498  Billion – 7th day of Net Foreign Buying after 1 day of Net Foreign Selling
 Data from the Philippine Stock Exchange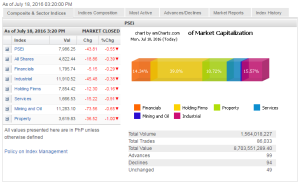 Screenshot courtesy of: www.pse.com.ph
PSE HEAT MAP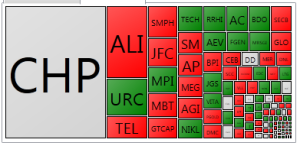 Screenshot courtesy of PSEGET
Top Ten Foreign Buying and Selling
Top Ten in Total Traded Value
From now on, I will just quote the related article from Business World so that we will have everything in one piece:
==================================================
PSEi slumps as investors pocket gains from rally
Posted on July 19, 2016
LOCAL EQUITIES slumped on Monday as investors booked profits from the market's gains last week when the stock index broke the 8,000 level.
The benchmark Philippine Stock Exchange index (PSEi) index slid 0.54% or 43.81 points to 7,986.25.
The broader all-shares index likewise declined 0.39% or 18.86 points to 4,822.44.
"Just profit taking coming off the gains last week. There's news on China's GDP (gross domestic product) that affected the market positively," Alexander Adrian O. Tiu, research analyst at AB Capital Securities, Inc., said in a phone interview.
Mr. Tiu added that the market's movement may be bullish this week as investors continue to take profit, even as a bit of liquidity drain may occur due to the initial public offering of Cemex Holdings Philippines, Inc. Cemex debuted on the PSE Monday, issuing a maximum size of shares worth P25.1 billion.
Ralph Christian G. Bodollo, equity research analyst at RCBC Securities Inc., said in a phone interview that aside from profit taking, external events also affected sentiment.
"The coup in Turkey also contributed to that. It highlights the vulnerability of emerging markets amid political risks," he said.
Analysts were still optimistic that the market can break record highs this July if second-quarter corporate earnings reports, which have started trickling in, paint a positive picture.
All counters ended Monday's session in the red. Property saw the biggest dip as it went down by 0.99% or 36.52 points to 3,619.83 as property giants Ayala Land, Inc., SM Prime Holdings, Inc., and Megaworld Corp. saw big losses.
Services went down by 0.90% or 15.22 points to 1,666.53; mining and oil declined 0.64% or 73.56 points to 11,283.10; industrial dipped 0.38% or 45.48 points to 11,910.52; financials slid 0.28% or 5.15 points to 1,795.74; and holding firms inched down 0.15% or 12.30 points to close the session at 7,854.42.
Advancers topped decliners, 99 to 94, while 49 names ended unchanged.
Foreigners remained net buyers, although net purchases were significantly lower at P497.89 million yesterday from Friday's P1.86 billion.
Value turnover stood at P8.70 billion as 1.56 billion shares changed hands, slightly lower than the P11.13 billion seen last Friday.
Other Southeast Asian stock markets also took a breather on Monday after last week's gains and ahead of the European Central Bank's first policy meeting since Britons voted to leave the European Union.
"After six strong days of climb recently, US investors are taking a breather. Likewise, Asian stocks are also locking their gains since a week ago," said Cheng Hooi Lee, an analyst with Malaysia-based Maybank Investment Bank.
Indonesian and Vietnamese stocks eked out small gains, while Malaysia was slightly lower. — J.C. Lim with Reuters
Source: http://www.bworldonline.com/content.php?section=StockMarket&title=psei-slumps-as-investors-pocket-gains-from-rally&id=130577
==================================================
Good luck on all your TRADES today.
DISCLAIMER There is a very high degree of risk involved in TRADING. Past results are not indicative of future returns. Nothing contained in this newsletter constitutes a solicitation, recommendation, PROMOTION or endorsement of any security. In accordance with the Responsible TRADER's Creed: I will never tell and you take full responsibility for all your TRADING results
NOTES:
Please take note of the following changes effective August 6, 2015:
1. Caption Market Breadth has been changed to Total Traded Value to simplify the presentation.
2. Market Breadth is expressed in terms of Number of Advances and Declines. Expressing this as a Ratio by using the larger number as Numerator we derive the Market Sentiment whether Bullish or Bearish.
3. Based on Past three-year data of Average Total Traded Values, following classifications will be used to make the presentation more relevant to present times. a. Low – Total Traded Value less than P8 Billion b. Medium – Total Traded Value P8 Billion but not more than P15 Billion c. High – Total Traded Value more than P15 Billion