Top Ten Smart Money Moves – July 19, 2016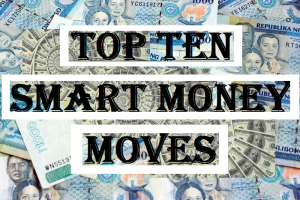 Top Ten Smart Money Moves, starting January 2015, is the official trading newsletter of The Responsible Trader to promote his advocacy, Responsible Trading. This newsletter contains the previous day's data from PSE, the Top Ten Foreign Buying and Selling, Top Ten in Total Traded Value, including Trading Notes based on the data of the previous day. This newsletter is given free to all the friends of The Responsible Trader and to members of the Facebook group and the other organizations where he is a member. For the previous issue where complete details about the newsletter was fully discussed, please refer to: Daily Top Tens October 17, 2014.
Trading Notes for Today –  (Based on July 19, 2016  Data)
Total Traded Value –  PhP 9.313  Billion –  Medium
Market Breadth and Sentiment indicated by Advances Declines Ratio – (Ideal is 2:1 to be considered Bullish or Bearish)  105 Advances vs. 85 Declines  = 1.24:1  Neutral
Total Foreign Buying – PhP 6.287 Billion
Total Foreign Selling – (Php  5.314) Billion
Net Foreign Buying (Selling)  Php 0.973  Billion – 8th day of Net Foreign Buying after 1 day of Net Foreign Selling
 Data from the Philippine Stock Exchange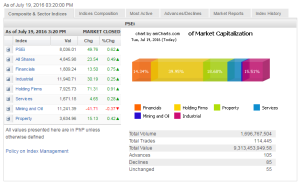 Screenshot courtesy of: www.pse.com.ph
PSE HEAT MAP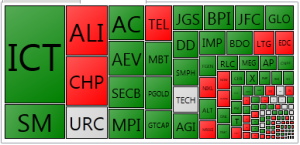 Screenshot courtesy of PSEGET
Top Ten Foreign Buying and Selling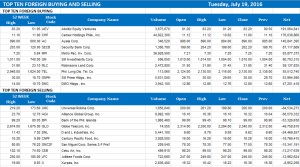 Top Ten in Total Traded Value
From now on, I will just quote the related article from Business World so that we will have everything in one piece:
==================================================
Index returns above 8,000 on stable prospects
Posted on July 20, 2016
STOCKS rose yesterday, with the main index returning to the 8,000 level, amid stable prospects for the Philippine economy following the Asian Development Bank's (ADB) retention of its growth forecasts for the country.
The benchmark Philippine Stock Exchange index (PSEi) ticked up by 0.62% or 49.76 points to finish at 8,036.01, successfully returning above the 8,000 mark.
The broader all-shares index likewise increased by 0.48% or 23.54 points to 4,845.98.
"What helped [the increase] was the ADB's press release stating the 6% growth. [The ADB statement] pushed sentiment given its stable outlook on the economy," Alexander Adrian O. Tiu, research analyst at A&A Securities, Inc., said in a phone interview.
The multilateral lender kept its 6% growth forecast for the Philippine economy in its Asian Development Outlook Supplement released on Monday, citing the country's strong 6.9% performance during the first quarter.
Philippine gross domestic product (GDP) is also seen on track to expand by 6.1% in 2017, unchanged from ADB's March estimate as strong domestic demand is set to stimulate the economy further to offset external headwinds.
Luis A. Limlingan, managing director at Regina Capital Development Corp., said the US markets' rise also helped boost the PSEi on Tuesday.
"The market is no longer cheap. Analysts are therefore looking forward to the earning season and hopefully we'll see a lot of companies beating expectations to justify further increase in share prices," said April Lee-Tan, an analyst with COL Financial Inc. "We're still enjoying ample liquidity and in general are seeing funds flow into emerging markets and benefitting from that post-Brexit."
All counters ended in the green yesterday except mining and oil, which went down by 0.37% or 41.71 points to 11,241.39, still weighed down by recent pronouncements by China on its maritime dispute over the South China Sea with several countries in the region, including the Philippines.
Regina Capital's Mr. Limlingan noted that second-quarter earnings of several companies in the sector also affected sentiment.
In contrast, the holding firms counter posted the largest increase yesterday as it went up by 0.90% or 71.31 points to 7,925.73. Financials rose 0.75% or 13.50 points to 1,809.24; property gained 0.41% or 15.13 points to 3,634.96; services increased 0.27% or 4.65 points to 1,671.18; and industrial climbed 0.25% or 30.19 points to 11,940.71.
Today's trading will rely heavily on firms' second-quarter results, which have started trickling in since Monday, an analyst said.
"We'll have to look at earnings. The earnings growth can affect levels," Mr. Limlingan said.
Most Southeast Asian stock markets likewise rose on Tuesday, led by Indonesia on continued buying from foreign investors. — J.M.D. Soliman with Reuters
==================================================
Good luck on all your TRADES today.
DISCLAIMER There is a very high degree of risk involved in TRADING. Past results are not indicative of future returns. Nothing contained in this newsletter constitutes a solicitation, recommendation, PROMOTION or endorsement of any security. In accordance with the Responsible TRADER's Creed: I will never tell and you take full responsibility for all your TRADING results
NOTES:
Please take note of the following changes effective August 6, 2015:
1. Caption Market Breadth has been changed to Total Traded Value to simplify the presentation.
2. Market Breadth is expressed in terms of Number of Advances and Declines. Expressing this as a Ratio by using the larger number as Numerator we derive the Market Sentiment whether Bullish or Bearish.
3. Based on Past three-year data of Average Total Traded Values, following classifications will be used to make the presentation more relevant to present times. a. Low – Total Traded Value less than P8 Billion b. Medium – Total Traded Value P8 Billion but not more than P15 Billion c. High – Total Traded Value more than P15 Billion