Top Ten Smart Money Moves – July 20, 2016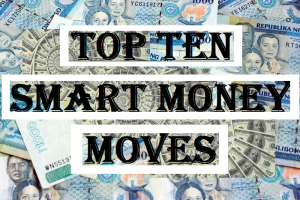 Top Ten Smart Money Moves, starting January 2015, is the official trading newsletter of The Responsible Trader to promote his advocacy, Responsible Trading. This newsletter contains the previous day's data from PSE, the Top Ten Foreign Buying and Selling, Top Ten in Total Traded Value, including Trading Notes based on the data of the previous day. This newsletter is given free to all the friends of The Responsible Trader and to members of the Facebook group and the other organizations where he is a member. For the previous issue where complete details about the newsletter was fully discussed, please refer to: Daily Top Tens October 17, 2014.
Trading Notes for Today –  (Based on July 20, 2016  Data)
Total Traded Value –  PhP 8.808  Billion –  Medium
Market Breadth and Sentiment indicated by Advances Declines Ratio – (Ideal is 2:1 to be considered Bullish or Bearish)  113 Advances vs. 84 Declines  = 1.35:1  Neutral
Total Foreign Buying – PhP 5.599 Billion
Total Foreign Selling – (Php  4.621) Billion
Net Foreign Buying (Selling)  Php 0.978  Billion – 9th day of Net Foreign Buying after 1 day of Net Foreign Selling
 Data from the Philippine Stock Exchange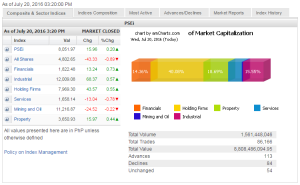 Screenshot courtesy of: www.pse.com.ph
PSE HEAT MAP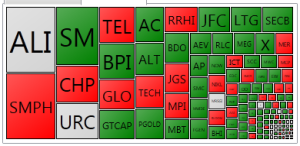 Screenshot courtesy of PSEGET
Top Ten Foreign Buying and Selling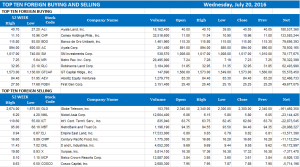 Top Ten in Total Traded Value
From now on, I will just quote the related article from Business World so that we will have everything in one piece:
==================================================
Local stocks extend gains on positive BSP data
Posted on July 21, 2016
STOCKS continued to trade higher on Wednesday following positive central bank data and as investors watched out for second-quarter corporate earnings, which are expected to be stronger than the prior quarter's results.
The bellwether Philippine Stock Exchange index climbed 0.19% or 15.96 points to 8,051.97.
The broader all-shares index, in contrast, dipped 0.89% or 43.33 points to 4,802.65.
"Locally, the Philippines took its cues from the BoP (balance of payments) and foreign reserves data and are gearing up in anticipation of the 2Q (second quarter) earnings," Luis A. Limlingan, managing director at Regina Capital Development Corp., said in a mobile message.
Data from the Bangko Sentral ng Pilipinas released earlier this week showed that the country's foreign exchange buffers rose to an all-time high of $85.28 billion in June. The central bank also reported on Tuesday that the country booked a surplus in its balance of payments amounting to $418 million in the same month.
Unicapital Securities, Inc. research head Lexter A. Azurin said the local market traded" relatively flat" on Tuesday amid a lack of catalysts.
"Most investors will be staying on the sidelines since the market is trading near historical highs," Mr. Azurin said in a phone interview.
He added that in terms of valuation, companies have traded rather expensively.
Financials posted the biggest increase, with gains of 0.73% or 13.24 points to 1,822.48.
Industrial rose 0.57% or 68.37 points to 12,009.08; holding firms went up by 0.55% or 43.57 points to 7,969.30; and property climbed 0.43% or 15.97 points to 3,650.93.
In contrast, services slid 0.78% or 13.04 points to 1,658.14 while mining and oil declined 0.21% or 24.52 points to 11,216.87.
Advancers outnumbered decliners, 113 to 84, while 54 names ended unchanged.
Foreigners were buyers with net purchases totalling P977.93 million, slightly higher than the P972.76 million seen on Tuesday.
Value turnover reached P8.81 billion, a decline from Tuesday's P9.31 billion, as 1.56 billion shares changed hands.
Most Southeast Asian stocks also traded flat to higher on Wednesday, with Indonesia climbing to a near 14-month high, extending a rally into a fourth consecutive session on continued investor risk appetite, while limited oil gains aided Singapore stocks.
Indonesia's main index gained as much as 0.9%, rising to its highest since late-May 2015, led by consumer staples and consumer cyclicals.
"We expect JCI (Jakarta Composite Index) to trend higher today as broader risk-on sentiment still remains intact," Taye Shim, an analyst with Jakarta-based Daewoo Securities, said on Wednesday. Investors are also expected to keep an eye out for a decision on interest rates by the Indonesian central bank.
Singapore's Straits Times Index gained 0.8%, driven by oil and gas stocks and consumer services. — JCL with Reuters
Source: http://www.bworldonline.com/content.php?section=StockMarket&title=local-stocks-extend-gains-on-positive-bsp-data&id=130705
==================================================
Good luck on all your TRADES today.
DISCLAIMER There is a very high degree of risk involved in TRADING. Past results are not indicative of future returns. Nothing contained in this newsletter constitutes a solicitation, recommendation, PROMOTION or endorsement of any security. In accordance with the Responsible TRADER's Creed: I will never tell and you take full responsibility for all your TRADING results
NOTES:
Please take note of the following changes effective August 6, 2015:
1. Caption Market Breadth has been changed to Total Traded Value to simplify the presentation.
2. Market Breadth is expressed in terms of Number of Advances and Declines. Expressing this as a Ratio by using the larger number as Numerator we derive the Market Sentiment whether Bullish or Bearish.
3. Based on Past three-year data of Average Total Traded Values, following classifications will be used to make the presentation more relevant to present times. a. Low – Total Traded Value less than P8 Billion b. Medium – Total Traded Value P8 Billion but not more than P15 Billion c. High – Total Traded Value more than P15 Billion