Top Ten Smart Money Moves – July 21, 2017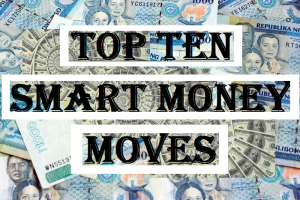 Top Ten Smart Money Moves, starting January 2015, is the official trading newsletter of The Responsible Trader to promote his advocacy, Responsible Trading. This newsletter contains the previous day's data from PSE, the Top Ten Foreign Buying and Selling, Top Ten in Total Traded Value, including Trading Notes based on the data of the previous day. This newsletter is given free to all the friends of The Responsible Trader and to members of the Facebook group and the other organizations where he is a member. For the previous issue where complete details about the newsletter was fully discussed, please refer to: Daily Top Tens October 17, 2014.
Trading Notes for Today –  (Based on July 21,  2017  Data)
Total Traded Value –  PhP  7.861  Billion – Low
Advances Declines Ratio – (Ideal is 2:1) 121 Declines vs. 82  Advances = 1.48:1  Neutral
Total Foreign Buying – PhP 3.774  Billion
Total Foreign Selling – (PhP  3.707)  Billion
Net Foreign Buying (Selling) – PhP 0.067  Billion – first day of Net Foreign Buying after a day of Net Foreign Selling
Data from the Philippine Stock Exchange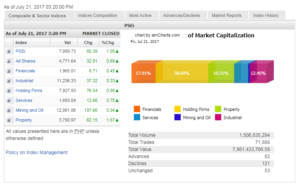 Screenshot courtesy of: www.pse.com.ph
PSE HEAT MAP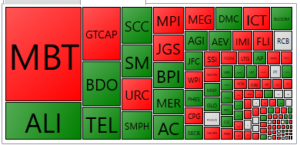 Screenshot courtesy of PSEGET
Top Ten Foreign Buying and Selling
Top Ten in Total Traded Value
From now on, I will just quote the related article from Business World so that we will have everything in one piece:
==================================================
Investors to look to SONA, US data for catalysts
Posted on July 24, 2017
INVESTORS will look to President Rodrigo R. Duterte's State of the Nation Address (SONA) today and corporate earnings results for possible catalysts to push the main index beyond the 8,000 line.
The Philippine Stock Exchange index (PSEi) closed at 7,989.73 on Friday, up 1.08% or 85.39 points from the previous day.
Week-on week, the peso was higher by 103.83 points or 1.32% from its 7,885.90 finish last July 14, with property climbing 2.82% & mining & oil expanding 2.05%.
Total value turnover reached P7.2 billion, down 5% from the prior week, while net foreign inflow stood at an average of P114 million, a turnaround from the P173 million selling.
"All eyes will be on President Duterte's State of the Nation Address on Monday, ahead of government's economic blueprint aside from his administration's timeline in lifting the Martial Law in Mindanao," online brokerage 2TradeAsia.com said in its weekly market outlook report.
The brokerage said investors will be watching out for more details on the government's Tax Reform for Acceleration & Inclusion program as well as its "Build, Build, Build" strategy.
"Bulk of the headlines would largely depend at home, given the country's sound fundamental merits," 2TradeAsia.com added.
It pegged the PSEi's immediate support at 7,900 and resistance at 8,050-8,075.
"[This] week, foreign funds will be watching," said Regina Capital Development Managing Director Luis A. Limlingan in a mobile phone message.
He added that market players will also watch out for US data on new home sales, crude oil inventories, jobless claims, international trade in goods, durable goods orders and gross domestic product. The US Federal Reserve will also hold a policy meeting on July 25-26.
"With inflation gauge on tempered mode, the Fed is unlikely to raise rates any sooner than December, with most economic data supporting this view. The key variables to watch out for are faster-than-expected increases in employment & consumer spending which could alter such backdrop," 2TradeAsia.com added.
The US Federal Reserve will announce plans to shrink its more than $4-trillion balance sheet in September, according to a Reuters poll of economists who also said the central bank will wait until the fourth quarter before raising rates again.
Results in the survey are in line with what Fed officials have hinted at in recent weeks, even as they are split on the outlook for inflation and how the lack of it might affect the future pace of interest rate hikes.
In a poll conducted just last month, predictions were for the Fed to raise rates by September.
But expectations have now been pushed back by a quarter, with the consensus from the latest poll of over 100 economists predicting the fed funds rate to climb to a range of 1.25-1.50% by the end of this year.
The Fed has raised rates twice so far this year. — with Reuters their three-day rally on Thursday as investors resorted to profit-taking ahead of the release of companies' earnings results for the first half.
The 30-member Philippine Stock Exchange index dropped 68.56 points or 0.86% at the close of yesterday's trading to end at 7,904.34, after reaching an intraday high of 8,001.59.
The broader all shares index also declined by 37.13 points or 0.77% to close at 4,738.83.
"I think today's retreat was just within the normal ebb and flow of the index. We're treading the relatively tight range, (with) resistance at 8,020 and support at 7,900," Frank Gerard J. Barboza, equity trader at Angping & Associates Securities, Inc., said in a mobile phone message on Thursday.
For his part, Regina Capital Development Corp. Managing Director Luis A. Limlingan noted the lack of sufficient leads to propel substantial movements in the market.
"Investors could not find enough impetus for the market to break past 8,000 once again as it touched this intraday [and] hence succumbed to profit taking," Mr. Limlingan said.
"On the other hand, US stocks closed at record highs on Wednesday as investors sifted through the country's housing data and a batch of corporate quarterly reports. Earnings season has gotten off to a solid start," Mr. Limlingan said.
The major US stock indexes closed at record highs on Wednesday helped partly by technology stocks. The Dow Jones Industrial Average rose 66.02 points or 0.31% to 21,640.75; the S&P 500 gained 13.22 points or 0.54% to 2,473.83; and the Nasdaq Composite added 40.74 points or 0.64% to 6,385.04.
At home, the mining and oil sector was the lone sub-index that posted gains, although at a minimal 0.18% or 23.4 points to 12,883.40.
Holding firms led the losing counters with a drop of 1.29% or 103.13 points to 7,851.39; followed by property with a decrease of 1.18% or 44.56 points to 3,728.82. Services declined 0.47% or 8.03 points to 1,680.38; industrials slipped 0.41% or 46.71 points to 11,199.01; and financials closed 0.15% lower at 1,956.3.
Decliners trumped advancers, 131 to 63, while 65 issues were unchanged.
A total of 2.51 billion issues changed hands for a value turnover of P8.21 billion, higher than Wednesday's P7.89 billion.
Net foreign selling was logged at P126.14 million yesterday, a reversal of the previous session's net buying worth P158.11 million.
"No big macro news as of the moment, everyone's eyes are on the coming SONA (State of the Nation Address). After that we will be anticipating the earnings season," Angping & Associates Mr. Barboza said.
Other Southeast Asian stock markets were also sluggish on Thursday ahead of a meeting by the European Central Bank, with investors looking for cues on how it will unwind unconventional policy that has kept borrowing costs at rock bottom. — Arra B. Francia with Reuters
Source: http://www.bworldonline.com/content.php?section=StockMarket&title=investors-to-look-to-sona-us-data-for-catalysts&id=148668
=====================================================
We aim to continue promoting financial literacy on the area of stock market trading and investing to our countrymen both here and abroad through the following:
1. The Book: "The Responsible Trader – a Thinking Person's Guide for Trading the Philippine Stock Market" now earned the name "The Bible of Philippine Trading." You can download Chapter 1, Section 1 of the book here: http://theresponsibletrader.com/the-responsible-trader-hope-for-trading-knowledge-test/.
As requested by those abroad and those who want the book in digital form, we have produced an eBook version. For those interested please send email to: ninjatrader19@gmail.com Subject: The Responsible Trader – eBook Version.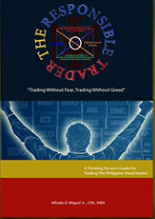 2. The Website: :http://www.theresponsibletrader.com where we publish our daily newsletter Top Ten Smart Money Moves, Stock Trading Lessons, and Inspirational Materials. (FREE)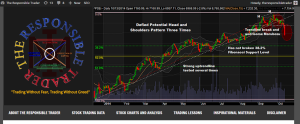 3. The YouTube Channel: https://www.youtube.com/theresponsibletrader – where you can learn the course "Master's Certificate in Technical Analysis" which was simplified in an easily understood manner. You can download these videos and learn them at your own convenient time. (FREE)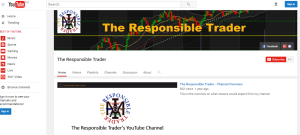 4. My Slideshare: http://www.slideshare.net/TheResponsibleTrader – where you can view and download copy of the Powerpoint Presentation of my TRT-POV (The Responsible Trader's Point of View) of the videos posted in our Youtube Channel. (FREE)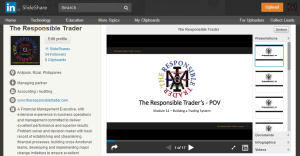 ===================================================
Good luck on all your TRADES today.
DISCLAIMER There is a very high degree of risk involved in TRADING. Past results are not indicative of future returns. Nothing contained in this newsletter constitutes a solicitation, recommendation, PROMOTION or endorsement of any security. In accordance with the Responsible TRADER's Creed: I will never tell and you take full responsibility for all your TRADING results
NOTES: Please take note of the following changes effective August 6, 2015: 1. Caption Market Breadth has been changed to Total Traded Value to simplify the presentation. 2. Market Breadth is expressed in terms of Number of Advances and Declines. Expressing this as a Ratio by using the larger number as Numerator we derive the Market Sentiment whether Bullish or Bearish. 3. Based on Past three-year data of Average Total Traded Values, following classifications will be used to make the presentation more relevant to present times. a. Low – Total Traded Value less than PhP 8 Billion b. Medium – Total Traded Value Php 8 Billion but not more than P15 Billion c. High – Total Traded Value more than Php 15 Billion