Top Ten Smart Money Moves – July 22, 2016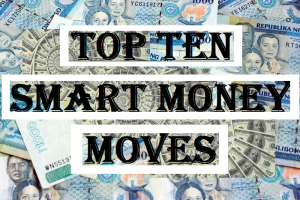 Top Ten Smart Money Moves, starting January 2015, is the official trading newsletter of The Responsible Trader to promote his advocacy, Responsible Trading. This newsletter contains the previous day's data from PSE, the Top Ten Foreign Buying and Selling, Top Ten in Total Traded Value, including Trading Notes based on the data of the previous day. This newsletter is given free to all the friends of The Responsible Trader and to members of the Facebook group and the other organizations where he is a member. For the previous issue where complete details about the newsletter was fully discussed, please refer to: Daily Top Tens October 17, 2014.
Trading Notes for Today –  (Based on July 22, 2016  Data)
Total Traded Value –  PhP  7.752  Billion –  Low
Market Breadth and Sentiment indicated by Advances Declines Ratio – (Ideal is 2:1 to be considered Bullish or Bearish)  113 Advances vs. 95  Declines = 1.19:1  Neutral
Total Foreign Buying – PhP 3.803 Billion
Total Foreign Selling – (Php  3.877) Billion
Net Foreign Buying (Selling)  (Php 0.074)  Billion – 1st day of Net Foreign Selling after 10 days of Net Foreign Buying
 Data from the Philippine Stock Exchange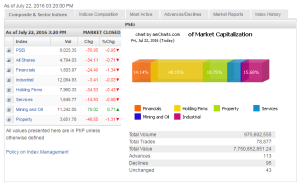 Screenshot courtesy of: www.pse.com.ph
PSE HEAT MAP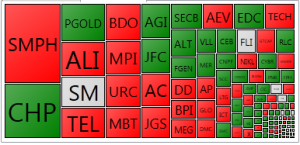 Screenshot courtesy of PSEGET
Top Ten Foreign Buying and Selling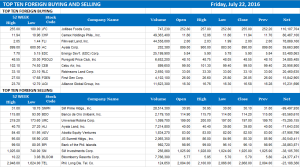 Top Ten in Total Traded Value
From now on, I will just quote the related article from Business World so that we will have everything in one piece:
==================================================
SONA, Fed in focus as 'ghost month' approaches
Posted on July 25, 2016
AS THE "ghost month" nears, local equities' momentum will depend on sentiment from this week's events and second-quarter corporate earnings results, which, if positive, will allow the bellwether index to stay at the 8,100 level.
The Philippine Stock Exchange index (PSEi) closed at 8,025.35 points last Friday, dropping from Thursday's finish of 8,102.30, which marked a high for this year.
Last Friday's close was likewise slightly lower than the main index's finish of 8,030.06 points last July 15.
Today, President Rodrigo R. Duterte will lay out his agenda in his first State of the Nation Address (SONA), which analysts expect will affect investor sentiment throughout the week.
The market will also look out for the outcome of the two-day policy meeting of the US Federal Reserve, which starts on July 26.
"Given the recent revision in the IMF's (International Monetary Fund) outlook for global economic growth, it doesn't seem likely they will make any move on the rates at this point," read the weekly outlook of the Marketing & Research Group of the local stock brokerage A&A Securities, Inc. sent to reporters via e-mail.
In addition, this week will see the continuance of the release of firms' second-quarter earnings, which A&A projects to have "further improvements from the 1Q (first-quarter) performance."
"For next week, since the market is close to peaking 'ghost month,' probably it would range between 7,800 and 8,000 with resistance at 8,100," said Lexter A. Azurin, research head at Unicapital Securities, Inc. in a phone interview.
The so-called "ghost month" starts on August 3. The month is a period in the Lunar calendar when some Asian investors refrain from doing big investments or decisions that coincides with the vacation of fund managers in the West, thereby resulting in lower trading volumes.
"[With] the 'ghost month' just around the corner, the PSEi may be challenged to sustain levels above 8,000. However, depending on the outcome of the earlier mentioned key events, this could pose a buying window as the index continues to trade in an election year," said A&A added.
Central banks from Washington to Tokyo take center stage this week, although policy makers are likely to remain cautious as they wait for the dust to settle from Britain's shock vote to leave the European Union.
As they wait for political reassurances and greater clarity over the likely impact of the move, central banks have mostly avoided action since Britain's June 23 referendum, calming jittery markets with verbal assurances but leaving the burden on governments to chart a path.
Indeed, the US Federal Reserve is all but certain to keep interest rates on hold on Wednesday, acknowledging improved economic prospects but offering few hints about its next move, keen to avoid repeating its past mistake of stoking rate hike expectations. — J.C. Lim with Reuters
Source: http://www.bworldonline.com/content.php?section=StockMarket&title=sona-fed-in-focus-as-&145ghost-month&8217-approaches&id=130852
==================================================
Good luck on all your TRADES today.
DISCLAIMER There is a very high degree of risk involved in TRADING. Past results are not indicative of future returns. Nothing contained in this newsletter constitutes a solicitation, recommendation, PROMOTION or endorsement of any security. In accordance with the Responsible TRADER's Creed: I will never tell and you take full responsibility for all your TRADING results
NOTES:
Please take note of the following changes effective August 6, 2015:
1. Caption Market Breadth has been changed to Total Traded Value to simplify the presentation.
2. Market Breadth is expressed in terms of Number of Advances and Declines. Expressing this as a Ratio by using the larger number as Numerator we derive the Market Sentiment whether Bullish or Bearish.
3. Based on Past three-year data of Average Total Traded Values, following classifications will be used to make the presentation more relevant to present times. a. Low – Total Traded Value less than P8 Billion b. Medium – Total Traded Value P8 Billion but not more than P15 Billion c. High – Total Traded Value more than P15 Billion