Top Ten Smart Money Moves – July 28, 2016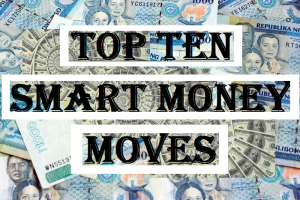 Top Ten Smart Money Moves, starting January 2015, is the official trading newsletter of The Responsible Trader to promote his advocacy, Responsible Trading. This newsletter contains the previous day's data from PSE, the Top Ten Foreign Buying and Selling, Top Ten in Total Traded Value, including Trading Notes based on the data of the previous day. This newsletter is given free to all the friends of The Responsible Trader and to members of the Facebook group and the other organizations where he is a member. For the previous issue where complete details about the newsletter was fully discussed, please refer to: Daily Top Tens October 17, 2014.
Top Ten Smart Money Moves – July 28, 2016
Trading Notes for Today –  (Based on July 28, 2016  Data)
Total Traded Value –  PhP  10.138  Billion –  Medium
Market Breadth and Sentiment indicated by Advances Declines Ratio – (Ideal is 2:1 to be considered Bullish or Bearish)  121  Declines vs. 70 Advances  = 1.73:1  Neutral
Total Foreign Buying – PhP 4.336 Billion
Total Foreign Selling – (Php  3.478) Billion
Net Foreign Buying (Selling)  Php 0.858  Billion – 4th  day of Net Foreign Buying after a day of Net Foreign Selling
 Data from the Philippine Stock Exchange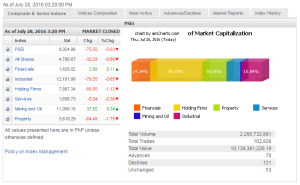 Screenshot courtesy of: www.pse.com.ph
PSE HEAT MAP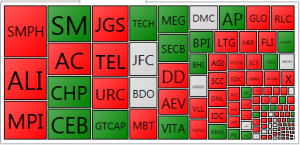 Screenshot courtesy of PSEGET
Top Ten Foreign Buying and Selling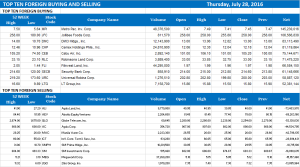 Top Ten in Total Traded Value
From now on, I will just quote the related article from Business World so that we will have everything in one piece:
==================================================
PSEi declines as Fed hints on interest rate hike
Posted on July 29, 2016
STOCKS slumped on Thursday as sentiment took a hit as the US Federal Reserve hinted on a possible rate hike towards the end of the year, a reversal from its dovish tone last month, and as investors anticipate a stimulus package from the Bank of Japan.
The benchmark Philippine Stock Exchange index dipped 0.93% or 75.50 points to 8,024.98.
The broader all-shares index fell 0.66% or 32.03 points to 4,790.67.
"I think mainly it's the hawkish tone of the Federal Reserve…suggesting that a September or December rate hike is back on table," Victor F. Felix, analyst at AB Capital Securities, Inc., said in a phone interview, adding that an imminent rate hike is putting pressure on global equities.
At the close of its two-day meeting yesterday, the US central bank opened prospects for an interest rate hike towards the end of the year, noting that near-term risks to the US economic outlook had diminished while citing strong job gains in June, among others.
"We're looking for more clues tomorrow (Friday) in the Bank of Japan's (BoJ) meeting," Mr. Felix added.
"Tomorrow, Friday, there will be policy decision of Bank of Japan on interest rates so it's natural for investors to take caution," Ralph Christian G. Bodollo, equity research analyst at RCBC Securities Inc., said in a phone interview.
Both analysts said the decline was also due to profit taking as investors locked in gains from the market's recent rise.
RCBC's Mr. Bodollo added that the upcoming "ghost month" also affected trading.
Among the subindices, property declined the most, dropping 1.75% or 64.49 points to 3,619.29.
Holding firms fell 1.11% or 89.05 points to 7,887.34; industrial slid 0.64% or 79.55 points to 12,181.98; and services decreased 0.36% or 6.04 points to 1,656.73.
Meanwhile, financials inched up 0.11% or 2.09 points to 1,828.02 and mining and oil advanced 0.34% or 37.82 points to end at 11,099.19.
Mr. Bodollo said mining and oil's increase was triggered by the earnings results of the Philex Mining Corp., the country's largest mining company by output. Philex Mining saw a 34% rise in its net income in the first half of the year.
"Nickel also is benefiting from the closure of smaller rivals," Mr. Bodollo added.
On Thursday, Oriental Peninsula Resources Group, Inc. disclosed to the stock exchange that the Mines and Geosciences Bureau issued its subsidiary Citinickel Mines and Development Corp. a suspension order, with its operations subject to a month-long audit.
Decliners trumped advancers, 121 to 70, while 53 names were unchanged.
Foreigners were net buyers with purchases reaching P858.36 million, lower than the P1.01-billion net buying recorded on Wednesday.
Value turnover reached P10.14 billion, higher than Wednesday's P8.61 billion, as 2.29 billion shares changed hands. — JCL
Source: http://www.bworldonline.com/content.php?section=StockMarket&title=psei-declines-as-fed-hints-on-interest-rate-hike&id=131111
==================================================
Good luck on all your TRADES today.
DISCLAIMER There is a very high degree of risk involved in TRADING. Past results are not indicative of future returns. Nothing contained in this newsletter constitutes a solicitation, recommendation, PROMOTION or endorsement of any security. In accordance with the Responsible TRADER's Creed: I will never tell and you take full responsibility for all your TRADING results
NOTES:
Please take note of the following changes effective August 6, 2015:
1. Caption Market Breadth has been changed to Total Traded Value to simplify the presentation.
2. Market Breadth is expressed in terms of Number of Advances and Declines. Expressing this as a Ratio by using the larger number as Numerator we derive the Market Sentiment whether Bullish or Bearish.
3. Based on Past three-year data of Average Total Traded Values, following classifications will be used to make the presentation more relevant to present times. a. Low – Total Traded Value less than P8 Billion b. Medium – Total Traded Value P8 Billion but not more than P15 Billion c. High – Total Traded Value more than P15 Billion