Top Ten Smart Money Moves – June 15, 2016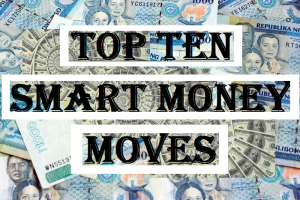 Top Ten Smart Money
Moves, starting January 2015, is the official trading
newsletter of The Responsible Trader
to promote
his advocacy, Responsible Trading
. This newsletter contains the previous day's data from PSE, the Top Ten Foreign Buying
and Selling, Top Ten in Total Traded
Value, including Trading
Notes based on the data of the previous day. This newsletter is given free to all the friends of The Responsible Trader
and to members of the Facebook group and the other organizations where he is a member. For the previous issue where complete details about the newsletter was fully discussed, please refer to: Daily Top Tens October 17, 2014.
Trading Notes for Today –  (Based on June 15, 2016  Data)
Total Traded Value –  PhP 6.165  Billion –  Low
Market Breadth and Sentiment indicated by Advances Declines Ratio – (Ideal is 2:1 to be considered Bullish or Bearish)  101  Advances vs. 92 Declines  = 1.10:1  Neutral
Total Foreign Buying – PhP 2.858 Billion
Total Foreign Selling – (Php  3.384) Billion
Net Foreign Buying (Selling)  (Php 0.526)  Billion – 4th day of Net Foreign Selling after 12  days of Net Foreign Buying
Data from the Philippine Stock Exchange
'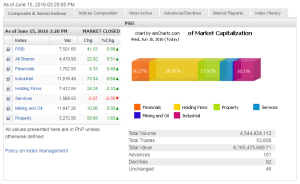 Screenshot courtesy of: www.pse.com.ph
PSE Heat Map
Screenshot courtesy of: PSEGET Software
Top Ten Foreign Buying
and Selling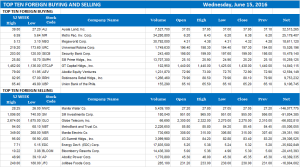 Top Ten in Total Traded
Value
From now on, I will just quote the related article from Business World so that we will have everything in one piece:
==================================================
Posted on June 15, 2016 07:43:00 PM
By Keith Richard D. Mariano
PSEi rebounds on bargain hunting ahead of Fed
PHILIPPINE STOCKS bounced back to the 7,500 level on Wednesday, as investors hunted for bargains amid thin trading before the US Federal Reserve concludes its policy meeting.
The bellwether Philippine Stock Exchange index (PSEi) settled at 7,501.65 after gaining 41.53 points or 0.55% from its previous close of 7,460.12. The broader all shares index, meanwhile, rose by 22.92 points or 0.51% to 4,478.90 yesterday.
The PSEi opened at a weak note, sliding 5.01 points down to 7,455.11. The main index even touched 7,451.56 before rising past the 7,500 mark. Its intraday high was 7,521.6.
All counters, excluding services, swung back to the positive territory after the previous session's sell-off. The services sub-index dropped by 5.97 points or 0.37% to 1,569.53.
Property stocks gained the most, 58.88 points or 1.83% to close at 3,272.56. Industrial climbed by 73.54 points or 0.64% to 11,516.48; financials by 8.33 points or 0.49% to 1,702.93; holding firms by 24.24 points or 0.32% to 7,412.84; and mining and oil by 10.06 points or 0.08% to 11,647.26.
"The market was up rather on a thin trading volume… There was nothing quite substantial and market-moving," Luis A. Limlingan, business development head at Regina Capital Development Corp., said by phone.
Value turnover slightly increased to P6.17 billion from the P6.09 billion recorded on Tuesday after 4.54 billion shares exchanged hands.
Foreign investors continued to dump shares, with net selling reaching P525.75 million, up from Tuesday's P306.03 million.
Advancers outnumbered decliners, 101 to 92, while 46 issues were unchanged.
The PSEi benefited from the correction of property stocks Double Dragon Properties Corp. and Ayala Land, Inc., which surged by 11.31% and 2.29% respectively during the session, First Grade Finance, Inc. Managing Director Astro C. del Castillo said in a separate interview.
"Some opted to bargain-hunt, maybe betting on the possibility of the Fed holding interest rates steady. The sell-off caused by the 'Brexit' is already overdue and [index provider] MSCI's move to exclude Chinese stocks also helped," Mr. del Castillo said.
First Grade Finance expects the PSEi to trade within the 7,400-7,600 range. Regina Capital maintained the support and resistance levels at 7,400 and 7,550.
"If the Fed decides to hold back, the market will continue its advances, but not so much because of 'Brexit' concerns," Regina Capital's Mr. Limlingan said.
The United Kingdom will hold a referendum on June 23 to determine whether it will continue to stay in the European Union.
First Grade Finance's Mr. del Castillo further cited the outcome of the two-day meeting of the Open Federal Market Committee among the possible drivers of today's trading, as it could give hints on its planned rate hike.
Source: http://www.bworldonline.com/content.php?section=StockMarket&title=psei-rebounds-on-bargain-hunting-ahead-of-fed&id=129032
==================================================
Good
luck on all your TRADES
today
.
DISCLAIMER There is a very high degree of risk involved in TRADING
. Past results
are not indicative of future returns
. Nothing contained in this newsletter constitutes a solicitation, recommendation, PROMOTION
or endorsement of any security. In accordance with the Responsible TRADER
's Creed: I will never tell and you take full
responsibility for all your TRADING
results
NOTES:
Please take note of the following changes effective August 6, 2015:
1. Caption Market Breadth has been changed to Total Traded Value to simplify the presentation.
2. Market Breadth is expressed in terms of Number of Advances and Declines. Expressing this as a Ratio by using the larger number as Numerator we derive the Market Sentiment whether Bullish or Bearish.
3. Based on Past three-year data of Average Total Traded Values, following classifications will be used to make the presentation more relevant to present times. a. Low – Total Traded Value less than P8 Billion b. Medium – Total Traded Value P8 Billion but not more than P15 Billion c. High – Total Traded Value more than P15 Billion