Top Ten Smart Money Moves – June 16, 2016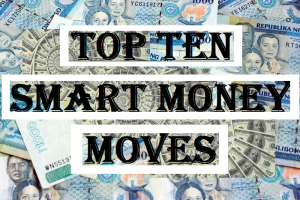 Top Ten Smart Money
Moves, starting January 2015, is the official trading
newsletter of The Responsible Trader
to promote
his advocacy, Responsible Trading
. This newsletter contains the previous day's data from PSE, the Top Ten Foreign Buying
and Selling, Top Ten in Total Traded
Value, including Trading
Notes based on the data of the previous day. This newsletter is given free to all the friends of The Responsible Trader
and to members of the Facebook group and the other organizations where he is a member. For the previous issue where complete details about the newsletter was fully discussed, please refer to: Daily Top Tens October 17, 2014.
Trading Notes for Today –  (Based on June 16, 2016  Data)
Total Traded Value –  PhP 5.915  Billion –  Low
Market Breadth and Sentiment indicated by Advances Declines Ratio – (Ideal is 2:1 to be considered Bullish or Bearish)  117  Advances vs. 61 Declines  = 1.92:1  Neutral
Total Foreign Buying – PhP 3.043 Billion
Total Foreign Selling – (Php  2.700) Billion
Net Foreign Buying (Selling)  Php 0.343  Billion – 1st day of Net Foreign Buying after 4 days of Net Foreign Selling
Data from the Philippine Stock Exchange
'
Screenshot courtesy of: www.pse.com.ph
PSE Heat Map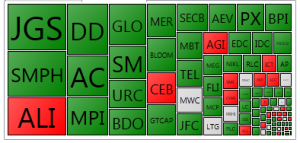 Screenshot courtesy of: PSEGET Software
Top Ten Foreign Buying
and Selling
Top Ten in Total Traded
Value
From now on, I will just quote the related article from Business World so that we will have everything in one piece:
==================================================
Posted on June 16, 2016 09:35:00 PM
PSEi extends gains as US Fed keeps rates steady
LOCAL STOCKS extended their climb on Thursday, bucking the regional downtrend, after the United States Federal Reserve left interest rates unchanged.
The bellwether Philippine Stock Exchange index (PSEi) gained 62.82 points or 0.84% to 7,564.47. The broader all-shares index rose 38.36 points or 0.86% to 4,517.26.
The main index opened strong, rising to 7,516.08 from the previous close of 7,501.65. It reached a high of 7,576.82 and touched a low of 7,513.42.
All counters posted gains, with the mining and oil sub-index advancing by 269.57 points or 2.31% to 11,916.83.
The industrial counter rose by 146.26 points or 1.27% to 11,662.74; financials went up by 18.23 points or 1.07% to 1,721.16; services advanced 13.99 points or 0.89% to 1,583.52; holding firms gained 50.73 points or 0.68% to 7,463.57; and property climbed 19.78 points or 0.60% to 3,292.34.
"I guess today it was just a no-rate hike that spurred the market," Alexander Adrian O. Tiu, senior equity analyst at AB Capital Securities, Inc., said in a telephone interview on Thursday.
The Federal Open Market Committee kept monetary policy settings unchanged and lowered its economic projections but, at the same time, signaled that plans of raising interest rates twice this year remain intact.
"Philippine equities became refuge as regional markets continued to weaken based on current economic data," Luis A. Limlingan, business development head at Regina Capital Development Corp., said in a text message.
"In the US, officials slowed the pace of expected moves in both 2017 and 2018: they now only foresee three increases in each of those years, down from four they expected in March, according to their latest median forecast," Mr. Limlingan added.
Jeng T. Calma, operations head at A&A Securities, Inc., noted that investor sentiment in the local bourse remains "bullish" as the PSEi has survived the major support of 7,400.
More than 1.37 billion shares worth P5.92 billion exchanged hands on Thursday, down from the previous session's P6.17 billion. Advancers beat decliners, 117 to 61, while 58 remained unchanged.
Foreign investors were net purchasers, with net buying coming in at P343.04 million, a reversal of Wednesday's net sales worth P525.75 million.
A&A Securities' Ms. Calma noted the local may probably correct on Friday after two consecutive days of ascent.
"Even though we're now past the Fed, I think all eyes are on the 'Brexit' referendum next week. The market will trade more or less sideways given our valuation are pretty high," AB Capital's Mr. Tiu said, adding the PSEi could trade within the 7,350-to-7,700 range anew.
Regina Capital's Mr. Limlingan said the June 23 referendum in the United Kingdom to determine whether the country will stay in the European Union "could roil global markets." — Keith Richard D. Mariano
Source: http://www.bworldonline.com/content.php?section=StockMarket&title=psei-extends-gains-as-us-fed-keeps-rates-steady&id=129113
==================================================
Good
luck on all your TRADES
today
.
DISCLAIMER There is a very high degree of risk involved in TRADING
. Past results
are not indicative of future returns
. Nothing contained in this newsletter constitutes a solicitation, recommendation, PROMOTION
or endorsement of any security. In accordance with the Responsible TRADER
's Creed: I will never tell and you take full
responsibility for all your TRADING
results
NOTES:
Please take note of the following changes effective August 6, 2015:
1. Caption Market Breadth has been changed to Total Traded Value to simplify the presentation.
2. Market Breadth is expressed in terms of Number of Advances and Declines. Expressing this as a Ratio by using the larger number as Numerator we derive the Market Sentiment whether Bullish or Bearish.
3. Based on Past three-year data of Average Total Traded Values, following classifications will be used to make the presentation more relevant to present times. a. Low – Total Traded Value less than P8 Billion b. Medium – Total Traded Value P8 Billion but not more than P15 Billion c. High – Total Traded Value more than P15 Billion