Top Ten Smart Money Moves – June 16, 2017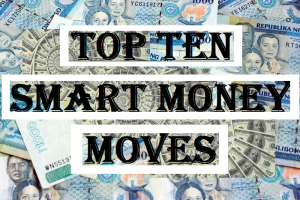 Top Ten Smart Money Moves, starting January 2015, is the official trading newsletter of The Responsible Trader to promote his advocacy, Responsible Trading. This newsletter contains the previous day's data from PSE, the Top Ten Foreign Buying and Selling, Top Ten in Total Traded Value, including Trading Notes based on the data of the previous day. This newsletter is given free to all the friends of The Responsible Trader and to members of the Facebook group and the other organizations where he is a member. For the previous issue where complete details about the newsletter was fully discussed, please refer to: Daily Top Tens October 17, 2014.
Trading Notes for Today –  (Based on June 16,  2017  Data)
Total Traded Value –  PhP  29.070  Billion –  High
Advances Declines Ratio – (Ideal is 2:1)  111 Declines vs. 85  Advances = 1.31:1  Neutral
Total Foreign Buying – PhP 24.368  Billion
Total Foreign Selling – (PhP  23.762)  Billion
Net Foreign Buying (Selling) – PhP 0.606  Billion –15th day of Net Foreign Buying after a  day of Net Foreign Selling
Data from the Philippine Stock Exchange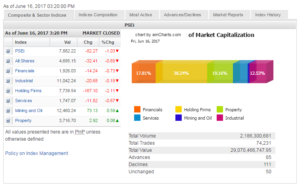 Screenshot courtesy of: www.pse.com.ph
PSE HEAT MAP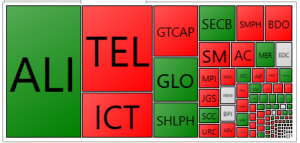 Screenshot courtesy of PSEGET
Top Ten Foreign Buying and Selling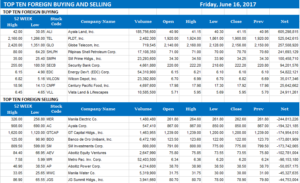 Top Ten in Total Traded Value
From now on, I will just quote the related article from Business World so that we will have everything in one piece:
==================================================
Shares to edge sideways as focus turns to BSP
Posted on June 19, 2017
STOCKS will likely continue moving sideways this week, with investors expected to watch out for the Bangko Sentral ng Pilipinas' (BSP) policy meeting on Thursday amid the lack of stronger leads.
The Philippine Stock Exchange index (PSEi) closed at 7,882.22 last Friday, down 1.03% or 82.27 points from the previous session.
Week on week, the bellwether index gave up 108 points or 1.35% from June 9's finish of 7,990.24 as investors stayed cautious ahead of the outcome of the US Federal Reserve's policy-setting Federal Open Market Committee (FOMC) meeting, analysts said.
"Caution reverberated throughout the week's sessions, ahead of results from the US FOMC meeting," said 2TradeAsia.com.
Some sectors were in "red territory" as the index moved within a range of 7,882 to 7,995, it added.
The wider all-shares index lost 0.68% to 4,695.15. Decliners outnumbered advancers at 111 to 85, while 50 finished unchanged.
"Last week, in a surprising turn of events, not only did the PSEi fail to break its psychological limit yet again, it also undone all the aggressive trading in the morning session, which saw the index breach the 8,008 weekly resistance," Luis A. Limlingan, business development head at Regina Capital Development Corp., said.
This week, investors will look to the BSP policy meeting on Thursday, which comes after the US Federal Reserve's move to raise interest rates anew last week.
Ten of 11 analysts in a BusinessWorld poll expect the central bank to stand pat on its policy stance during its review.
The policy meeting, the final one for BSP Governor Amando M. Tetangco, Jr. before he ends his 12-year term next month, is awaited after the Fed move and the Bank of Japan's decision to keep rates steady, said 2TradeAsia.com.
Mr. Tetangco said last week that the BSP would "not necessarily" have to match the Fed's moves, saying that domestic conditions are of bigger concern rather than external developments in setting the benchmark borrowing rates here.
2TradeAsia.com said "consensus point towards an unchanged rate as May's inflation settled lower at 3.1%. The same might prevail towards early [third quarter], with crude futures trailing at the low end."
"Moving forward, BSP is seen to raise benchmark rates by at least 25bps before the year ends," it said, to keep pace with benchmark securities and expectations of improved demand in the second half that may support higher pricing. It said gauges "needed to stabilize for now, to support rises to higher terrain. Immediate support is 7,800, resistance 8,000-8,050."
"Locally, everyone will be turning their attention to the BSP meeting as bets are being raised as to one when we will raise our own interest rates in response to many central banks last week coming up with their own policy statements last week," Regina Capital's Mr. Limlingan said. — V.V. Saulon
Source: http://www.bworldonline.com/content.php?section=StockMarket&title=shares-to-edge-sideways-as-focus-turns-to-bsp&id=146909
=====================================================
We aim to continue promoting financial literacy on the area of stock market trading and investing to our countrymen both here and abroad through the following:
1. The Book: "The Responsible Trader – a Thinking Person's Guide for Trading the Philippine Stock Market" now earned the name "The Bible of Philippine Trading." You can download Chapter 1, Section 1 of the book here: http://theresponsibletrader.com/the-responsible-trader-hope-for-trading-knowledge-test/.
As requested by those abroad and those who want the book in digital form, we have produced an eBook version. For those interested please send email to: ninjatrader19@gmail.com Subject: The Responsible Trader – eBook Version.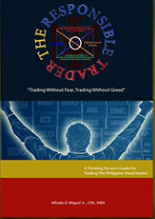 2. The Website: :http://www.theresponsibletrader.com where we publish our daily newsletter Top Ten Smart Money Moves, Stock Trading Lessons, and Inspirational Materials. (FREE)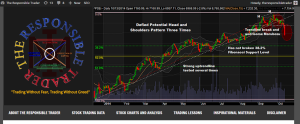 3. The YouTube Channel: https://www.youtube.com/theresponsibletrader – where you can learn the course "Master's Certificate in Technical Analysis" which was simplified in an easily understood manner. You can download these videos and learn them at your own convenient time. (FREE)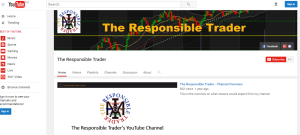 4. My Slideshare: http://www.slideshare.net/TheResponsibleTrader – where you can view and download copy of the Powerpoint Presentation of my TRT-POV (The Responsible Trader's Point of View) of the videos posted in our Youtube Channel. (FREE)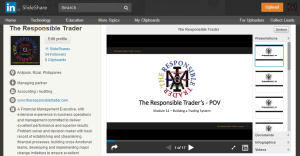 ===================================================
Good luck on all your TRADES today.
DISCLAIMER There is a very high degree of risk involved in TRADING. Past results are not indicative of future returns. Nothing contained in this newsletter constitutes a solicitation, recommendation, PROMOTION or endorsement of any security. In accordance with the Responsible TRADER's Creed: I will never tell and you take full responsibility for all your TRADING results
NOTES: Please take note of the following changes effective August 6, 2015: 1. Caption Market Breadth has been changed to Total Traded Value to simplify the presentation. 2. Market Breadth is expressed in terms of Number of Advances and Declines. Expressing this as a Ratio by using the larger number as Numerator we derive the Market Sentiment whether Bullish or Bearish. 3. Based on Past three-year data of Average Total Traded Values, following classifications will be used to make the presentation more relevant to present times. a. Low – Total Traded Value less than PhP 8 Billion b. Medium – Total Traded Value Php 8 Billion but not more than P15 Billion c. High – Total Traded Value more than Php 15 Billion