Top Ten Smart Money Moves – June 21, 2016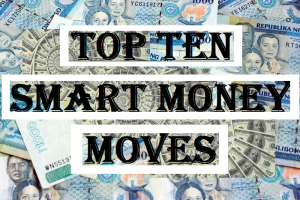 Top Ten Smart Money
Moves, starting January 2015, is the official trading
newsletter of The Responsible Trader
to promote
his advocacy, Responsible Trading
. This newsletter contains the previous day's data from PSE, the Top Ten Foreign Buying
and Selling, Top Ten in Total Traded
Value, including Trading
Notes based on the data of the previous day. This newsletter is given free to all the friends of The Responsible Trader
and to members of the Facebook group and the other organizations where he is a member. For the previous issue where complete details about the newsletter was fully discussed, please refer to: Daily Top Tens October 17, 2014.
Trading Notes for Today –  (Based on June 21, 2016  Data)
Total Traded Value –  PhP 9.928  Billion –  Medium
Market Breadth and Sentiment indicated by Advances Declines Ratio – (Ideal is 2:1 to be considered Bullish or Bearish)  97  Advances vs. 92  Declines  = 1.05:1  Neutral
Total Foreign Buying – PhP 5.485 Billion
Total Foreign Selling – (Php  4.425) Billion
Net Foreign Buying (Selling)  Php 1.060  Billion – 4th day of Net Foreign Buying after 4 days of Net Foreign Selling
Data from the Philippine Stock Exchange
'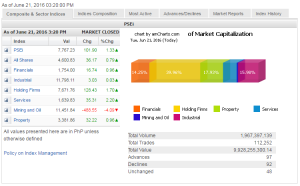 Screenshot courtesy of: www.pse.com.ph
PSE Heat Map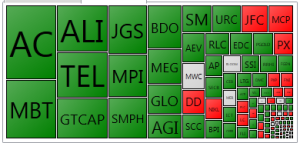 Screenshot courtesy of: PSEGET Software
Top Ten Foreign Buying
and Selling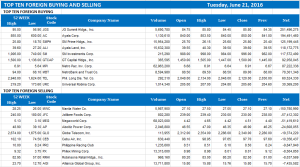 Top Ten in Total Traded
Value
From now on, I will just quote the related article from Business World so that we will have everything in one piece:
==================================================
Posted on June 21, 2016 08:07:00 PM
By Krista A. M. Montealegre, National Correspondent
Index climbs to 13-month high on foreign buying
LOCAL EQUITIES soared to a 13-month high yesterday, outperforming the regional market, as optimism got a boost from the clear economic policies of the new government coupled with growing expectations that the United Kingdom (UK) will stay in the European Union (EU).
The benchmark Philippine Stock Exchange index (PSEi) surged 101.90 points or 1.32% to end at 7,767.23, its highest finish since May 22, 2015 when it closed at 7,810.17.
The PSEi is up 11.73% for the year after losing as much as 12.5% at the start of the year.
The wider all-shares index jumped 36.17 points or 0.79% to 4,600.83.
"We've seen a slew of foreign buying partly due to the business convention in Davao where they outlined clear economic policies that are generally positive for the business community," Alexander Adrian O. Tiu, senior equity analyst at AB Capital Securities, Inc., said in a telephone interview.
Foreign buying accelerated to P1.06 billion yesterday from P353.62 million in the previous session.
President-elect Rodrigo R. Duterte's economic team, in a consultation workshop in Davao City with some of the country's biggest businesses, unveiled on Monday a plan to increase spending on infrastructure and agriculture to sustain the country's strong economic growth.
Most Asian markets edged up on hopes that British voters will decide to remain in the 28-member bloc in this week's referendum.
"The local bourse has whipsawed over the past week, with short-term volatility jumping, as investors looked to the UK plebiscite. Britain's referendum on EU membership remained too close to call two before the vote with separate polls showing leads for both sides," Luis A. Limlingan, business development head at Regina Capital Development Corp., said via text.
Most counters ended in positive territory except for mining and oil, which plunged 488.55 points or 4.09% to 11.451.84. The weakness was attributed to reports that Mr. Duterte offered the post of Environment Secretary to anti-mining advocate Regina Paz L. Lopez.
"That's the big reason given that commodity prices haven't really moved that much," AB Capital's Mr. Tiu said.
In contrast, services climbed 35.31 points or 2.20% to 1,639.83, holding firms advanced 128.43 points or 1.70% to 7,671.76; property added 32.22 points or 0.96% to 3,381.86; financials rose 16.74 points or 0.96% to 1,754.00; and industrial went up by 3.03 points or 0.02% to 11,798.11.
Value turnover improved to P9.93 billion, from P6.63 billion on Monday, after 1.97 billion shares changed hands.
Gainers beat losers, 97 to 92, while 48 issues were traded.
"The market is pretty high so there might be a bit of profit-taking ahead of the UK referendum," Mr. Tiu said.
Source: http://www.bworldonline.com/content.php?section=StockMarket&title=index-climbs-to-13-month-high-on-foreign-buying&id=129309
==================================================
Good
luck on all your TRADES
today
.
DISCLAIMER There is a very high degree of risk involved in TRADING
. Past results
are not indicative of future returns
. Nothing contained in this newsletter constitutes a solicitation, recommendation, PROMOTION
or endorsement of any security. In accordance with the Responsible TRADER
's Creed: I will never tell and you take full
responsibility for all your TRADING
results
NOTES:
Please take note of the following changes effective August 6, 2015:
1. Caption Market Breadth has been changed to Total Traded Value to simplify the presentation.
2. Market Breadth is expressed in terms of Number of Advances and Declines. Expressing this as a Ratio by using the larger number as Numerator we derive the Market Sentiment whether Bullish or Bearish.
3. Based on Past three-year data of Average Total Traded Values, following classifications will be used to make the presentation more relevant to present times. a. Low – Total Traded Value less than P8 Billion b. Medium – Total Traded Value P8 Billion but not more than P15 Billion c. High – Total Traded Value more than P15 Billion