Top Ten Smart Money Moves – June 22, 2016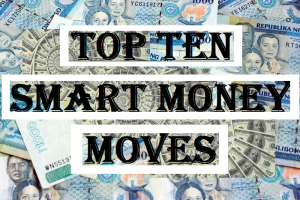 Top Ten Smart Money
Moves, starting January 2015, is the official trading
newsletter of The Responsible Trader
to promote
his advocacy, Responsible Trading
. This newsletter contains the previous day's data from PSE, the Top Ten Foreign Buying
and Selling, Top Ten in Total Traded
Value, including Trading
Notes based on the data of the previous day. This newsletter is given free to all the friends of The Responsible Trader
and to members of the Facebook group and the other organizations where he is a member. For the previous issue where complete details about the newsletter was fully discussed, please refer to: Daily Top Tens October 17, 2014.
Trading Notes for Today –  (Based on June 22,  2016  Data)
Total Traded Value –  PhP 7.665  Billion –  Low
Market Breadth and Sentiment indicated by Advances Declines Ratio – (Ideal is 2:1 to be considered Bullish or Bearish)  108  Declines vs.  86  Advances  1.26:1  Neutral
Total Foreign Buying – PhP 4.348 Billion
Total Foreign Selling – (Php  3.220) Billion
Net Foreign Buying (Selling)  Php 1.128  Billion – 5th day of Net Foreign Buying after 4 days of Net Foreign Selling
Data from the Philippine Stock Exchange
'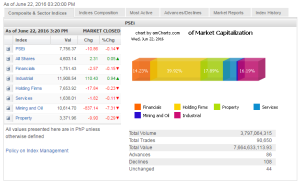 Screenshot courtesy of: www.pse.com.ph
PSE Heat Map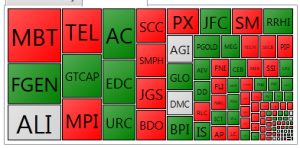 Screenshot courtesy of: PSEGET Software
Top Ten Foreign Buying
and Selling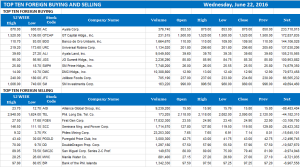 Top Ten in Total Traded
Value
From now on, I will just quote the related article from Business World so that we will have everything in one piece:
==================================================
Posted on June 22, 2016 06:53:00 PM
PSEi retreats as mining stocks continue descent
STOCKS retreated from a 13-month high on Wednesday, as mining stocks continued to plunge following the appointment of an anti-mining advocate as Secretary of the Environment department and as investors took profits ahead of the 'Brexit' vote.
The barometer Philippine Stock Exchange index (PSEi) settled at its intraday low of 7,756.37 after dropping 10.86 points or 0.14% from its previous close of 7,767.23.
The broader all-shares index, however, managed to stay in positive territory, rising 2.31 points or 0.05% to 4,603.14.
The PSEi traded sideways during the session, opening at 7,767.44 and surging to a high of 7,777.60. The index managed to return to the 7,700 line before taking a steep plunge at the last minute.
"Investors cashed in gains at the close ahead of the UK (United Kingdom) referendum," Joylin F. Telagen, research head at IB Gimenez Securities, Inc., said in a text message.
The UK will hold a referendum today to decide whether it will continue its membership in the European Union (EU). Latest surveys suggest the country will vote to remain as part of the economic and political bloc.
"Sentiment-wise, it's (the vote) kind of priced in already," Frank Gerard J. Barboza, equity trader at AP Securities, Inc., said in a telephone interview.
If the UK decides to leave the EU, the Philippine economy will experience minimal negative impact and instead benefit from a possible diversion of fund flows to the emerging markets, he said.
All counters posted losses except the industrial sector that gained 110.43 points or 0.93% to reach 11,908.54. Mining stocks continued their decline, losing another 837.14 points or 7.31% to close at 10,614.70.
Property dropped by 9.90 points or 0.29% to 3,371.96; holding firms by 17.84 points or 0.23% to 7,653.92; financials by 2.57 points or 0.14% to 1,751.43; and services by 1.82 points or 0.11% to 1,638.01.
"Basically it's the mining sector dragging the market. Known anti-mining advocate [Regina Paz "Gina" L. Lopez] is now hired at the DENR (Department of Environment and Natural Resources)," Mr. Barboza said.
"Fundamentally, it's going to affect the mining sector but we also see a rotation in Lopez stocks, sentiment-wise," he added.
About 3.80 billion shares worth P7.66 billion exchanged hands on Wednesday, with foreign investors maintaining a net buying position of P1.13 billion. Decliners beat gainers, 108 to 86, while 44 stocks were unchanged.
The PSEi can rally toward the 7,800 level should the UK vote to stays in the EU, IB Gimenez's Ms. Telagen said. "If trend continues, it can possibly approach 8,000 provided second quarter earnings are better than expected and a positive economic growth from the next administration."
AP Securities' Mr. Barboza, meanwhile, pegged resistance at 7,800 and support below 7,500. "I think there could be one more pull back but if 7,500 holds then we could rise to 7,800…" — Keith Richard D. Mariano
Source: http://www.bworldonline.com/content.php?section=StockMarket&title=psei-retreats-as-mining-stocks-continue-descent&id=129365
==================================================
Good
luck on all your TRADES
today
.
DISCLAIMER There is a very high degree of risk involved in TRADING
. Past results
are not indicative of future returns
. Nothing contained in this newsletter constitutes a solicitation, recommendation, PROMOTION
or endorsement of any security. In accordance with the Responsible TRADER
's Creed: I will never tell and you take full
responsibility for all your TRADING
results
NOTES:
Please take note of the following changes effective August 6, 2015:
1. Caption Market Breadth has been changed to Total Traded Value to simplify the presentation.
2. Market Breadth is expressed in terms of Number of Advances and Declines. Expressing this as a Ratio by using the larger number as Numerator we derive the Market Sentiment whether Bullish or Bearish.
3. Based on Past three-year data of Average Total Traded Values, following classifications will be used to make the presentation more relevant to present times. a. Low – Total Traded Value less than P8 Billion b. Medium – Total Traded Value P8 Billion but not more than P15 Billion c. High – Total Traded Value more than P15 Billion