Top Ten Smart Money Moves – June 23, 2017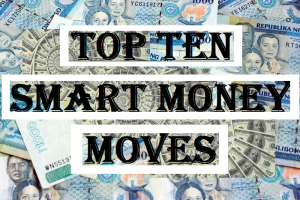 Top Ten Smart Money Moves, starting January 2015, is the official trading newsletter of The Responsible Trader to promote his advocacy, Responsible Trading. This newsletter contains the previous day's data from PSE, the Top Ten Foreign Buying and Selling, Top Ten in Total Traded Value, including Trading Notes based on the data of the previous day. This newsletter is given free to all the friends of The Responsible Trader and to members of the Facebook group and the other organizations where he is a member. For the previous issue where complete details about the newsletter was fully discussed, please refer to: Daily Top Tens October 17, 2014.
Trading Notes for Today –  (Based on June 23,  2017  Data)
Total Traded Value –  PhP  6.899  Billion –  Low
Advances Declines Ratio – (Ideal is 2:1)  100  Advances vs. 98 Declines = 1.02:1  Neutral
Total Foreign Buying – PhP 3.068  Billion
Total Foreign Selling – (PhP  3.442)  Billion
Net Foreign Buying (Selling) – (PhP 0.374)  Billion – 1st day of Net Foreign Selling  after 2 days of Net Foreign Buying
Data from the Philippine Stock Exchange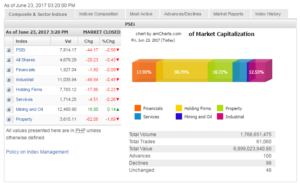 Screenshot courtesy of: www.pse.com.ph
PSE HEAT MAP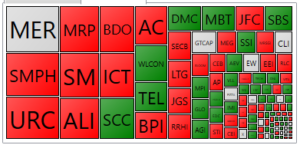 Screenshot courtesy of PSEGET
Top Ten Foreign Buying and Selling
Top Ten in Total Traded Value
From now on, I will just quote the related article from Business World so that we will have everything in one piece:
==================================================
Quarter-end window dressing likely to lift stocks
Posted on June 27, 2017
QUARTER-END WINDOW dressing is likely to provide investors impetus to buy local stocks and help the Philippine Stock Exchange index (PSEi) break from range-trading, a movement that has marked the main gauge's direction for the past weeks.
"Bullish," said Joseph Y. Roxas, president of Eagle Equities, Inc., when asked about his expectations for the shortened trading week.
Mr. Roxas said the next few days make up the period when companies schedule their "window dressing" to cover the end of the first half.
"Portfolio realignment as a result of the quarter-end season would likely take center stage this week, as fund managers prepare their refreshed basket weighting for the (second) semestral wave," said 2TradeAsia.com for its outlook for the last week of the month, the quarter and the semester.
The online arm of F. Yap Securities, Inc. said interest might be skewed towards sectors that are set to benefit during the fourth-quarter drive, especially infrastructure and allied construction-related undertakings as well as consumer-spending plays.
It advised investors to position during intraday lulls and "go for stocks with convincing growth stories that will support improved dividends in the long term."
"Immediate support is 7,750, resistance 7,870-7,900," said 2TradeAsia.com.
In the first half, 2TradeAsia.com said local equities managed to sustain their upward channel, despite geopolitical risks and "other externalities." The firm said it had tracked the PSEi trend at the tailend of 2016 towards its present level.
During this review period, investors saw terrorist elements — the Maute clan — taking siege of Marawi City, prompting President Rodrigo R. Duterte to declare martial law in Mindanao, or a third of the country's geographic division.
2TradeAsia said its view is supported by investors' "firm belief" in the country's sound fundamentals and the country's ability to weather political or economic storm.
It said as the market prepared to gather momentum for its next climb, "a healthy checklist is essential" to test the resilience of monetary and fiscal policies, "including the need to recalibrate, if necessary."
2TradeAsia.com added that even if the country's inflation outlook had been adjusted to 3.1%, "growth remains well supported, and value plays in equities are present."
But for Jonathan L. Ravelas, BDO Unibank, Inc. chief market strategist, the market would remain range-bound this week. He placed this range at the 7,700 to 8,000 levels.
Last week, the PSEi finished at 7,814.17, or lower by 0.86% from a week prior, and by 0.68% from its close four weeks earlier. The wider all-shares index finished at 4,679.29, weaker by 0.34% compared with the earlier week and lower by 0.23% from with its closing four weeks ago. — Victor V. Saulon
Source: http://www.bworldonline.com/content.php?section=StockMarket&title=quarter-end-window-dressing-likely-to-lift-stocks&id=147328
=====================================================
We aim to continue promoting financial literacy on the area of stock market trading and investing to our countrymen both here and abroad through the following:
1. The Book: "The Responsible Trader – a Thinking Person's Guide for Trading the Philippine Stock Market" now earned the name "The Bible of Philippine Trading." You can download Chapter 1, Section 1 of the book here: http://theresponsibletrader.com/the-responsible-trader-hope-for-trading-knowledge-test/.
As requested by those abroad and those who want the book in digital form, we have produced an eBook version. For those interested please send email to: ninjatrader19@gmail.com Subject: The Responsible Trader – eBook Version.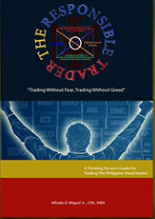 2. The Website: :http://www.theresponsibletrader.com where we publish our daily newsletter Top Ten Smart Money Moves, Stock Trading Lessons, and Inspirational Materials. (FREE)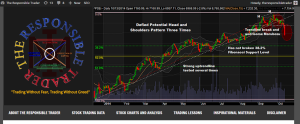 3. The YouTube Channel: https://www.youtube.com/theresponsibletrader – where you can learn the course "Master's Certificate in Technical Analysis" which was simplified in an easily understood manner. You can download these videos and learn them at your own convenient time. (FREE)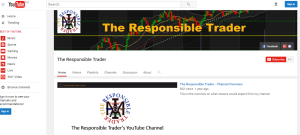 4. My Slideshare: http://www.slideshare.net/TheResponsibleTrader – where you can view and download copy of the Powerpoint Presentation of my TRT-POV (The Responsible Trader's Point of View) of the videos posted in our Youtube Channel. (FREE)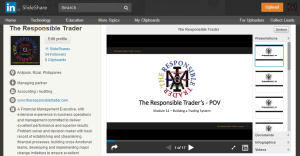 ===================================================
Good luck on all your TRADES today.
DISCLAIMER There is a very high degree of risk involved in TRADING. Past results are not indicative of future returns. Nothing contained in this newsletter constitutes a solicitation, recommendation, PROMOTION or endorsement of any security. In accordance with the Responsible TRADER's Creed: I will never tell and you take full responsibility for all your TRADING results
NOTES: Please take note of the following changes effective August 6, 2015: 1. Caption Market Breadth has been changed to Total Traded Value to simplify the presentation. 2. Market Breadth is expressed in terms of Number of Advances and Declines. Expressing this as a Ratio by using the larger number as Numerator we derive the Market Sentiment whether Bullish or Bearish. 3. Based on Past three-year data of Average Total Traded Values, following classifications will be used to make the presentation more relevant to present times. a. Low – Total Traded Value less than PhP 8 Billion b. Medium – Total Traded Value Php 8 Billion but not more than P15 Billion c. High – Total Traded Value more than Php 15 Billion