Top Ten Smart Money Moves – June 24, 2016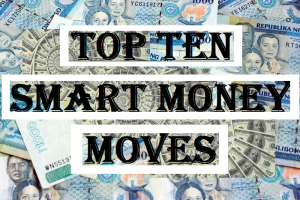 Top Ten Smart Money
Moves, starting January 2015, is the official trading
newsletter of The Responsible Trader
to promote
his advocacy, Responsible Trading
. This newsletter contains the previous day's data from PSE, the Top Ten Foreign Buying
and Selling, Top Ten in Total Traded
Value, including Trading
Notes based on the data of the previous day. This newsletter is given free to all the friends of The Responsible Trader
and to members of the Facebook group and the other organizations where he is a member. For the previous issue where complete details about the newsletter was fully discussed, please refer to: Daily Top Tens October 17, 2014.
Trading Notes for Today –  (Based on June 24, 2016  Data)
Total Traded Value –  PhP 9.561  Billion –  Medium
Market Breadth and Sentiment indicated by Advances Declines Ratio – (Ideal is 2:1 to be considered Bullish or Bearish)  158 Declines vs. 37  Advances  = 4.27:1  Bearish
Total Foreign Buying – PhP 4.336 Billion
Total Foreign Selling – (Php  3.111) Billion
Net Foreign Buying (Selling)  Php 1.224  Billion – 7th day of Net Foreign Buying after 4 days of Net Foreign Selling
Data from the Philippine Stock Exchange
'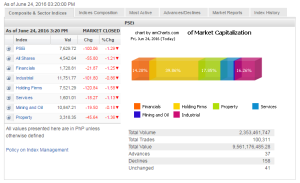 Screenshot courtesy of: www.pse.com.ph
PSE Heat Map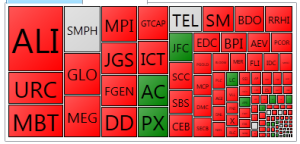 Screenshot courtesy of: PSEGET Software
Top Ten Foreign Buying
and Selling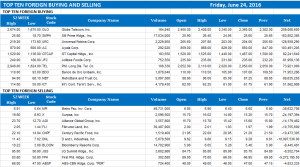 Top Ten in Total Traded
Value
From now on, I will just quote the related article from Business World so that we will have everything in one piece:
==================================================
Posted on June 26, 2016 07:07:00 PM
By Keith Richard D. Mariano, Reporter
'Brexit' aftermath to keep stocks under pressure
LOCAL EQUITIES may remain under pressure this week, as investors digest the implications of the United Kingdom's (UK) decision to leave the European Union (EU) and await global economic indicators, according to analysts.
"While the exit of Britain from the EU is likely to have a minimal impact on Philippine economy, volatility in trading is expected as investors digest what this move really means in each sector," online brokerage 2TradeAsia.com said in a weekly outlook.
In a referendum held June 23, the UK decided to exit the political and economic bloc it has formed part of since 1973. It was a close vote, with 51.8% wanting to leave and 48.1% seeking to stay.
The outcome of the referendum shocked financial markets across the globe, with the Philippine Stock Exchange index (PSEi) plummeting by 100.06 points or 1.29% to 7,629.72 when the results were announced on Friday.
"Many investors were positioned for the UK to stay within the EU and, thus, a knee jerk reaction took place," AB Capital Securities, Inc. said in a report.
"We expect local equities to continue to react negatively [to the outcome of the UK referendum], with our local stock market index shedding a possible 4%-10% from peak as investors shun away from risky assets," it said.
"We note, however, that most of our locally-listed companies have limited exposure to the UK and the EU, and any deep correction may be a buying opportunity for investors," it added.
2TradeAsia.com noted the possible impact would vary among sectors. For instance, property firms may experience dampened demand from Filipinos working, while consumer companies may benefit from or lose to the weakening of certain currencies.
"In general, chances are good that the Philippine economy will stay strong as this is largely driven by domestic demand. The Philippines is also not too dependent on exports, especially exports to UK as this accounts for a very small percentage of the total," it added.
AB Capital, meanwhile, cited gold investors and miners as the "big winners" in the UK referendum, with the precious metal presenting a safe haven.
"Brexit is also negative on crude oil prices, which may result in a strong opportunity to invest on beaten-down airline shares considering that jet fuel expense typically contributes 30%-50% of an airline's total operating expense."
With the decision of the UK to leave the EU hanging over the market, 2TradeAsia.com and AB Capital said investors will watch out for key economic data, including the advance estimate for the US second-quarter gross domestic product and the China manufacturing data, for direction.
AB Capital expects the PSEi to succumb to profit-taking toward the 7,480 and 7,450 levels before retesting the 7,800 resistance. 2TradeAsia.com, meanwhile, pegged support at 7,530 to 7,580 and resistance at 7,750 to 7,800.
Source: http://www.bworldonline.com/content.php?section=StockMarket&title=&145brexit&8217-aftermath-to-keep-stocks-under-pressure&id=129505
==================================================
Good
luck on all your TRADES
today
.
DISCLAIMER There is a very high degree of risk involved in TRADING
. Past results
are not indicative of future returns
. Nothing contained in this newsletter constitutes a solicitation, recommendation, PROMOTION
or endorsement of any security. In accordance with the Responsible TRADER
's Creed: I will never tell and you take full
responsibility for all your TRADING
results
NOTES:
Please take note of the following changes effective August 6, 2015:
1. Caption Market Breadth has been changed to Total Traded Value to simplify the presentation.
2. Market Breadth is expressed in terms of Number of Advances and Declines. Expressing this as a Ratio by using the larger number as Numerator we derive the Market Sentiment whether Bullish or Bearish.
3. Based on Past three-year data of Average Total Traded Values, following classifications will be used to make the presentation more relevant to present times. a. Low – Total Traded Value less than P8 Billion b. Medium – Total Traded Value P8 Billion but not more than P15 Billion c. High – Total Traded Value more than P15 Billion