Top Ten Smart Money Moves – June 27, 2016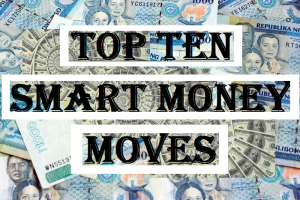 Top Ten Smart Money
Moves, starting January 2015, is the official trading
newsletter of The Responsible Trader
to promote
his advocacy, Responsible Trading
. This newsletter contains the previous day's data from PSE, the Top Ten Foreign Buying
and Selling, Top Ten in Total Traded
Value, including Trading
Notes based on the data of the previous day. This newsletter is given free to all the friends of The Responsible Trader
and to members of the Facebook group and the other organizations where he is a member. For the previous issue where complete details about the newsletter was fully discussed, please refer to: Daily Top Tens October 17, 2014.
Trading Notes for Today –  (Based on June 27, 2016  Data)
Total Traded Value –  PhP 6.811  Billion –  Low
Market Breadth and Sentiment indicated by Advances Declines Ratio – (Ideal is 2:1 to be considered Bullish or Bearish)  120  Advances  vs. 74 Declines = 1.62:1  Neutral
Total Foreign Buying – PhP 3.358 Billion
Total Foreign Selling – (Php  2.862) Billion
Net Foreign Buying (Selling)  Php 0.496  Billion – 8th day of Net Foreign Buying after 4 days of Net Foreign Selling
Data from the Philippine Stock Exchange
'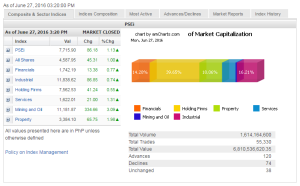 Screenshot courtesy of: www.pse.com.ph
PSE Heat Map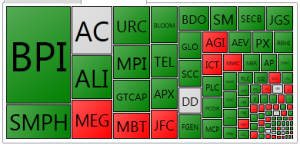 Screenshot courtesy of: PSEGET Software
Top Ten Foreign Buying
and Selling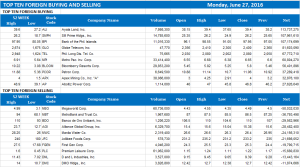 Top Ten in Total Traded
Value
From now on, I will just quote the related article from Business World so that we will have everything in one piece:
==================================================
Posted on June 27, 2016 06:46:00 PM
By Keith Richard D. Mariano, Reporter
Local shares rebound as 'Brexit' concerns fade
LOCAL STOCKS recovered on Monday, as investors saw that the United Kingdom's (UK) exit from the European Union (EU) will have minimal on the Philippines and amid optimism about the economy's prospects under a new leadership.
The bellwether Philippine Stock Exchange index (PSEi) soared by 86.18 points or 1.13% to close at 7,715.90, the highest level it reached during the session.
The broader all-shares index climbed 45.31 points or 0.99% to 4,587.95.
Aniceto K. Pangan, trader at Diversified Securities, Inc., said the local stock market recovered after investors digested the implication of the UK referendum that narrowly favored a "Brexit" on the Philippine economy.
"The 'Brexit' has minimal effect on the Philippines. We hardly conduct exports to Great Britain plus the fact our remittances coming in from England are not that substantial to affect the economy," Mr. Pangan said.
"The 10-point agenda of the incoming administration would more than cover up for the weakness of the external factors. We still feel optimistic about the economic growth of the country," the equity trader added.
Concerns over possible fallout of the Britain's exit from the EU were apparent earlier in the session, with the PSEi falling below the 7,500 mark, noted Justino B. Calaycay, Jr., head of marketing and research at A&A Securities, Inc. "This may have opened up relative bargains which, in addition to the creeping realization of the minimal impact 'Brexit' has on the domestic economy and at the status quo in UK politics and economy in the next three months to as long as two years, allowed investors to pounce on the opportunity."
All counters ended in the positive territory. Mining and oil stocks led the rebound, gaining 334.66 points or 3.08% to close at 11,181.87.
Property rose by 65.75 points or 1.98% to 3,384.10; services by 21 points or 1.31% to 1,622.01; financials by 13.38 points or 0.77% to 1,742.19; industrial by 86.85 points or 0.73% to 11,838.62; and holding firms by 41.24 points or 0.54% to 7,562.53.
Value turnover amounted to P6.81 billion after 1.61 billion shares exchanged hands, down from Friday's P9.56 billion, with 120 stocks advancing, 74 declining and 38 remaining unchanged.
Foreign investors maintained a net buying position of P496.69 million, although this was less than Friday's P1.22-billion net purchases.
"On a wider scale, the sentimental drop on a real event not many thought was going to happen had funds rushing out and rebalancing their portfolio to account for the rising risks in the EU markets," Mr. Calaycay said.
"In fact, from June 16 to 24, a total of seven days, a period over which the index added 128.07 points or 1.7%, foreigners increased their holdings by an average of P866.1 million per day."
Source: http://www.bworldonline.com/content.php?section=StockMarket&title=local-shares-rebound-as-&145brexit&8217-concerns-fade&id=129577
==================================================
Good
luck on all your TRADES
today
.
DISCLAIMER There is a very high degree of risk involved in TRADING
. Past results
are not indicative of future returns
. Nothing contained in this newsletter constitutes a solicitation, recommendation, PROMOTION
or endorsement of any security. In accordance with the Responsible TRADER
's Creed: I will never tell and you take full
responsibility for all your TRADING
results
NOTES:
Please take note of the following changes effective August 6, 2015:
1. Caption Market Breadth has been changed to Total Traded Value to simplify the presentation.
2. Market Breadth is expressed in terms of Number of Advances and Declines. Expressing this as a Ratio by using the larger number as Numerator we derive the Market Sentiment whether Bullish or Bearish.
3. Based on Past three-year data of Average Total Traded Values, following classifications will be used to make the presentation more relevant to present times. a. Low – Total Traded Value less than P8 Billion b. Medium – Total Traded Value P8 Billion but not more than P15 Billion c. High – Total Traded Value more than P15 Billion