Top Ten Smart Money Moves – June 27, 2017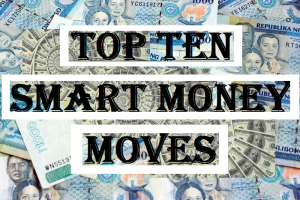 Top Ten Smart Money Moves, starting January 2015, is the official trading newsletter of The Responsible Trader to promote his advocacy, Responsible Trading. This newsletter contains the previous day's data from PSE, the Top Ten Foreign Buying and Selling, Top Ten in Total Traded Value, including Trading Notes based on the data of the previous day. This newsletter is given free to all the friends of The Responsible Trader and to members of the Facebook group and the other organizations where he is a member. For the previous issue where complete details about the newsletter was fully discussed, please refer to: Daily Top Tens October 17, 2014.
Trading Notes for Today –  (Based on June 27,  2017  Data)
Total Traded Value –  PhP  9.169  Billion –  Medium
Advances Declines Ratio – (Ideal is 2:1)  103  Declines vs. 94 Advances = 1.10:1  Neutral
Total Foreign Buying – PhP 4.199  Billion
Total Foreign Selling – (PhP  4.918)  Billion
Net Foreign Buying (Selling) – (PhP 0.719)  Billion – 2nd day of Net Foreign Selling  after 2 days of Net Foreign Buying
Data from the Philippine Stock Exchange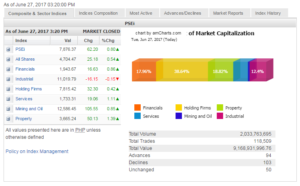 Screenshot courtesy of: www.pse.com.ph
PSE HEAT MAP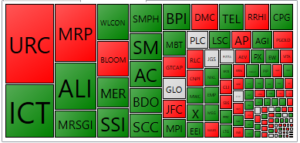 Screenshot courtesy of PSEGET
Top Ten Foreign Buying and Selling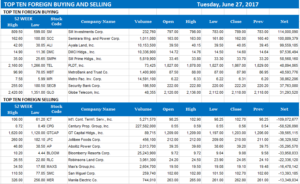 Top Ten in Total Traded Value
From now on, I will just quote the related article from Business World so that we will have everything in one piece:
==================================================
Shares rebound on end-quarter window dressing
Posted on June 28, 2017
AS EXPECTED by analysts, the Philippine Stock Exchange index (PSEi) managed to wrest gains to finish 62.20 points or 0.79% higher at 7,876.37 on the first day of a shortened trading week that many see as a time for end-quarter window dressing.
"Philippine markets started their window dressing to kick off the last trading week of the first half capitalizing on US equities surging on opening," said Luis A. Limlingan, business development head at Regina Capital Development Corp.
He said the main index's climb happened despite US shares' mixed finish, with financials' rise offset by losses of large-cap technology stocks. Financial stocks gained ahead of the second part of a stress test conducted by the US Federal Reserve on US banks.
Like the PSEi, the wider all-shares index managed to close positively, gaining 25.18 points or 0.53% to finish at 4,704.47.
Local sector indices were mostly up on Tuesday, with property stocks recording the biggest gain of 50.13 points or 1.38% to 3,665.24. Services advanced 19.06 points or 1.11% to close at 1,733.31, financials moved 16.63 points or 0.86% higher to 1,943.67, mining and oil also gained 105.55 points or 0.84% to 12,586.45, while holding firms edged 32.30 points or 0.41% up to finish at 7,815.42.
The industrial sector was the only loser, declining by 16.15 points or 0.14% to end 11,019.79.
UNDERLYING WEAKNESS
Still, advancers were outnumbered by losers 94 to 103, while 50 issued closed unchanged. Trading value rose 33% to P9.17 billion, from Friday's P6.90 billion.
Yesterday saw net foreign selling nearly double to P718.52 million from Friday's P374.82 billion.
Analysts last weekend said trading this week will likely be fueled by first-half positioning of fund managers, who have been waiting for a catalyst that will help the index to rise past the 8,000 level, and stay above it.
For some, however, uncertainty remains over the PSEi's strength to climb past that crucial mark, with Miko S. Sayo, trader at Angping & Associates Securities, Inc., watching if the market could hold above 7,750-7,800.
Yesterday's top gainers included Lorenzo Shipping Corp., PetroEnergy Resources Corp., Omico Corp., MJC Investments Corp. and IRC Properties, Inc., while top losers included Keppel Philippine Holdings, Inc. "B"; The Philodrill Corp.; Waterfront Philippines, Inc.; Filipino Fund, Inc. and A. Brown Co., Inc.
The most active stocks were led by Universal Robina Corp.; International Container Terminal Services, Inc.; Melco Resorts and Entertainment (Philippines) Corp.; Ayala Land, Inc. and Metro Retail Stores Group, Inc.
Melco told the stock exchange on Tuesday that its board had approved a hike in the company's authorized capital stock to P11.9 billion, double the current P5.9 billion, ahead of a planned equity offering to repay debt and bankroll expansion.
Source: http://www.bworldonline.com/content.php?section=StockMarket&title=shares-rebound-on-end-quarter-window-dressing&id=147385
=====================================================
We aim to continue promoting financial literacy on the area of stock market trading and investing to our countrymen both here and abroad through the following:
1. The Book: "The Responsible Trader – a Thinking Person's Guide for Trading the Philippine Stock Market" now earned the name "The Bible of Philippine Trading." You can download Chapter 1, Section 1 of the book here: http://theresponsibletrader.com/the-responsible-trader-hope-for-trading-knowledge-test/.
As requested by those abroad and those who want the book in digital form, we have produced an eBook version. For those interested please send email to: ninjatrader19@gmail.com Subject: The Responsible Trader – eBook Version.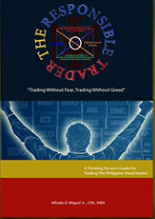 2. The Website: :http://www.theresponsibletrader.com where we publish our daily newsletter Top Ten Smart Money Moves, Stock Trading Lessons, and Inspirational Materials. (FREE)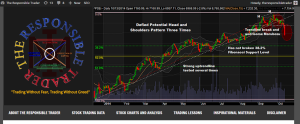 3. The YouTube Channel: https://www.youtube.com/theresponsibletrader – where you can learn the course "Master's Certificate in Technical Analysis" which was simplified in an easily understood manner. You can download these videos and learn them at your own convenient time. (FREE)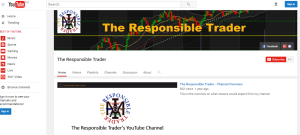 4. My Slideshare: http://www.slideshare.net/TheResponsibleTrader – where you can view and download copy of the Powerpoint Presentation of my TRT-POV (The Responsible Trader's Point of View) of the videos posted in our Youtube Channel. (FREE)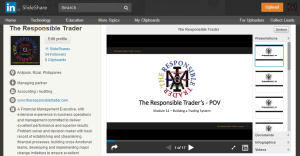 ===================================================
Good luck on all your TRADES today.
DISCLAIMER There is a very high degree of risk involved in TRADING. Past results are not indicative of future returns. Nothing contained in this newsletter constitutes a solicitation, recommendation, PROMOTION or endorsement of any security. In accordance with the Responsible TRADER's Creed: I will never tell and you take full responsibility for all your TRADING results
NOTES: Please take note of the following changes effective August 6, 2015: 1. Caption Market Breadth has been changed to Total Traded Value to simplify the presentation. 2. Market Breadth is expressed in terms of Number of Advances and Declines. Expressing this as a Ratio by using the larger number as Numerator we derive the Market Sentiment whether Bullish or Bearish. 3. Based on Past three-year data of Average Total Traded Values, following classifications will be used to make the presentation more relevant to present times. a. Low – Total Traded Value less than PhP 8 Billion b. Medium – Total Traded Value Php 8 Billion but not more than P15 Billion c. High – Total Traded Value more than Php 15 Billion