Top Ten Smart Money Moves – June 28, 2016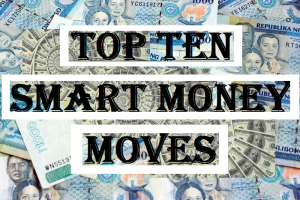 Top Ten Smart Money
Moves, starting January 2015, is the official trading
newsletter of The Responsible Trader
to promote
his advocacy, Responsible Trading
. This newsletter contains the previous day's data from PSE, the Top Ten Foreign Buying
and Selling, Top Ten in Total Traded
Value, including Trading
Notes based on the data of the previous day. This newsletter is given free to all the friends of The Responsible Trader
and to members of the Facebook group and the other organizations where he is a member. For the previous issue where complete details about the newsletter was fully discussed, please refer to: Daily Top Tens October 17, 2014.
Trading Notes for Today –  (Based on June 28, 2016  Data)
Total Traded Value –  PhP 5.142  Billion –  Low
Market Breadth and Sentiment indicated by Advances Declines Ratio – (Ideal is 2:1 to be considered Bullish or Bearish)  94 Declines vs. 82  Advances  = 1.15:1  Neutral
Total Foreign Buying – PhP 2.173 Billion
Total Foreign Selling – (Php  2.321) Billion
Net Foreign Buying (Selling)  (Php 0.148)  Billion – 1st day of Net Foreign Selling after 8 days of Net Foreign Buying
 Data from the Philippine Stock Exchange
'
Screenshot courtesy of: www.pse.com.ph
PSE Heat Map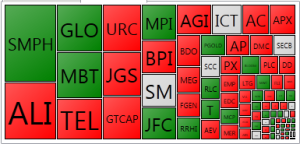 Screenshot courtesy of: PSEGET Software
Top Ten Foreign Buying
and Selling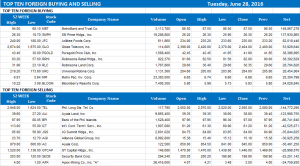 Top Ten in Total Traded
Value
From now on, I will just quote the related article from Business World so that we will have everything in one piece:
==================================================
Posted on June 28, 2016 07:02:00 PM
By Keith Richard D. Mariano, Reporter
PSEi declines anew as 'Brexit' roils global marts
STOCKS fell back to the negative territory on Tuesday, after investors pocketed gains amid continuing volatility abroad brought by the United Kingdom's (UK) exit from the European Union (EU).
The barometer Philippine Stock Exchange index (PSEi) descended by 49.21 points or 0.63% to finish at 7,666.69 at the closing bell, from its previous close of 7,715.90.
The broader all-shares index likewise lost 20.67 points or 0.45% to settle at 4,567.28.
"We just took cues from the US market and, of course, the Euro market, which performed poorly last [Monday] night," Alexander Adrian O. Tiu, senior equity analyst at AB Capital Securities, Inc., said in a telephone interview.
The outcome of the UK referendum continued to hound financial markets, making investors cautious from trading on the local bourse, Jeng T. Calma, head of operations at A&A Securities, Inc., said in a separate interview.
Mr. Tiu and Ms. Calma further noted that investors opted to embark on profit taking, given the market's recovery on Monday from a three-day losing streak driven by the UK referendum that eventually favored a "Brexit."
All counters suffered losses, led by industrials, which retreated by 82.77 points or 0.69% to 11,755.85. Holdings firms declined by 50.44 points or 0.66% to 7,512.09; mining and oil by 60.76 points or 0.54% to 11,121.11; property by 13.92 points or 0.41% to 3,370.18; services by 5.82 points or 0.35% to 1,616.19; and financials by 5.88 points or 0.33% to 1,736.31.
Value turnover dropped to P5.14 billion from the P6.81 billion recorded on Monday, after 1.04 billion shares exchanged hands. Foreign selling prevailed, with net purchases logged at P147.85 million, lower than Monday's P496.69 million.
Decliners led advancers, 94 to 82, while 57 stocks were unchanged.
"There's still going to be huge volatility moving forward. I think the question right now is when will the UK activate Article 50 and the second is will this referendum spread to other countries because there are talks that France, Denmark and Italy could consider following suit," AB Capital's Mr. Tiu said.
The departure of the UK from the EU will have a minimal impact on the Philippine economy, Mr. Tiu explained, as London only accounts for a small portion of the country's external trade and remittances from overseas Filipino workers.
"We are affected indirectly because of the volatility — the peso is getting weaker, yields are coming down as investors go to fixed-income," Mr. Tiu noted.The analyst added that the PSEi could trade from 7,600 to 7,750 in the coming days.
Investors will likely drive the market higher until the new government's takeover at noon of June 30, A&A's Ms. Calma said. "Hopefully, it will reach the 7,800 level."
Source: http://www.bworldonline.com/content.php?section=StockMarket&title=psei-declines-anew-as-&145brexit&8217-roils-global-marts&id=129639
==================================================
Good
luck on all your TRADES
today
.
DISCLAIMER There is a very high degree of risk involved in TRADING
. Past results
are not indicative of future returns
. Nothing contained in this newsletter constitutes a solicitation, recommendation, PROMOTION
or endorsement of any security. In accordance with the Responsible TRADER
's Creed: I will never tell and you take full
responsibility for all your TRADING
results
NOTES:
Please take note of the following changes effective August 6, 2015:
1. Caption Market Breadth has been changed to Total Traded Value to simplify the presentation.
2. Market Breadth is expressed in terms of Number of Advances and Declines. Expressing this as a Ratio by using the larger number as Numerator we derive the Market Sentiment whether Bullish or Bearish.
3. Based on Past three-year data of Average Total Traded Values, following classifications will be used to make the presentation more relevant to present times. a. Low – Total Traded Value less than P8 Billion b. Medium – Total Traded Value P8 Billion but not more than P15 Billion c. High – Total Traded Value more than P15 Billion