Top Ten Smart Money Moves – Mar. 16, 2016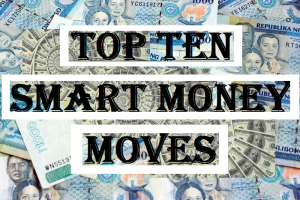 Top Ten Smart Money
Moves, starting January 2015, is the official trading
newsletter of The Responsible Trader
to promote
his advocacy, Responsible Trading
. This newsletter contains the previous day's data from PSE, the Top Ten Foreign Buying
and Selling, Top Ten in Total Traded
Value, including Trading
Notes based on the data of the previous day. This newsletter is given free to all the friends of The Responsible Trader
and to members of the Facebook group and the other organizations where he is a member. For the previous issue where complete details about the newsletter was fully discussed, please refer to: Daily Top Tens October 17, 2014.
Trading Notes for Today –  (Based on Mar. 16, 2016  Data)
Total Traded Value –  PhP6.779 Billion –  Low
Market Breadth and Sentiment indicated by Advances Declines Ratio – (Ideal is 2:1 to be considered Bullish or Bearish) 121 Declines vs. 73 Advances = 1.66:1 Neutral
Total Foreign Buying – PhP 3.033 Billion
Total Foreign Selling – (Php     2.864) Billion
Net Foreign Buying (Selling) – Php 0.169 Billion – 5th  day of Net Foreign Buying after a day of Net Foreign Selling
Data from the Philippine Stock Exchange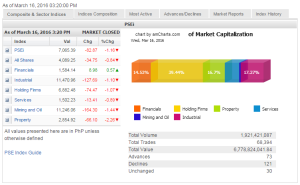 Screenshot courtesy of: www.pse.com.ph
PSE Heat Map
(Note: No Heat Map Today. My PSEGet is acting up again)
Screenshot courtesy of: PSEGET Software
Top Ten Foreign Buying
and Selling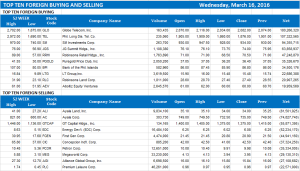 Top Ten in Total Traded
Value
From now on, I will just quote the related article from Business World so that we will have everything in one piece:
==================================================
Posted on March 16, 2016 09:41:00 PM
By Krista A. M. Montealegre, Senior Reporter
Stocks close lower as investors eye Fed decision
STOCKS RETREATED from four-month highs, as investors turned cautious before the US Federal Reserve issues its decision on monetary policy after its two-day meeting.
The benchmark Philippine Stock Exchange index (PSEi) lost 82.87 points or 1.15% to close at 7,065.39 yesterday, also the session's low.
The all-shares index shed 34.75 points or 0.84% to finish at 4,089.25.
"US stocks closed a bit lower because they are waiting for the Fed decision. We are just taking money off the table since we've been climbing so people are selling a bit because they are not totally convinced of this rally," Luis A. Limlingan, business development head at Regina Capital Development Corp. said in a telephone interview.
Prior to Wednesday's fall, the PSEi has accumulated gains of 255.57 points or 3.7% over six days, initially pushed by a rally in world oil prices and domestic corporate earnings, including two successive intraday breaches of the 7,200 line.
The Fed is seen keeping interest rates unchanged at the close of its policy meeting amid lingering fears about the state of the global economy and signs of continued improvement in the US economy.
Fresh forecasts from the Fed's 17 officials released after the meeting ends on Wednesday will likely signal three or possibly two rate hikes this year, a slower path of rate hikes than the four 2016 rate hikes envisioned in December, the last time forecasts were published.
"The pause the local market took at mid-week is seen as a healthy rest for prices that have moved strongly north over the last several days. Indeed, some room will have to be made and given to profit-taking as the index builds more momentum to break past 7,200," Justino B. Calaycay, Jr., head of marketing and research at A&A Securities, Inc., said in a client note released yesterday.
The shift to selling mode could be attributed to the upcoming shortened trading week as the country observes Lent, Mr. Calaycay said.
Financials was the lone sub-index in the green with a gain of 8.98 points or 0.57% to 1,584.14.
In contrast, property dropped 66.10 points or 2.26% to 2,854.92; mining and oil slid 164.30 points or 1.44% to 11,246.06; industrial slipped 127.69 points or 1.10% to 11,470.96; holding firms declined 74.47 points or 1.07% to 6,882.48; and services went down 13.41 points or 0.88% to 1,502.23.
Value turnover eased to P6.78 billion after 1.92 billion shares changed hands, from Tuesday's P8.29 billion. Losers beat gainers, 121 to 73, while 30 issues closed flat. Net foreign buying eased to P168.97 million from the P934.97 million seen the previous session.
"We'll probably test support at 7,000 depending on the outcome of the Fed meeting," Regina Capital's Mr. Limlingan said. — with Reuters
Source: http://www.bworldonline.com/content.php?section=StockMarket&title=stocks-close-lower-as-investors-eye-fed-decision&id=124629
==================================================
Good
luck on all your TRADES
today
.
DISCLAIMER There is a very high degree of risk involved in TRADING
. Past results
are not indicative of future returns
. Nothing contained in this newsletter constitutes a solicitation, recommendation, PROMOTION
or endorsement of any security. In accordance with the Responsible TRADER
's Creed: I will never tell and you take full
responsibility for all your TRADING
results
NOTES:
Please take note of the following changes effective August 6, 2015:
1. Caption Market Breadth has been changed to Total Traded Value to simplify the presentation.
2. Market Breadth is expressed in terms of Number of Advances and Declines. Expressing this as a Ratio by using the larger number as Numerator we derive the Market Sentiment whether Bullish or Bearish.
3. Based on Past three-year data of Average Total Traded Values, following classifications will be used to make the presentation more relevant to present times. a. Low – Total Traded Value less than P8 Billion b. Medium – Total Traded Value P8 Billion but not more than P15 Billion c. High – Total Traded Value more than P15 Billion