Top Ten Smart Money Moves – Mar. 18, 2016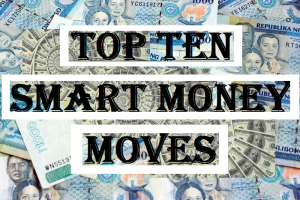 Top Ten Smart Money
Moves, starting January 2015, is the official trading
newsletter of The Responsible Trader
to promote
his advocacy, Responsible Trading
. This newsletter contains the previous day's data from PSE, the Top Ten Foreign Buying
and Selling, Top Ten in Total Traded
Value, including Trading
Notes based on the data of the previous day. This newsletter is given free to all the friends of The Responsible Trader
and to members of the Facebook group and the other organizations where he is a member. For the previous issue where complete details about the newsletter was fully discussed, please refer to: Daily Top Tens October 17, 2014.
Trading Notes for Today –  (Based on Mar. 18, 2016  Data)
Total Traded Value –  PhP 11.167 Billion –  Medium
Market Breadth and Sentiment indicated by Advances Declines Ratio – (Ideal is 2:1 to be considered Bullish or Bearish) 100 Advances  vs. 80 Declines  = 1.25:1  Neutral
Total Foreign Buying – PhP 7.434 Billion
Total Foreign Selling – (Php 6.308) Billion
Net Foreign Buying (Selling) – Php 1.126  Billion – 7th day of Net Foreign Buying after a day of Net Foreign Selling
Data from the Philippine Stock Exchange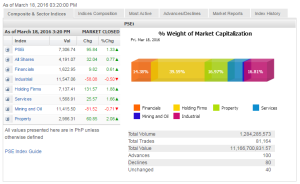 Screenshot courtesy of: www.pse.com.ph
PSE Heat Map
Screenshot courtesy of: PSEGET Software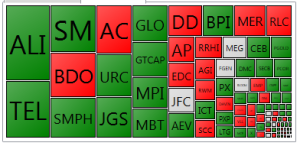 Top Ten Foreign Buying
and Selling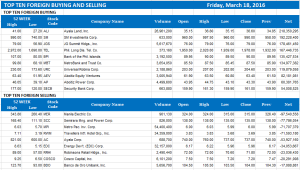 Top Ten in Total Traded
Value
From now on, I will just quote the related article from Business World so that we will have everything in one piece:
==================================================
Posted on March 20, 2016 07:31:00 PM
By Krista A.M. Montealegre, Senior Reporter
Pullback possible as market waits for new leads
BULLS AND BEARS will be locked in a tug of war after scaling new highs for the year, with volumes expected to be light ahead of the Holy Week break.
The benchmark Philippine Stock Exchange index (PSEi) rallied 2.93% for the week to close at 7,306.74, its best finish since Oct. 27, 2015, after the United States Federal Reserve signaled a more gradual rise in rates this year than previously thought at the close of its two-day policy meeting,
The Fed held interest rates steady on Wednesday and indicated that moderate US economic growth and "strong job gains" would allow it to tighten policy this year, with fresh projections showing policy makers expected two quarter-point hikes by the year's end, half the number seen in December.
"The market is quite strong right now. Some foreign funds are entering the market again. We might still go higher, but we are a bit on the high side. As we get closer to the Holy Week, buying might slow down," Miko A. Sayo, trader at Angping and Associates, said in a telephone interview.
Financial markets will be open for only three days before shutting down in observance of Maundy Thursday and Good Friday.
For the first time this year, foreign investors were in buying territory on a year-to-date basis, BPI Asset Management said in a research note. Net foreign purchases for the year stood at P1.95 billion, according to data from the local bourse.
The bellwether PSEi has seen a major reversal from a brutal start, now up 5.1% on a year-to-date basis after plummeting by as much as 12.45% to 6,084.28 on Jan. 21 and staying in "bear" territory for more than two weeks.
The US central bank's dovish stance left the door open for more money to flow into risky assets like equities and may prompt capital seeking higher returns to move to emerging markets like the Philippines.
"The concern before was funds will shift from the emerging markets back to the developed economies, but since the pace of rate increases may not be as fast as the original target, in a way, this eases the shift from emerging economies to the developed markets," Lexter A. Azurin, head of research at Unicapital Securities, Inc., said in a telephone interview.
Though local equities remain bullish, range pullbacks are needed to sustain a healthy trend with key support range plotted at the 6,890 to 7,100 band, Luis A. Limlingan, business development head at Regina Capital Development Corp., said via text.
"Looking at price action the past week, PSEi's down day on March 16 may hint at better things to come. On that day, the index tested its 200-day moving average (MA) as support around the 7,085 level. The PSEi closed above the 200-day MA afterward, signifying a major shift in mood among players," online brokerage 2TradeAsia.com said in a report. — with Reuters
Source: http://www.bworldonline.com/content.php?section=StockMarket&title=pullback-possible-as-market-waits-for-new-leads&id=124763
==================================================
Good
luck on all your TRADES
today
.
DISCLAIMER There is a very high degree of risk involved in TRADING
. Past results
are not indicative of future returns
. Nothing contained in this newsletter constitutes a solicitation, recommendation, PROMOTION
or endorsement of any security. In accordance with the Responsible TRADER
's Creed: I will never tell and you take full
responsibility for all your TRADING
results
NOTES:
Please take note of the following changes effective August 6, 2015:
1. Caption Market Breadth has been changed to Total Traded Value to simplify the presentation.
2. Market Breadth is expressed in terms of Number of Advances and Declines. Expressing this as a Ratio by using the larger number as Numerator we derive the Market Sentiment whether Bullish or Bearish.
3. Based on Past three-year data of Average Total Traded Values, following classifications will be used to make the presentation more relevant to present times. a. Low – Total Traded Value less than P8 Billion b. Medium – Total Traded Value P8 Billion but not more than P15 Billion c. High – Total Traded Value more than P15 Billion