Top Ten Smart Money Moves – March 17, 2017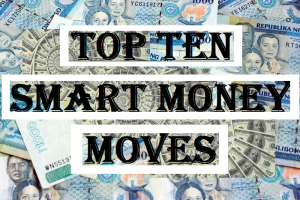 Top Ten Smart Money Moves, starting January 2015, is the official trading newsletter of The Responsible Trader to promote his advocacy, Responsible Trading. This newsletter contains the previous day's data from PSE, the Top Ten Foreign Buying and Selling, Top Ten in Total Traded Value, including Trading Notes based on the data of the previous day. This newsletter is given free to all the friends of The Responsible Trader and to members of the Facebook group and the other organizations where he is a member. For the previous issue where complete details about the newsletter was fully discussed, please refer to: Daily Top Tens October 17, 2014.
Trading Notes for Today –  (Based on March 17, 2017  Data)
Total Traded Value –  PhP  13.997  Billion – Medium
Advances Declines Ratio – (Ideal is 2:1)   103  Advances vs. 78  Declines    = 1.32:1  Neutral
Total Foreign Buying – PhP 10.138  Billion
Total Foreign Selling – (PhP  9.969  Billion)
Net Foreign Buying (Selling) – PhP  0.169  Billion – first day of Net Foreign Buying after 2 days of Net Foreign Selling
Data from the Philippine Stock Exchange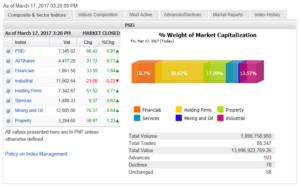 Screenshot courtesy of: www.pse.com.ph
PSE HEAT MAP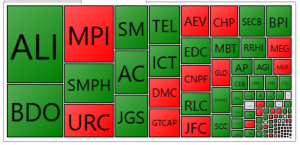 Screenshot courtesy of PSEGET
Top Ten Foreign Buying and Selling
Top Ten in Total Traded Value
From now on, I will just quote the related article from Business World so that we will have everything in one piece:
==================================================
Stocks seen to strengthen after Fed rate decision
Posted on March 20, 2017
AFTER ENDING in the 7,300 level last week as 7 concerns on the US Federal Reserve's interest rate stance eased, the main index is seen to hover around the 7,300 to 7,450 level this week in anticipation of the Bangko Sentral ng Pilipinas' (BSP) own policy review.
The bellwether Philippine Stock Exchange Index (PSEi) gained 66.42 points or 0.91% to end at 7,345.02 on Friday.
Week on week, the main index was up 2.78% from its 7,146.27 close last March 10.
Trading last week was mostly driven by the Fed's two-day meeting last March 14-15, where it raised interest rates by 25 basis points. The US central bank also hinted on two more rate hikes this year and three in 2018 amid expected stable growth in the US.
On Thursday, the BSP's policy-setting Monetary Board holds its own review. Analysts polled by BusinessWorld said it will likely hold fire on policy settings this week despite a rate hike in the US, although analysts expect as much as two increases later this year in light of rising inflation and a weaker peso.
Ten economists expect the central bank to keep policy rates steady on Thursday, in line with BSP Governor Amando M. Tetangco, Jr.'s signals that there is no "urgent" need for adjustments at the moment.
Mr. Tetangco last week said there remains room for the BSP to stand pat on current borrowing rates despite a fresh 25-basis-point increase announced by the US Federal Reserve last week, as the markets have already priced in its impact and with local conditions seen remaining upbeat.
The benchmark borrowing rate currently stands at 3%, while overnight lending and overnight deposit rates are set at 3.5% and 2.5%, respectively.
"With several central banks giving their guidance last week especially the Fed, attention will also focus to our own BSP when they convene later in the week," Luis A. Limlingan, managing director of Regina Capital Development Corp., said in a text message over the weekend.
Last week's close gave encouragement that the main index may establish a firm support of 7,300, stirring a new expected range level this week of around 7,300 to 7,450, Mr. Limlingan said.
"Although BSP already reiterated it will not move in sync with the Fed, the latest decision could still serve as among the driving factors that could affect the peso-dollar trend," read the weekly outlook report of online brokerage 2TradeAsia.com.
2TradeAsia.com said investors are expected to closely monitor how finance ministers in the G-20 meeting would take and address the looming protectionist policies and border taxes the US is mulling to implement.
Meanwhile, players will also monitor the speech of US President Donald J. Trump, with markets still looking for more hints on the direction of policies there.
Having breached an intra-week high of 7,417 Friday, the online brokerage firm said markets will test the PSEi's ability to climb past 7,500 towards 7,600. — Janina C. Lim
Source: http://www.bworldonline.com/content.php?section=StockMarket&title=stocks-seen-to-strengthen-after-fed-rate-decision&id=142394
==================================================
We aim to continue promoting financial literacy on the area of stock market trading and investing to our countrymen both here and abroad through the following:
1. The Book: "The Responsible Trader – a Thinking Person's Guide for Trading the Philippine Stock Market" now earned the name "The Bible of Philippine Trading." You can download Chapter 1, Section 1 of the book here: http://theresponsibletrader.com/the-responsible-trader-hope-for-trading-knowledge-test/.
As requested by those abroad and those who want the book in digital form, we have produced an eBook version. For those interested please send email to: ninjatrader19@gmail.com Subject: The Responsible Trader – eBook Version.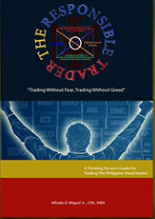 2. The Website: :http://www.theresponsibletrader.com where we publish our daily newsletter Top Ten Smart Money Moves, Stock Trading Lessons, and Inspirational Materials. (FREE)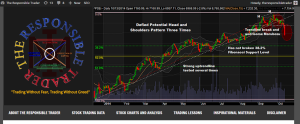 3. The YouTube Channel: https://www.youtube.com/theresponsibletrader – where you can learn the course "Master's Certificate in Technical Analysis" which was simplified in an easily understood manner. You can download these videos and learn them at your own convenient time. (FREE)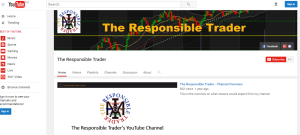 4. My Slideshare: http://www.slideshare.net/TheResponsibleTrader – where you can view and download copy of the Powerpoint Presentation of my TRT-POV (The Responsible Trader's Point of View) of the videos posted in our Youtube Channel. (FREE)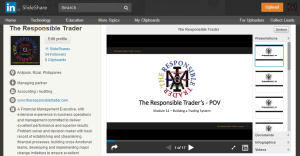 ===================================================
Good luck on all your TRADES today.
DISCLAIMER There is a very high degree of risk involved in TRADING. Past results are not indicative of future returns. Nothing contained in this newsletter constitutes a solicitation, recommendation, PROMOTION or endorsement of any security. In accordance with the Responsible TRADER's Creed: I will never tell and you take full responsibility for all your TRADING results
NOTES: Please take note of the following changes effective August 6, 2015: 1. Caption Market Breadth has been changed to Total Traded Value to simplify the presentation. 2. Market Breadth is expressed in terms of Number of Advances and Declines. Expressing this as a Ratio by using the larger number as Numerator we derive the Market Sentiment whether Bullish or Bearish. 3. Based on Past three-year data of Average Total Traded Values, following classifications will be used to make the presentation more relevant to present times. a. Low – Total Traded Value less than PhP 8 Billion b. Medium – Total Traded Value Php 8 Billion but not more than P15 Billion c. High – Total Traded Value more than Php 15 Billion