Top Ten Smart Money Moves – May 17, 2016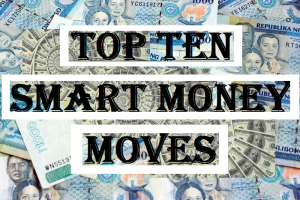 Top Ten Smart Money
Moves, starting January 2015, is the official trading
newsletter of The Responsible Trader
to promote
his advocacy, Responsible Trading
. This newsletter contains the previous day's data from PSE, the Top Ten Foreign Buying
and Selling, Top Ten in Total Traded
Value, including Trading
Notes based on the data of the previous day. This newsletter is given free to all the friends of The Responsible Trader
and to members of the Facebook group and the other organizations where he is a member. For the previous issue where complete details about the newsletter was fully discussed, please refer to: Daily Top Tens October 17, 2014.
Trading Notes for Today –  (Based on May 17, 2016  Data)
Total Traded Value –  PhP 9.966 Billion –  Medium
Market Breadth and Sentiment indicated by Advances Declines Ratio – (Ideal is 2:1 to be considered Bullish or Bearish)  99 Declines vs. 96 Advances   = 1.03:1  Neutral
Total Foreign Buying – PhP 5.110  Billion
Total Foreign Selling – Php 5.131 Billion
Net Foreign Buying (Selling)  (Php 0.021)  Billion – 1st day of Net Foreign Selling after 2  days of Net Foreign Buying
Data from the Philippine Stock Exchange
'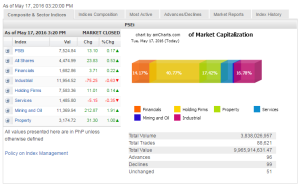 Screenshot courtesy of: www.pse.com.ph
PSE Heat Map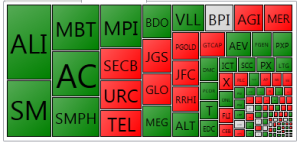 Screenshot courtesy of: PSEGET Software
Top Ten Foreign Buying
and Selling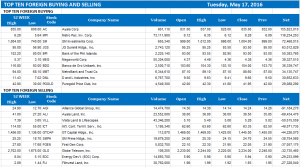 Top Ten in Total Traded
Value
From now on, I will just quote the related article from Business World so that we will have everything in one piece:
==================================================
Posted on May 17, 2016 08:30:00 PM
Main index inches up as investors pocket profits
THE PHILIPPINE Stock Exchange index on Tuesday maintained its post-election rise, closing marginally higher on Tuesday as investors took profits after the recent surge of local shares.
"Bullishness comes not just because of the results of the elections, but global markets were also strong last night on the back of higher oil prices," said Miguel A. Agarao, vice-president of Philequity Management, Inc.
The main index gained 13.10 points or 0.17% to end at 7,524.84, while the broader all-shares index rose by 23.83 points or 0.53% to close at 4,474.99. Sectoral indices finished mixed. Financials, holding firms, mining and oil, and property closed higher, while industrials and services went down.
Decliners narrowly beat advancers, 99 to 96, while 51 names closed unchanged.
"The stock market has performed strongly since the election," Mr. Agarao said, describing local shares' climb during the first four days after the national polls as their best performance since 1992.
Luis A. Limlingan, business development head at Regina Capital Development Corp., said Tuesday's gains were largely because the US market started on a stronger note, which he said was boosted by a six-month high in crude prices.
"Locally, the remittance numbers were good even at a 1.5% rise after coming from a higher base," he said.
Money sent home by overseas Filipino workers was the biggest volume in three months in March. Cash remittances reached $2.425 billion during the month, up by 1.5% from the $2.39 billion record in the same month last year, data from the Bangko Sentral ng Pilipinas released on Monday showed.
The growth was the slowest pace since November when remittances contracted by 6.2%, and compares poorly against the 15.9% expansion in March last year.
Value turnover came in at P9.97 billion, while net foreign selling was recorded at P20.86 million.
In the coming days, Mr. Limlingan said upcoming economic data would be one of the biggest market movers.
"The first-quarter GDP (gross domestic product) is out on Thursday. Expectations are high given that this year it's election and last year it's rather disappointing," he said.
Philequity's Mr. Agarao said the long-term trajectory of local stocks would still be higher despite corrections that might happen. He said news about the appointments of certain posts for communists left some investors wary.
"We don't know if the presumptive president [Rodrigo R.] Duterte would push through with those, but businessmen don't look kindly upon leftists taking sensitive positions such as the Department of Labor, and the Department of Environment and Natural Resources," he said. "That should be a source of a correction."
"How long the correction will be, when will it happen, no one really knows," he said. — VVS
Source: http://www.bworldonline.com/content.php?section=StockMarket&title=main-index-inches-up-as-investors-pocket-profits&id=127636
==================================================
Good
luck on all your TRADES
today
.
DISCLAIMER There is a very high degree of risk involved in TRADING
. Past results
are not indicative of future returns
. Nothing contained in this newsletter constitutes a solicitation, recommendation, PROMOTION
or endorsement of any security. In accordance with the Responsible TRADER
's Creed: I will never tell and you take full
responsibility for all your TRADING
results
NOTES:
Please take note of the following changes effective August 6, 2015:
1. Caption Market Breadth has been changed to Total Traded Value to simplify the presentation.
2. Market Breadth is expressed in terms of Number of Advances and Declines. Expressing this as a Ratio by using the larger number as Numerator we derive the Market Sentiment whether Bullish or Bearish.
3. Based on Past three-year data of Average Total Traded Values, following classifications will be used to make the presentation more relevant to present times. a. Low – Total Traded Value less than P8 Billion b. Medium – Total Traded Value P8 Billion but not more than P15 Billion c. High – Total Traded Value more than P15 Billion