Top Ten Smart Money Moves – May 19, 2016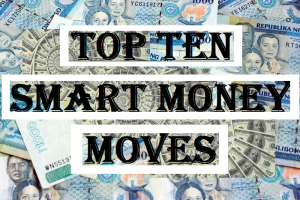 Top Ten Smart Money
Moves, starting January 2015, is the official trading
newsletter of The Responsible Trader
to promote
his advocacy, Responsible Trading
. This newsletter contains the previous day's data from PSE, the Top Ten Foreign Buying
and Selling, Top Ten in Total Traded
Value, including Trading
Notes based on the data of the previous day. This newsletter is given free to all the friends of The Responsible Trader
and to members of the Facebook group and the other organizations where he is a member. For the previous issue where complete details about the newsletter was fully discussed, please refer to: Daily Top Tens October 17, 2014.
Trading Notes for Today –  (Based on May 19, 2016  Data)
Total Traded Value –  PhP 7.828 Billion –  Low
Market Breadth and Sentiment indicated by Advances Declines Ratio – (Ideal is 2:1 to be considered Bullish or Bearish)  127 Declines vs. 66 Advances    = 1.92:1  Neutral
Total Foreign Buying – PhP 4.238  Billion
Total Foreign Selling – Php 4.235 Billion
Net Foreign Buying (Selling)  Php 0.003  Billion – 1st day of Net Foreign Buying after 2 days  of Net Foreign Selling
Data from the Philippine Stock Exchange
'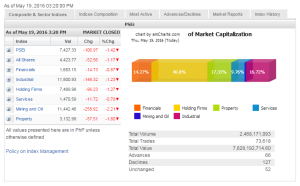 Screenshot courtesy of: www.pse.com.ph
PSE Heat Map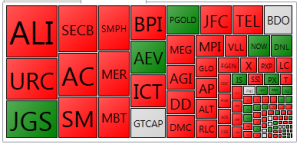 Screenshot courtesy of: PSEGET Software
Top Ten Foreign Buying
and Selling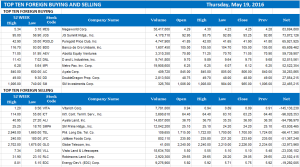 Top Ten in Total Traded
Value
From now on, I will just quote the related article from Business World so that we will have everything in one piece:
==================================================
Posted on May 19, 2016 09:00:00 PM
PHL shares slide further as investors sell on news
SHARES finished lower on Thursday as the country's gross domestic product (GDP) growth rate came out broadly in line with early expectations, leaving investors without much impetus to buy stocks.
"It was a classic case of selling on news as GDP was well within median consensus estimates of 6.9%," said Luis A. Limlingan, business development head at Regina Capital Development Corp.
Yesterday, the Philippine Stock Exchange index (PSEi) shed 106.97 points or 1.42% to close at 7,427.33, while the broader all-shares index lost 52.56 points or 1.17% to end at 4,423.77.
This came after the Philippine Statistics Authority released first-quarter GDP data showing the country's economic growth at 6.9%, the fastest pace seen since the second quarter of 2013.
Services was the main driver as it grew by 7.9% from 5.5% a year ago, while industry rose by 8.7% from 5.3% previously.
"The sequential strength of our growth figures through improved government spending undermined the fact that agriculture remains unattended still," Mr. Limlingan said.
The agriculture sector dropped by 4.4% to post its fourth consecutive quarterly decline since the second quarter of 2015, from a growth of 1% a year ago.
"The protracted effects of El Niño on agricultural production is being masked in the inflation prints as rice prices have remained stable due to preemptive rice importation by the National Food Authority," Mr. Limlingan said.
All counters finished lower, with the mining and oil sector recording the biggest drop at 258.92 points or 2.21% to 11,442.46. Property followed as it shed 57.51 points or 1.8% to 3,132.99. Holding firms retreated by 96.23 points or 1.27% to 7,489.98. Industrials gave up 146.32 points or 1.22% to end at 11,800.93. Financials also dropped by 14.73 points or 0.87% to 1,683.15 while services, the economy's main driver, eased by 11.72 points or 0.79% to 1,470.59.
Decliners at 127 greatly outnumbered advancers at 66 yesterday, while 52 issues were unchanged.
"Internationally, Federal Reserve meeting minutes signaled a more likely interest rate hike in June. Fed funds futures, based on the CME Group's FedWatch tool used to gauge the probability of rate hikes, moved to price in a 34% chance of a June hike from 19% in morning trading," Mr. Limlingan said.
Fed officials felt the US economy could be ready for another interest rate increase in June, according to the minutes from the central bank's April policy meeting released on Wednesday.
Most participants in the policy-setting committee's April 26-27 meeting said they wanted to see signs that economic growth was picking up in the second quarter and that employment and inflation were firming, the minutes showed.
"Then it likely would be appropriate for the committee to increase the target range for the federal funds rate in June," according to the minutes. — Victor V. Saulon with Reuters
Source: http://www.bworldonline.com/content.php?section=StockMarket&title=phl-shares-slide-further-as-investors-sell-on-news&id=127794
==================================================
Good
luck on all your TRADES
today
.
DISCLAIMER There is a very high degree of risk involved in TRADING
. Past results
are not indicative of future returns
. Nothing contained in this newsletter constitutes a solicitation, recommendation, PROMOTION
or endorsement of any security. In accordance with the Responsible TRADER
's Creed: I will never tell and you take full
responsibility for all your TRADING
results
NOTES:
Please take note of the following changes effective August 6, 2015:
1. Caption Market Breadth has been changed to Total Traded Value to simplify the presentation.
2. Market Breadth is expressed in terms of Number of Advances and Declines. Expressing this as a Ratio by using the larger number as Numerator we derive the Market Sentiment whether Bullish or Bearish.
3. Based on Past three-year data of Average Total Traded Values, following classifications will be used to make the presentation more relevant to present times. a. Low – Total Traded Value less than P8 Billion b. Medium – Total Traded Value P8 Billion but not more than P15 Billion c. High – Total Traded Value more than P15 Billion