Top Ten Smart Money Moves – May 20, 2016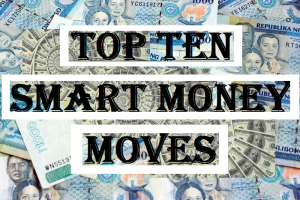 Top Ten Smart Money
Moves, starting January 2015, is the official trading
newsletter of The Responsible Trader
to promote
his advocacy, Responsible Trading
. This newsletter contains the previous day's data from PSE, the Top Ten Foreign Buying
and Selling, Top Ten in Total Traded
Value, including Trading
Notes based on the data of the previous day. This newsletter is given free to all the friends of The Responsible Trader
and to members of the Facebook group and the other organizations where he is a member. For the previous issue where complete details about the newsletter was fully discussed, please refer to: Daily Top Tens October 17, 2014.
Trading Notes for Today –  (Based on May 20, 2016  Data)
Total Traded Value –  PhP 7.207  Billion –  Low
Market Breadth and Sentiment indicated by Advances Declines Ratio – (Ideal is 2:1 to be considered Bullish or Bearish)  140  Declines vs. 56 Advances    = 2.50:1  Bearish
Total Foreign Buying – PhP 3.810  Billion
Total Foreign Selling – Php 4.313 Billion
Net Foreign Buying (Selling)  (Php 0.503)  Billion – 1st day of Net Foreign Selling after a day of Net Foreign Buying
Data from the Philippine Stock Exchange
'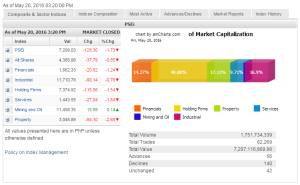 Screenshot courtesy of: www.pse.com.ph
PSE Heat Map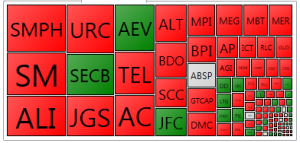 Screenshot courtesy of: PSEGET Software
Top Ten Foreign Buying
and Selling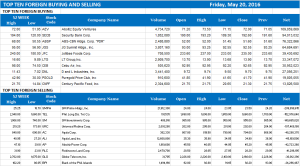 Top Ten in Total Traded
Value

From now on, I will just quote the related article from Business World so that we will have everything in one piece:
==================================================
Posted on May 20, 2016 07:51:00 PM
Investors still bracing for next US rate hike
THE PHILIPPINE STOCK EXCHANGE index (PSEi) continued its decline on Friday as it shed 128.3 points or 1.73% to close at 7,299.03 — breaching the main gauge's technical resistance level.
April Lynn L. Tan, research head at COL Financial Group, Inc., said the drop was driven "still by concerns over the US Federal Reserve raising interest rates in June, not to mention that the market has rallied quite a bit already."
The broader all-shares inde lost 37.79 points or 0.85% to end the day at 4,385.98.
Value turnover further eased to P7.21 billion, from P7.83 billion the other day, on a total of 1.75 billion shares. Decliners continued to outnumber gainers 140 against 56, while 42 issues finished unchanged.
Joylin F. Telagen, research head at IB Gimenez Securities, said global concerns were the market's biggest mover amid fears that the "Fed will most likely implement an interest rate increase next month."
She added that investors had pocketed profits despite the country's good economic numbers. The Philippine Statistics Authority on Thursday said first-quarter gross domestic product grew 6.9%, its fastest pace in more than two years, driven by robust consumer spending ahead of the elections.
During their last meeting, Fed officials discussed raising rates as early as next month, a move that could shift funds away from local stocks towards higher-yielding instruments in the United States.
Locally, foreign investors sold more shares than they bought, ending the session with net foreign selling of P502.65 million.
All counters finished weaker except for mining and oil, which edged up by 15.89 points or 0.14% to 11,458.35.
Property companies recorded the biggest decline of 84.10 points or 2.68% to 3,048.89, followed by services' 27.04-point or 1.84% drop to 1,443.55. Holding firms lost 115.06 points or 1.54% to 7,374.92. Financials edged 20.82 points or 1.24% lower to 1,662.33, while industrials registered the mildest drop by 90.14 points or 0.76% to 11,710.79.
The five most active stocks were SM Prime Holdngs, Inc.; SM Investments Corp.; Ayala Land, Inc.; Universal Robina Corp. and Security Bank Corp.
The biggers gainers were Philippine Trust Co.; IP E-Game Ventures, Inc. and Makati Finance Corp., while the top losers were Alterra Capital Partners, Inc.; Benguet Corp. "B" and Bogo Medellin Milling Co.
It was the PSEi's second-straight day of decline after a steady climb during the days immediately after the May 9 national elections. Some analysts had placed the main index's resistance point at 7,400. — Victor V. Saulon
Source: http://www.bworldonline.com/content.php?section=StockMarket&title=investors-still-bracingbr-for-next-us-rate-hike&id=127831
==================================================
Good
luck on all your TRADES
today
.
DISCLAIMER There is a very high degree of risk involved in TRADING
. Past results
are not indicative of future returns
. Nothing contained in this newsletter constitutes a solicitation, recommendation, PROMOTION
or endorsement of any security. In accordance with the Responsible TRADER
's Creed: I will never tell and you take full
responsibility for all your TRADING
results
NOTES:
Please take note of the following changes effective August 6, 2015:
1. Caption Market Breadth has been changed to Total Traded Value to simplify the presentation.
2. Market Breadth is expressed in terms of Number of Advances and Declines. Expressing this as a Ratio by using the larger number as Numerator we derive the Market Sentiment whether Bullish or Bearish.
3. Based on Past three-year data of Average Total Traded Values, following classifications will be used to make the presentation more relevant to present times. a. Low – Total Traded Value less than P8 Billion b. Medium – Total Traded Value P8 Billion but not more than P15 Billion c. High – Total Traded Value more than P15 Billion