Top Ten Smart Money Moves – May 23, 2016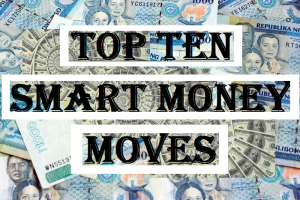 Top Ten Smart Money
Moves, starting January 2015, is the official trading
newsletter of The Responsible Trader
to promote
his advocacy, Responsible Trading
. This newsletter contains the previous day's data from PSE, the Top Ten Foreign Buying
and Selling, Top Ten in Total Traded
Value, including Trading
Notes based on the data of the previous day. This newsletter is given free to all the friends of The Responsible Trader
and to members of the Facebook group and the other organizations where he is a member. For the previous issue where complete details about the newsletter was fully discussed, please refer to: Daily Top Tens October 17, 2014.
Trading Notes for Today –  (Based on May 23, 2016  Data)
Total Traded Value –  PhP 8.009  Billion –  Low
Market Breadth and Sentiment indicated by Advances Declines Ratio – (Ideal is 2:1 to be considered Bullish or Bearish)  90 Declines vs. 89 Advances    = 1.01:1  Neutral
Total Foreign Buying – PhP 4.986 Billion
Total Foreign Selling – Php 5.202 Billion
Net Foreign Buying (Selling)  (Php 0.216)  Billion – 2nd day of Net Foreign Selling after a day  of Net Foreign Buying
Data from the Philippine Stock Exchange
'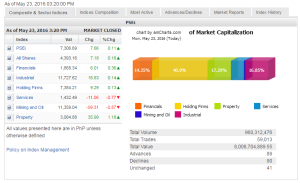 Screenshot courtesy of: www.pse.com.ph
PSE Heat Map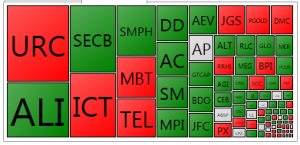 Screenshot courtesy of: PSEGET Software
Top Ten Foreign Buying
and Selling
Top Ten in Total Traded
Value
From now on, I will just quote the related article from Business World so that we will have everything in one piece:
==================================================
Posted on May 23, 2016 08:11:00 PM
By Victor V. Saulon
Mild rally in quiet trading; eyes on Fed June meet
LOCAL SHARES finished marginally higher on Monday, ushering a week that could see the equities market moving sideways ahead of bigger news in the coming weeks, analysts said.
"All eyes this week are on the probability of a stronger dollar, and the increasing chances of a rate hike in June," said Luis A. Limlingan, business development head at Regina Capital Development Corp.
The Philippine Stock Exchange index (PSEi) gained 7.66 points or 0.10% to 7,306.69, while the broader all-shares index went up by 7.18 points or 0.16% to 4,393.16.
Four of the six counters finished higher, with the property sector posting the biggest gains — 35.99 points or 1.18% to 3,084.88. The other gainers inched up by less than a percent. Financial stocks rallied 0.36% or 6.01 points to 1,668.34; industrials moved up by 16.83 points or 0.14% to 11,727.62; and holding firms, up 9.29 points or 0.12% to 7,384.21.
Services shed 11.06 points or 0.76% to close at 1,432.49, while mining and oil lost 99.31 points or 0.86% to 11,359.04.
Joylin F. Telagen, research head at IB Gimenez Securities, said buyers expected a bit of market recovery, and some bargain hunting took place at Monday's session.
Value turnover was at P8.01 billion, an 11% improvement over Friday's P7.21 billion. Around 960 million shares changed hands on total trades of 59,013.
Decliners outnumbered advancers by a whisker — at 90 against 89, while 41 issues closed unchanged.
Ms. Telagen said investors expected a dearth of local news to digest except in some sectors, such as telecommunications, amid the recent pronouncement by incoming president Rodrigo R. Duterte that he would initiate opening up the industry to foreign competitors if nothing is done to improve the current Internet speed.
But she said news about the US Federal Reserve's decision on interest rate would remain as the biggest market mover in the coming days. In the meantime, nothing much would be driving the market in either direction.
"Despite being a rather boring guessing game investors have to endure, this week there will be a procession of macro events that will probably support the preemptive strike theory," Mr. Limlingan said. "Firstly, in equities on Friday, existing home sales were good in April, and we saw some interesting rotation stateside as the S&P ekked out a weekend gain."
Real estate company MRC Allied Industries, Inc., among the session's biggest gainers, told the stock exchange yesterday that its unit had received a solar energy service contract from the Energy department for the development of a 60-megawatt solar power plant in Naga City, Cebu.
Universal Robina Corp., Ayala Land, Inc. and Security Bank Corp. were the most active stocks.
Source: http://www.bworldonline.com/content.php?section=StockMarket&title=mild-rally-in-quiet-trading-eyes-on-fed-june-meet&id=127919
==================================================
Good
luck on all your TRADES
today
.
DISCLAIMER There is a very high degree of risk involved in TRADING
. Past results
are not indicative of future returns
. Nothing contained in this newsletter constitutes a solicitation, recommendation, PROMOTION
or endorsement of any security. In accordance with the Responsible TRADER
's Creed: I will never tell and you take full
responsibility for all your TRADING
results
NOTES:
Please take note of the following changes effective August 6, 2015:
1. Caption Market Breadth has been changed to Total Traded Value to simplify the presentation.
2. Market Breadth is expressed in terms of Number of Advances and Declines. Expressing this as a Ratio by using the larger number as Numerator we derive the Market Sentiment whether Bullish or Bearish.
3. Based on Past three-year data of Average Total Traded Values, following classifications will be used to make the presentation more relevant to present times. a. Low – Total Traded Value less than P8 Billion b. Medium – Total Traded Value P8 Billion but not more than P15 Billion c. High – Total Traded Value more than P15 Billion