Top Ten Smart Money Moves – May 24, 2016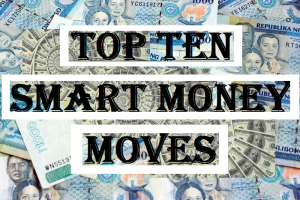 Top Ten Smart Money
Moves, starting January 2015, is the official trading
newsletter of The Responsible Trader
to promote
his advocacy, Responsible Trading
. This newsletter contains the previous day's data from PSE, the Top Ten Foreign Buying
and Selling, Top Ten in Total Traded
Value, including Trading
Notes based on the data of the previous day. This newsletter is given free to all the friends of The Responsible Trader
and to members of the Facebook group and the other organizations where he is a member. For the previous issue where complete details about the newsletter was fully discussed, please refer to: Daily Top Tens October 17, 2014.
Trading Notes for Today –  (Based on May 24, 2016  Data)
Total Traded Value –  PhP 7.202  Billion –  Low
Market Breadth and Sentiment indicated by Advances Declines Ratio – (Ideal is 2:1 to be considered Bullish or Bearish)  102 Declines vs. 79 Advances    = 1.29:1  Neutral
Total Foreign Buying – PhP 3.559 Billion
Total Foreign Selling – Php 3.666 Billion
Net Foreign Buying (Selling)  (Php 0.107)  Billion – 3rd day of Net Foreign Selling after a day  of Net Foreign Buying
Data from the Philippine Stock Exchange
'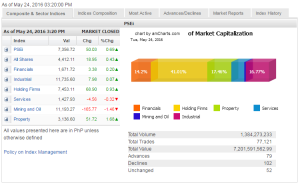 Screenshot courtesy of: www.pse.com.ph
PSE Heat Map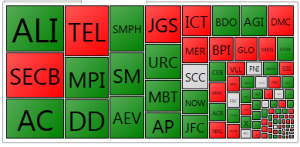 Screenshot courtesy of: PSEGET Software
Top Ten Foreign Buying
and Selling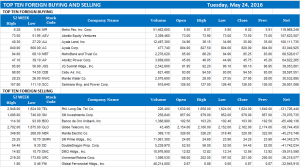 Top Ten in Total Traded
Value
From now on, I will just quote the related article from Business World so that we will have everything in one piece:
==================================================
Posted on May 24, 2016 08:01:00 PM
Bourse continues cautious climb for 2nd session
LOCAL SHARES on Tuesday continued their gradual ascent for a second straight session, with investors keeping their eyes on any hint on whether the June 14-16 US Federal Reserve policy review could result in a much-anticipated rate increase as well as on policy signals from incoming president Rodrigo R. Duterte and his advisers, analysts said.
Nisha S. Alicer, chief equity analyst at DA Market Securities, Inc., said the market was "tentative" because of the possibility of an interest rate increase in the United States that could come as early as next month.
Ms. Alicer added the incoming administration's choice of Cabinet members would also be "relevant" for the market, which has yet to see all appointive positions filled up. Mr. Duterte has so far kept observers guessing on his choice of Cabinet men, drawing from past administrations and saying besides that he would offer posts to both retired military men as well as to the Communist Party of the Philippines as a peace overture.
The Philippine Stock Exchange index (PSEi) finished 50.03 points or 0.68% higher at 7,356.72, while the all-shares index similarly edged up 18.95 points or 0.43% to 4,412.11 in another day of otherwise lackluster trading.
Ms. Alicer said she still saw the PSEi supported at 7,400 and testing 7,700 under a bullish scenario. She added that should the main gauge slip below 7,400, this could mean a retest of the 7,174-7,227 range or even of the next support level of 6,900 -7,000.
"We continue to be positive on the index, albeit more careful," she said, recommending "a buy on dip" and taking a "selective stock picking strategy."
As in the previous day, four of the six sectoral indices ended the session with generally marginal gains, with property companies once again recording the best performance with a 51.72-point or 1.67% gain to 3,136.60.
The rest moved up by less than a percent. Holding firms moved up by 68.90 points or 0.93% to 7,453.11; financials finished with 3.38-point or 0.2% improvement at 1,671.72; while the industrial sector was up 7.98 points or 0.06% to end at 11,735.60.
Mining and oil lost 165.77 points or 1.45% to end at 11,193.27, and services dropped 4.56 points or 0.31% to finish 1,427.93.
Value turnover dropped 10% to P7.20 billion from P8.01 billion the other day, with around 1.38 billion shares changing hands.
Yesterday saw 102 decliners against 79 issues that advanced, while 52 stocks finished unchanged.
Foreign investors sold more shares than they bought, resulting in net selling of P107.38 million worth of shares that was otherwise half of the previous day's P216.33 million.
Joylin F. Telagen, research head at IB Gimenez Securities, said investors were watching developments abroad, including the United Kingdom's June 23 referendum on whether to stay in the European Union. She said the outcome of that vote could trigger more volatility in markets worldwide. — Victor V. Saulon
Source: http://www.bworldonline.com/content.php?section=StockMarket&title=bourse-continues-cautious-climb-for-2nd-session&id=127988
==================================================
Good
luck on all your TRADES
today
.
DISCLAIMER There is a very high degree of risk involved in TRADING
. Past results
are not indicative of future returns
. Nothing contained in this newsletter constitutes a solicitation, recommendation, PROMOTION
or endorsement of any security. In accordance with the Responsible TRADER
's Creed: I will never tell and you take full
responsibility for all your TRADING
results
NOTES:
Please take note of the following changes effective August 6, 2015:
1. Caption Market Breadth has been changed to Total Traded Value to simplify the presentation.
2. Market Breadth is expressed in terms of Number of Advances and Declines. Expressing this as a Ratio by using the larger number as Numerator we derive the Market Sentiment whether Bullish or Bearish.
3. Based on Past three-year data of Average Total Traded Values, following classifications will be used to make the presentation more relevant to present times. a. Low – Total Traded Value less than P8 Billion b. Medium – Total Traded Value P8 Billion but not more than P15 Billion c. High – Total Traded Value more than P15 Billion