Top Ten Smart Money Moves – May 25, 2016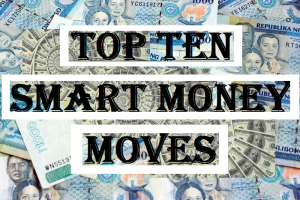 Top Ten Smart Money
Moves, starting January 2015, is the official trading
newsletter of The Responsible Trader
to promote
his advocacy, Responsible Trading
. This newsletter contains the previous day's data from PSE, the Top Ten Foreign Buying
and Selling, Top Ten in Total Traded
Value, including Trading
Notes based on the data of the previous day. This newsletter is given free to all the friends of The Responsible Trader
and to members of the Facebook group and the other organizations where he is a member. For the previous issue where complete details about the newsletter was fully discussed, please refer to: Daily Top Tens October 17, 2014.
Trading Notes for Today –  (Based on May 25, 2016  Data)
Total Traded Value –  PhP 7.656  Billion –  Low
Market Breadth and Sentiment indicated by Advances Declines Ratio – (Ideal is 2:1 to be considered Bullish or Bearish)  112 Advances vs. 84 Declines = 1.33:1  Neutral
Total Foreign Buying – PhP 4.202 Billion
Total Foreign Selling – (Php 3.311) Billion
Net Foreign Buying (Selling)  Php 0.891  Billion – 1st day of Net Foreign Buying after 3 days of Net Foreign Selling
Data from the Philippine Stock Exchange
'
Screenshot courtesy of: www.pse.com.ph
PSE Heat Map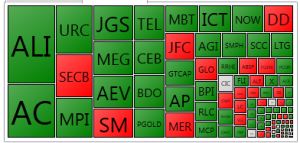 Screenshot courtesy of: PSEGET Software
Top Ten Foreign Buying
and Selling
Top Ten in Total Traded
Value
From now on, I will just quote the related article from Business World so that we will have everything in one piece:
==================================================
Posted on May 25, 2016 08:20:00 PM
Local equities take cue from surge in US stocks
AFTER TWO DAYS of marginal gains, the Philippine Stock Exchange index (PSEi) jumped by 107.23 points or 1.45% to close Wednesday's session at 7,463.95 in a climb that followed a more-than-1% surge on Wall Street.
"The S&P closed up 1.4% and Nasdaq 2%. Europe also had a strong move on better data, and the yen broke back through ¥110," said Luis A. Limlingan, business development head at Regina Capital Development Corp.
He said US equity investors decided that the better economic data released so far suggest that the economy can support a 25-basis-point rise in rates in early summer.
"The dollar index took a predictable giant leap forward," Mr. Limlingan said yesterday. "Conversely, the oil price rallied on weaker supply rumblings, and investors can expect more Fed speak to support a possible hike as three more officials speak tomorrow."
He also cited April's new home sales that increased by 16.6% to 619,000 units — their highest level since January 2008, signaling the economy's strength to withstand a higher interest rate. He said such data overshadowed the fall in May's manufacturing index. "As a result US stocks closed higher on Tuesday with gains greater than 1%," Mr. Limlingan said, noting that this was partly due to the rise in European stocks on a weaker euro, better data and a poll showing less support for the United Kingdom's exit from the European Union.
Nisha S. Alicer, chief equity analyst at DA Market Securities, Inc., said local shares took their cue from the US market's rally as investors factored in the interest rate rise expected as early as next month.
Only one of the six sectoral indices closed in the red: mining and oil that lost 106.33 points or 0.95% to finish 11,086.94.
The rest closed the day with gains, led by property that surged by 72.99 points or 2.32% to end 3,209.59, followed by holding firms and financials that each added 1.20% to finish 7,542.19 and 1,691.79, respectively, services that increased by 13.91 points or 0.97% to 1,441.84 and the industrial index that edged 59.83 points or 0.51% up to 11,795.43.
Value turnover was at P7.66 billion, higher compared with the other day's P7.20 billion but still lower than the P8.10 billion at the start of the week. Around 1.54 billion shares changed hands, higher than the previous day's 1.38 billion.
After lagging for the past two days, advancers finally outnumbered decliners at 112 versus 84, while 39 shares were unchanged.
Moreover, foreigners turned bullish, making the day end with P890.96 million in net foreign buying that was a turnaround from the previous three consecutive sessions' net foreign sales of P107.38 million, P216.33 million and P502.65 million on Tuesday, Monday and Friday last week.
Mr. Limlingan cited as a local driver the report that Philippine imports rebounded in March from February's drop, while Ms. Alicer said PSEi's rise through the 7,400 support could mean it would target 7,700 next.
Source: http://www.bworldonline.com/content.php?section=StockMarket&title=local-equities-take-cue-from-surge-in-us-stocks&id=128029
==================================================
Good
luck on all your TRADES
today
.
DISCLAIMER There is a very high degree of risk involved in TRADING
. Past results
are not indicative of future returns
. Nothing contained in this newsletter constitutes a solicitation, recommendation, PROMOTION
or endorsement of any security. In accordance with the Responsible TRADER
's Creed: I will never tell and you take full
responsibility for all your TRADING
results
NOTES:
Please take note of the following changes effective August 6, 2015:
1. Caption Market Breadth has been changed to Total Traded Value to simplify the presentation.
2. Market Breadth is expressed in terms of Number of Advances and Declines. Expressing this as a Ratio by using the larger number as Numerator we derive the Market Sentiment whether Bullish or Bearish.
3. Based on Past three-year data of Average Total Traded Values, following classifications will be used to make the presentation more relevant to present times. a. Low – Total Traded Value less than P8 Billion b. Medium – Total Traded Value P8 Billion but not more than P15 Billion c. High – Total Traded Value more than P15 Billion