Top Ten Smart Money Moves – May 26, 2016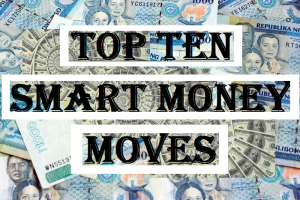 Top Ten Smart Money
Moves, starting January 2015, is the official trading
newsletter of The Responsible Trader
to promote
his advocacy, Responsible Trading
. This newsletter contains the previous day's data from PSE, the Top Ten Foreign Buying
and Selling, Top Ten in Total Traded
Value, including Trading
Notes based on the data of the previous day. This newsletter is given free to all the friends of The Responsible Trader
and to members of the Facebook group and the other organizations where he is a member. For the previous issue where complete details about the newsletter was fully discussed, please refer to: Daily Top Tens October 17, 2014.
Trading Notes for Today –  (Based on May 26, 2016  Data)
Total Traded Value –  PhP 18.635  Billion –  High
Market Breadth and Sentiment indicated by Advances Declines Ratio – (Ideal is 2:1 to be considered Bullish or Bearish)  109 Declines vs. 65 Advances  = 1.68:1  Neutral
Total Foreign Buying – PhP 12.502 Billion
Total Foreign Selling – (Php 4.087) Billion
Net Foreign Buying (Selling)  Php 8.415  Billion – 2nd  day of Net Foreign Buying after 3 days of Net Foreign Selling
Data from the Philippine Stock Exchange
'
Screenshot courtesy of: www.pse.com.ph
PSE Heat Map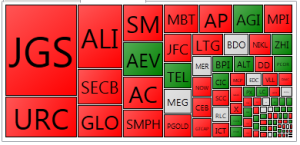 Screenshot courtesy of: PSEGET Software
Top Ten Foreign Buying
and Selling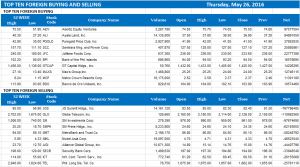 Top Ten in Total Traded
Value
From now on, I will just quote the related article from Business World so that we will have everything in one piece:
==================================================
Posted on May 26, 2016 08:21:00 PM
Consolidation ends main index's winning streak
LOCAL STOCKS on Wednesday failed to sustain their surge, faltering in a week that many analysts believed would see the index just moving sideways in the absence of any trigger from foreign markets.
The Philippine Stock Exchange index (PSEi) shed 87.57 points or 1.17% to close at 7,376.38, while the broader all-shares index lost 40.45 points or 0.90% to end the session at 4,416.86.
"It's going through a medium-term consolidation stage based on what is transpiring in the local scene," said Harry G. Liu, president of Summit Securities, Inc.
Except for mining and oil, which rose by 39.86 points or 0.36% to 11,126.80, all counters finished lower yesterday, with holding firms registering the biggest decline at 163.29 points or 2.16% to 7,378.90.
Mr. Liu said the decline of the main index was mainly due to profit taking "because we went on an index-high so there's a slight correction going on."
Foreign investors bought more shares than they sold, resulting in a net foreign buying of P8.42 billion worth of shares. This was higher than the P890.96 million in net buying seen the day prior.
Value turnover shot up to P18.64 billion, significantly higher than the other day's P7.66 billion. More than 1.90 billion shares changed hands, an improvement over 1.54 billion previously.
But decliners outnumbered advancers, 109 to 65, while 56 shares were unchanged.
Mr. Liu said the improvement in the stock price of Philippine Long Distance Telephone Co. (PLDT) was not enough to carry the whole market forward.
Shares in PLDT gained P7 or 0.42% to P1,662 after an extended fall following a disappointing earnings report.
Investors are looking at the political arena as Cabinet positions continue to be filled, giving a hint on how the structure of the incoming administration would shape out, he said.
On global markets, he said nothing remarkable happened yesterday, as the US market was up and economic numbers were good. "Both global and our local markets are just going through a sideways behavior," he said. "Foreign buyers are just watching as to how we progress towards the new administration."
With the market's sideways behavior, he said the index should not break below 6,800 and above 7,500. He said what could trigger a break from the "sideways behavior" would be "the final picture where people will see exactly what is going to be in place for the new administration."
The benchmark PSEi led losses in the region yesterday as it snapped a three-session rising streak, heading towards its worst intraday performance since last Friday.
"The decline in the Philippine market is a normal technical move — rising oil prices may be a reason for some people to take some profit, but this is a market correction more than anything else," said Joseph Roxas, an analyst at brokerage firm Eagle Equities. — Victor V. Saulon, with Reuters
Source: http://www.bworldonline.com/content.php?section=StockMarket&title=consolidation-ends-main-index&8217s-winning-streak&id=128028
==================================================
Good
luck on all your TRADES
today
.
DISCLAIMER There is a very high degree of risk involved in TRADING
. Past results
are not indicative of future returns
. Nothing contained in this newsletter constitutes a solicitation, recommendation, PROMOTION
or endorsement of any security. In accordance with the Responsible TRADER
's Creed: I will never tell and you take full
responsibility for all your TRADING
results
NOTES:
Please take note of the following changes effective August 6, 2015:
1. Caption Market Breadth has been changed to Total Traded Value to simplify the presentation.
2. Market Breadth is expressed in terms of Number of Advances and Declines. Expressing this as a Ratio by using the larger number as Numerator we derive the Market Sentiment whether Bullish or Bearish.
3. Based on Past three-year data of Average Total Traded Values, following classifications will be used to make the presentation more relevant to present times. a. Low – Total Traded Value less than P8 Billion b. Medium – Total Traded Value P8 Billion but not more than P15 Billion c. High – Total Traded Value more than P15 Billion