Top Ten Smart Money Moves – May 27, 2016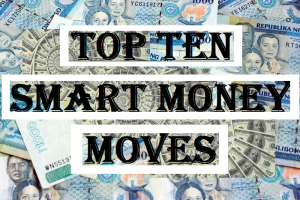 Top Ten Smart Money
Moves, starting January 2015, is the official trading
newsletter of The Responsible Trader
to promote
his advocacy, Responsible Trading
. This newsletter contains the previous day's data from PSE, the Top Ten Foreign Buying
and Selling, Top Ten in Total Traded
Value, including Trading
Notes based on the data of the previous day. This newsletter is given free to all the friends of The Responsible Trader
and to members of the Facebook group and the other organizations where he is a member. For the previous issue where complete details about the newsletter was fully discussed, please refer to: Daily Top Tens October 17, 2014.
Trading Notes for Today –  (Based on May 27, 2016  Data)
Total Traded Value –  PhP 8.967  Billion –  Medium
Market Breadth and Sentiment indicated by Advances Declines Ratio – (Ideal is 2:1 to be considered Bullish or Bearish)  99 Advances vs. 75 Declines   = 1.32:1  Neutral
Total Foreign Buying – PhP 5.470 Billion
Total Foreign Selling – (Php 4.653) Billion
Net Foreign Buying (Selling)  Php 0.817  Billion – 3rd  day of Net Foreign Buying after 3 days of Net Foreign Selling
Data from the Philippine Stock Exchange
'
Screenshot courtesy of: www.pse.com.ph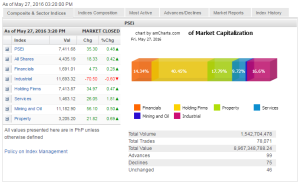 PSE Heat Map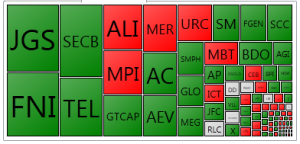 Screenshot courtesy of: PSEGET Software
Top Ten Foreign Buying
and Selling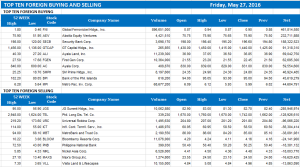 Top Ten in Total Traded
Value
From now on, I will just quote the related article from Business World so that we will have everything in one piece:
==================================================
Posted on May 27, 2016 08:01:00 PM
PSE index edges higher on Friday
LOCAL stocks closed higher on Friday, as investors wait for hints on the prospects of a June interest rate rise in the United States.
The Philippine Stock Exchange index (PSEi) inched up by 35.30 points or 0.48% to end the trading week at 7,411.68. The PSEi reached a high of 7,431 earlier in the session.
The broader all-shares index added 18.33 points or 0.42% to settle at 4,435.19.
Gainers beat losers at 99 to 75, with 46 remaining unchanged.
Value turnover was at around P8.967 billion with 1.542 billion shares changing hands.
Luis A. Limlingan, managing director of Regina Capital Development Corp., said investors took positions ahead of Federal Reserve Chair Janet Yellen's scheduled speech at an award ceremony at Harvard University on Friday. It is anticipated that Ms. Yellen would likely give clues on a possible rate hike.
In a research note, RCBC Securities analyst Ralph Christian G. Bodollo noted Philippine Long Distance Telephone Co. (PLDT) led the index's gains as its shares rose 4.81% after chairman Manuel V. Pangilinan announced a possible divestment of its stake in Manila Electic Co. (Meralco) to boost the telco giant's cash and pay off debt. Meralco was the biggest index loser, as shares fell 4.5%.
Five out of six domestic subindices ended in the green, with financials gaining 4.73 points or 0.28% to 1,691.01. Holding firms advanced by 34.97 points or 0.47% to 7,413.87.
Property went up by 21.82 points or 0.69% to 3,205.20; services added 26.05 points or 1.81% to 1,463.12; while the mining and oil counter rose 56.10 points or 0.50% to 11,182.90.
In contrast, industrial dropped by 70.50 points or 0.60% to 11,693.32
Meralco's controlling stakeholder, Beacon Electric Asset Holdings, Inc., is party owned by PLDT. Hastings Holdings, Inc., a unit of PLDT Beneficial Trust Fund subsidiary MediaQuest Holdings, Inc., has an interest in BusinessWorld through the Philippine Star Group, which it controls. — J.U. Vizcarra
Source: http://www.bworldonline.com/content.php?section=StockMarket&title=pse-index-edges-higher-on-friday&id=128179
==================================================
Good
luck on all your TRADES
today
.
DISCLAIMER There is a very high degree of risk involved in TRADING
. Past results
are not indicative of future returns
. Nothing contained in this newsletter constitutes a solicitation, recommendation, PROMOTION
or endorsement of any security. In accordance with the Responsible TRADER
's Creed: I will never tell and you take full
responsibility for all your TRADING
results
NOTES:
Please take note of the following changes effective August 6, 2015:
1. Caption Market Breadth has been changed to Total Traded Value to simplify the presentation.
2. Market Breadth is expressed in terms of Number of Advances and Declines. Expressing this as a Ratio by using the larger number as Numerator we derive the Market Sentiment whether Bullish or Bearish.
3. Based on Past three-year data of Average Total Traded Values, following classifications will be used to make the presentation more relevant to present times. a. Low – Total Traded Value less than P8 Billion b. Medium – Total Traded Value P8 Billion but not more than P15 Billion c. High – Total Traded Value more than P15 Billion