Top Ten Smart Money Moves – May 30, 2016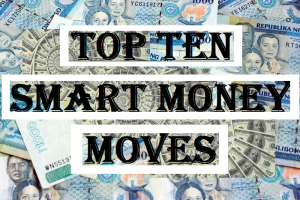 Top Ten Smart Money
Moves, starting January 2015, is the official trading
newsletter of The Responsible Trader
to promote
his advocacy, Responsible Trading
. This newsletter contains the previous day's data from PSE, the Top Ten Foreign Buying
and Selling, Top Ten in Total Traded
Value, including Trading
Notes based on the data of the previous day. This newsletter is given free to all the friends of The Responsible Trader
and to members of the Facebook group and the other organizations where he is a member. For the previous issue where complete details about the newsletter was fully discussed, please refer to: Daily Top Tens October 17, 2014.
Trading Notes for Today –  (Based on May 30, 2016  Data)
Total Traded Value –  PhP 15.386  Billion –  High
Market Breadth and Sentiment indicated by Advances Declines Ratio – (Ideal is 2:1 to be considered Bullish or Bearish)  104 Declines vs.  85 Advances  = 1.22:1  Neutral
Total Foreign Buying – PhP 3.668 Billion
Total Foreign Selling – (Php 3.198) Billion
Net Foreign Buying (Selling)  Php 0.470  Billion – 4th  day of Net Foreign Buying after 3 days of Net Foreign Selling
Data from the Philippine Stock Exchange
'
Screenshot courtesy of: www.pse.com.ph
PSE Heat Map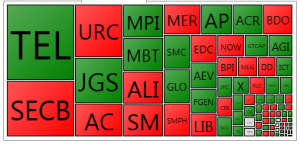 Screenshot courtesy of: PSEGET Software
Top Ten Foreign Buying
and Selling
Top Ten in Total Traded
Value
From now on, I will just quote the related article from Business World so that we will have everything in one piece:
==================================================
Posted on May 30, 2016 07:01:00 PM
San Miguel deal with PLDT, Globe boosts shares
LOCAL SHARES finished Monday's session on a positive note, largely propped up by the deal forged by the country's telecommunications heavyweights with a player that gave up its ambition to be a third force in the sector.
The Philippine Stock Exchange index (PSEi) was up by 52.66 points or 0.71% to 7,464.34, while the all-shares index gained 24.62 points or 0.55% to 4,459.81.
Among sectoral indices, services posted the biggest gains as it shot up by 67.41 points or 4.60% to 1,530.53 largely on news that Philippine Long Distance Telephone Co. (PLDT) and Globe Telecoms, Inc. agreed to buy the telecommunications business of San Miguel Corp. for around P70 billion.
"The deal was the one that set the tone positively for the market," said Harry G. Liu, president of Summit Securities, Inc. "It carried a bit of the weight of the market."
PLDT and Globe will pay P52.08 billion as well as assume debt of around P14.02 billion as each of them take a 50% stake in Vega Telecom, Inc., the entity that holds San Miguel's telco assets.
The deal comes after San Miguel ended talks with Telstra Corp. when the two failed to agree on terms for a joint investment in a new mobile network in the country.
Shares in PLDT closed higher by 9.13% to P1,901 apiece, while those of Globe jumped 5.58% to P2,310. Diversified conglomerate San Miguel also saw its stock price surge by 5.8% to P80.30 a share.
Vega owns an 87% stake in San Miguel subsidiary Liberty Telecoms Holdings, Inc., which tumbled by 19.56% to P3.62 each yesterday.
Four of the six sectoral indices ended yesterday's session lower, although none shed points more than 1%.
Value turnover was a robust P15.39 billion on Monday, with around 2.68 billion shares changing hands. Still, decliners outnumbered advancers 104 against 85, while 45 issues were unchanged.
Nisha S. Alicer, chief equity analyst at DA Market Securities, Inc., said the PSEi was "still seeking firm support as it oscillates above and below the 7,400 level."
Mr. Liu said that based on his analysis, the market was going through a medium-term consolidation as investors watch the development of the local political climate while the country awaits the swearing in of a new president.
He said the PSEi should not breach the 6,800 mark while the market consolidates during the new administration's "honeymoon period" when it firms up economic plans.
On the high side, he said the main index could reach around 7,600 to 7,800 in the medium term, while a correction could see it dipping to 7,150 to 7,200.
In the first six months of president-elect Rodrigo R. Duterte, Mr. Liu said a positive assessment from the market could see the index hitting 8,400, "on condition that the global market, US and China will not see any crisis." — Victor V. Saulon
Source: http://www.bworldonline.com/content.php?section=StockMarket&title=san-miguel-deal-with-pldt-globe-boosts-shares&id=128256
==================================================
Good
luck on all your TRADES
today
.
DISCLAIMER There is a very high degree of risk involved in TRADING
. Past results
are not indicative of future returns
. Nothing contained in this newsletter constitutes a solicitation, recommendation, PROMOTION
or endorsement of any security. In accordance with the Responsible TRADER
's Creed: I will never tell and you take full
responsibility for all your TRADING
results
NOTES:
Please take note of the following changes effective August 6, 2015:
1. Caption Market Breadth has been changed to Total Traded Value to simplify the presentation.
2. Market Breadth is expressed in terms of Number of Advances and Declines. Expressing this as a Ratio by using the larger number as Numerator we derive the Market Sentiment whether Bullish or Bearish.
3. Based on Past three-year data of Average Total Traded Values, following classifications will be used to make the presentation more relevant to present times. a. Low – Total Traded Value less than P8 Billion b. Medium – Total Traded Value P8 Billion but not more than P15 Billion c. High – Total Traded Value more than P15 Billion