Top Ten Smart Money Moves – November 25, 2016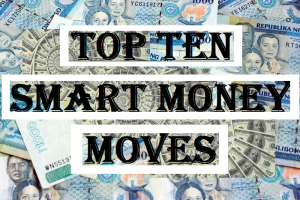 Top Ten Smart Money Moves, starting January 2015, is the official trading newsletter of The Responsible Trader to promote his advocacy, Responsible Trading. This newsletter contains the previous day's data from PSE, the Top Ten Foreign Buying and Selling, Top Ten in Total Traded Value, including Trading Notes based on the data of the previous day. This newsletter is given free to all the friends of The Responsible Trader and to members of the Facebook group and the other organizations where he is a member. For the previous issue where complete details about the newsletter was fully discussed, please refer to: Daily Top Tens October 17, 2014.
Trading Notes for Today –  (Based on November 25, 2016  Data)
Total Traded Value –  PhP  4.845  Billion – Low
Advances Declines Ratio – (Ideal is 2:1) 94 Advances vs. 90 Declines   = 1.04:1  Neutral
Total Foreign Buying – PhP 2.291  Billion
Total Foreign Selling – (PhP  2.508 Billion)
Net Foreign Buying (Selling) – (PhP  0.217)  Billion – 6th day of Net Foreign Selling after a day of  Net Foreign Buying
Data from the Philippine Stock Exchange
Screenshot courtesy of: www.pse.com.ph
PSE HEAT MAP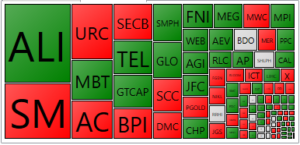 Screenshot courtesy of PSEGET
Top Ten Foreign Buying and Selling
Top Ten in Total Traded Value
From now on, I will just quote the related article from Business World so that we will have everything in one piece:
==================================================
Stocks to move sideways ahead of key US data
Posted on November 28, 2016
LOCAL SHARES are expected to move sideways this week as investors await key data releases overseas, analysts said.
The Philippine Stock Exchange index (PSEi) rallied for a third consecutive session last Friday, gaining 16.47 points or 0.24% from the previous day to close at 6,889.78. The broader all-shares index also rose by 5.90 points, or 0.14% to end trading session at 4,176.54.
Week on week, however, the PSEi was down from its 7,067.73 close last Nov. 18 after tumbling below the 7,000 line last Monday. Also, the bellwether remains in the red for the year from its 6,952.08 close at end-2015.
BPI Asset Management said in its weekly outlook that the PSEi is likely to trade from 6,700 to 7,100.
"We expect the PSEi to track international markets again as global investors position ahead of the OPEC (Organization of the Petroleum Exporting Countries) meeting on the 30th and the December FOMC (Federal Open Market Committee) meeting," the investment arm of the Ayala-led Bank of the Philippine Islands said.
"With important data releases coming in such as Caixin China Purchasing Managers' Index for Manufacturing and November nonfarm payrolls, we expect global equity investors to be defensive and stay mostly on the sidelines. However, further clarity from US president-elect Donald Trump regarding his policies may support the rally in equities," it added.
Summit Securities, Inc. President Harry G. Liu said the market will continue to look out for developments in US as "most uncertainties are seeping through the market, particularly the upcoming rate hike in December which makes the dollar stronger."
He noted that foreign selling may persist due to lack of participation from both foreign and local investors amid the peso's weakness and Fed rate hike concerns.
The Fed's policy-setting Federal Open Market Committee will meet on Dec. 13-14, during which it is widely expected to raise rates in light of improving economic indicators such as labor market data, even as the US is on the verge of a new leadership by January.
Luis A. Limlingan, business development head at Regina Capital Development Corp., said there will be "window dressing [today] and on Tuesday" as the month closes, after which investors will turn their focus to data releases from the US "mostly centered on employment, retail and manufacturing" the rest of the week.
"The 61.8% Fibo[nacci retracement] (6,849) will be tested for the second time in two weeks as PSEi attempts to establish a support base at that level," Mr. Limlingan said via text.
Failure to hold support, he noted, will see the index resume its downtrend to reach as low as 6,660-6,550 for the week.
"On the positive side, holding key support will allow the formation of a double bottom pattern which will allow recovery to 20-day moving average (7,100) initially with a maximum potential upside of 7,300," the analyst said.
Mr. Limlingan said: "Aggressive accumulation is still discouraged as support breakdowns are commonplace in this type of trend environment." — I.C.C. Delavin
Source: http://www.bworldonline.com/content.php?section=StockMarket&title=stocks-to-move-sideways-ahead-of-key-us-data&id=136935
==================================================
We aim to continue promoting financial literacy on the area of stock market trading and investing to our countrymen both here and abroad through the following:
1. The Book: "The Responsible Trader – a Thinking Person's Guide for Trading the Philippine Stock Market" now earned the name "The Bible of Philippine Trading." You can download Chapter 1, Section 1 of the book here: http://theresponsibletrader.com/the-responsible-trader-hope-for-trading-knowledge-test/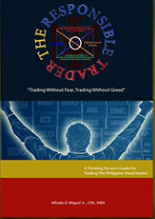 2. The Website: :http://www.theresponsibletrader.com where we publish our daily newsletter Top Ten Smart Money Moves, Stock Trading Lessons, and Inspirational Materials. (FREE)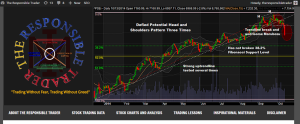 3. The YouTube Channel: https://www.youtube.com/theresponsibletrader – where you can learn the course "Master's Certificate in Technical Analysis" which was simplified in an easily understood manner. You can download these videos and learn them at your own convenient time. (FREE)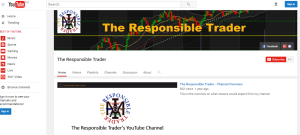 4. My Slideshare: http://www.slideshare.net/TheResponsibleTrader – where you can view and download copy of the Powerpoint Presentation of my TRT-POV (The Responsible Trader's Point of View) of the videos posted in our Youtube Channel. (FREE)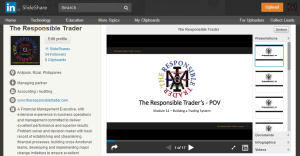 ===================================================
Good luck on all your TRADES today.
DISCLAIMER There is a very high degree of risk involved in TRADING. Past results are not indicative of future returns. Nothing contained in this newsletter constitutes a solicitation, recommendation, PROMOTION or endorsement of any security. In accordance with the Responsible TRADER's Creed: I will never tell and you take full responsibility for all your TRADING results
NOTES: Please take note of the following changes effective August 6, 2015: 1. Caption Market Breadth has been changed to Total Traded Value to simplify the presentation. 2. Market Breadth is expressed in terms of Number of Advances and Declines. Expressing this as a Ratio by using the larger number as Numerator we derive the Market Sentiment whether Bullish or Bearish. 3. Based on Past three-year data of Average Total Traded Values, following classifications will be used to make the presentation more relevant to present times. a. Low – Total Traded Value less than P8 Billion b. Medium – Total Traded Value P8 Billion but not more than P15 Billion c. High – Total Traded Value more than P15 Billion