Top Ten Smart Money Moves – October 21, 2016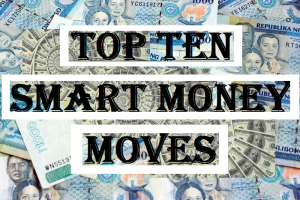 Top Ten Smart Money Moves, starting January 2015, is the official trading newsletter of The Responsible Trader to promote his advocacy, Responsible Trading. This newsletter contains the previous day's data from PSE, the Top Ten Foreign Buying and Selling, Top Ten in Total Traded Value, including Trading Notes based on the data of the previous day. This newsletter is given free to all the friends of The Responsible Trader and to members of the Facebook group and the other organizations where he is a member. For the previous issue where complete details about the newsletter was fully discussed, please refer to: Daily Top Tens October 17, 2014.
Trading Notes for Today –  (Based on October 21, 2016  Data)
Total Traded Value –  PhP  7.009 Billion –  Low
Market Breadth and Sentiment indicated by Advances Declines Ratio – (Ideal is 2:1 to be considered Bullish or Bearish) 103 Declines vs. 85 Advances   = 1.21:1  Neutral
Total Foreign Buying – PhP 3.809  Billion
Total Foreign Selling – (PhP  3.542)  Billion
Net Foreign Buying (Selling) – PhP  0.267  Billion – 3rd day of Net Foreign Buying after 10 days of Net Foreign Selling  
Data from the Philippine Stock Exchange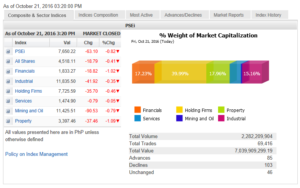 Screenshot courtesy of: www.pse.com.ph
PSE HEAT MAP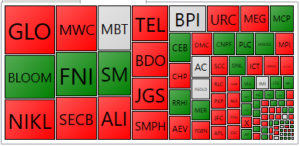 Screenshot courtesy of PSEGET
Top Ten Foreign Buying and Selling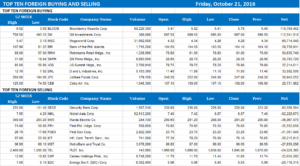 Top Ten in Total Traded Value
From now on, I will just quote the related article from Business World so that we will have everything in one piece:
==================================================
Earnings to drive market ahead of key US data
Posted on October 24, 2016
THE BELLWETHER INDEX is expected to hover within the 7,500 and 7,790 levels, in anticipation of much awaited earning reports as well as the fast approaching US elections, analysts said.
The Philippine Stock Exchange index (PSEi) capped the market last Friday at 7,650.22, seeing a 261-point boost or 3.53% from the week before.
On Oct. 21 alone, the PSEi fell 63.10 points or 0.82% to 7,650.22 — a decline attributed to a presidential pronouncement on a severing of ties with the United States.
Friday marked the day when President Rodrigo R. Duterte announced in a business forum in China that the Philippines would separate from the US — an announcement that he himself, along with members of his Cabinet, soon retracted to mean nothing more than lessening dependence on the western nation.
Analysts see external developments as the primary guidance for the movement of the market this week.
"[W]e expect the PSEi to move together with the international markets due to the lack of significant local catalysts… [E]xpect the PSEi to trade between 7,570 to 7,720," said BPI Asset Management in a weekly outlook.
For 2TradeAsia.com, immediate support is 7,600, secondary at 7,500, and resistance is at 7,700 to 7,750. "Expect sentiment to weather through swings in equities, as the market separates traders from investors towards the final stretch of 2016," it said in its weekly outlook.
"Investors have more to look forward to in Duterte administration's 10-point economic agenda, following the $13.5 billion estimated commercial alliance with China. The estimated amount compares to 2016's FDI (foreign direct investments) target of $6 billion, from January-July's $4.7-billion data," 2TradeAsia.com said.
"Meanwhile, radars will be up on sectors that would benefit, possibly infrastructure-tied & related sectors such as services, financials & property, aligned with the goal of this year's 6.5% GDP (gross domestic product)."
AB Capital Securities analyst Victor F. Felix said that this week will also be guided by the release of third-quarter corporate earnings reports of companies here and the US.
"I think we will be trading at the 7,500 to 7,700 range. If we breach the 7,700 resistance level this opens up our market to trade within the 7,700 and 7,900 range, he said in a phone interview. "We'll see if net foreign buying can be sustained in our markets."
Mr. Felix said other possible factors that may guide this week's market movement are the US crude oil inventory report, the US employment data and US preliminary GDP results.
Regina Capital Development Corp. Managing Director Luis A. Limlingan set the support at 7,580 and resistance at 7,730 then 7,790.
"[This] week may see some early window dressing and/or rebalancing mid-week before succumbing to profit taking by the end as the country gears up for an extended holiday," he said. — Roy Stephen C. Canivel
Source: http://www.bworldonline.com/content.php?section=StockMarket&title=earnings-to-drive-market-ahead-of-key-us-data&id=135268
==================================================
We aim to continue promoting financial literacy on the area of stock market trading and investing to our countrymen both here and abroad through the following:
1. The Book: "The Responsible Trader – a Thinking Person's Guide for Trading the Philippine Stock Market" now earned the name "The Bible of Philippine Trading." You can download Chapter 1, Section 1 of the book here: http://theresponsibletrader.com/the-responsible-trader-hope-for-trading-knowledge-test/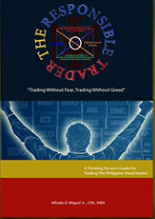 2. The Website: :http://www.theresponsibletrader.com where we publish our daily newsletter Top Ten Smart Money Moves, Stock Trading Lessons, and Inspirational Materials. (FREE)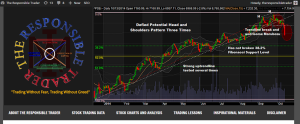 3. The YouTube Channel: https://www.youtube.com/theresponsibletrader – where you can learn the course "Master's Certificate in Technical Analysis" which was simplified in an easily understood manner. You can download these videos and learn them at your own convenient time. (FREE)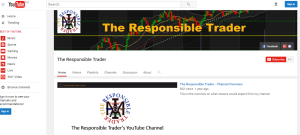 4. My Slideshare: http://www.slideshare.net/TheResponsibleTrader – where you can view and download copy of the Powerpoint Presentation of my TRT-POV (The Responsible Trader's Point of View) of the videos posted in our Youtube Channel. (FREE)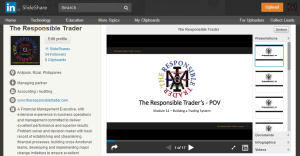 ===================================================
Good luck on all your TRADES today.
DISCLAIMER There is a very high degree of risk involved in TRADING. Past results are not indicative of future returns. Nothing contained in this newsletter constitutes a solicitation, recommendation, PROMOTION or endorsement of any security. In accordance with the Responsible TRADER's Creed: I will never tell and you take full responsibility for all your TRADING results
NOTES: Please take note of the following changes effective August 6, 2015: 1. Caption Market Breadth has been changed to Total Traded Value to simplify the presentation. 2. Market Breadth is expressed in terms of Number of Advances and Declines. Expressing this as a Ratio by using the larger number as Numerator we derive the Market Sentiment whether Bullish or Bearish. 3. Based on Past three-year data of Average Total Traded Values, following classifications will be used to make the presentation more relevant to present times. a. Low – Total Traded Value less than P8 Billion b. Medium – Total Traded Value P8 Billion but not more than P15 Billion c. High – Total Traded Value more than P15 Billion