Top Ten Smart Money Moves – October 26, 2016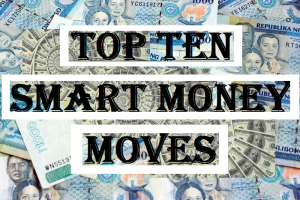 Top Ten Smart Money Moves, starting January 2015, is the official trading newsletter of The Responsible Trader to promote his advocacy, Responsible Trading. This newsletter contains the previous day's data from PSE, the Top Ten Foreign Buying and Selling, Top Ten in Total Traded Value, including Trading Notes based on the data of the previous day. This newsletter is given free to all the friends of The Responsible Trader and to members of the Facebook group and the other organizations where he is a member. For the previous issue where complete details about the newsletter was fully discussed, please refer to: Daily Top Tens October 17, 2014.
Trading Notes for Today –  (Based on October 26, 2016  Data)
Total Traded Value –  PhP  6.254 Billion – Low
Market Breadth and Sentiment indicated by Advances Declines Ratio – (Ideal is 2:1 to be considered Bullish or Bearish) 137 Declines vs. 56 Advances  = 2.45:1  Bearish
Total Foreign Buying – PhP 3.341  Billion
Total Foreign Selling – (PhP  3.954)  Billion
Net Foreign Buying (Selling) –(PhP  0.613  Billion) – 3rd day of of Net Foreign Selling after 3 days Net Foreign Buying
Data from the Philippine Stock Exchange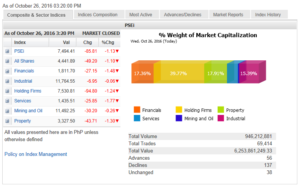 Screenshot courtesy of: www.pse.com.ph
PSE HEAT MAP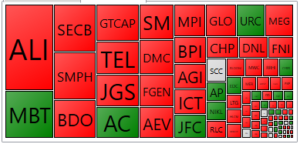 Screenshot courtesy of PSEGET
Top Ten Foreign Buying and Selling
Top Ten in Total Traded Value
From now on, I will just quote the related article from Business World so that we will have everything in one piece:
==================================================
Stocks extend decline as US equities end lower
Posted on October 27, 2016
THE STOCK MARKET went down for a fifth consecutive session, with the main index slightly breaching the 7,500 support level yesterday amidst lower US equities and oil prices.
The Philippine Stock Exchange index (PSEi) lost 85.81 points or 1.13% to close at 7,494.41. The broader all shares index slid 49.20 points or 1.09% to close at 4,441.89.
Analysts attributed the index's movement to investors' reactions to certain data that came out in the United States.
"Last night, US equities ended lower due to mixed corporate earnings results. So Asian markets took cue from US equities. It's also because oil prices dipped during Asian trading after data from the American Petroleum Insitute (API) showed higher than expected crude stocks," Victor F. Felix, analyst with at AB Capital Securities, said on Wednesday.
On Tuesday, Reuters reported API saying that US crude stocks rose by 4.8 million barrels in the week ended Oct. 21 versus a 1.7 million barrel build forecast by analysts polled by the media company.
"We still haven't fully breached the 7,500 support level so tomorrow (Thursday) we're going to reassess that. If we breach the 7,500 support level, that opens the market to a 7,300 support level. But a successful rebound tomorrow could bring our market back to the 7,700 level," Mr. Felix said.
Nicholas Antonio T. Mapa, associate economist of the Bank of the Philippine Islands, shared the same view. "Asian stocks retreated en masse as Wall Street turned weaker overnight due to poor 3Q (third quarter) earnings. Selling pressure was heightened as a heavyweight tech company posted poor earnings, having negative repercussions in Asia which supplies most of the company's components. Weak oil prices, which fell below $50/barrel also limited buying pressure," he said in an e-mail interview.
"Stocks will remain pressured and be captive to global developments with a data dump later from the US tonight (trade balance and inventories). Market will also be on deck awaiting 3Q GDP numbers from the United States for more clarity on the Fed rate hike timing."
All indices were in the red yesterday, with services posting the steepest drop, losing 1.76% or 25.85 points to close at 1,435.51.
Financials followed with a 1.47% loss or 27.15 points to close at 1,811.7; property skidded 1.29% or 43.71 points to close at 3,327.50; holding firms slid 1.24% or 94.80 points to close at 7,530.81; mining & oil edged down 0.26% or 30.20 points to close at 11,492.25; while industrials dropped 0.05% or 6.95 points to close at 11,764.55 yesterday.
Value turnover slid to P6.25 billion after 946.21 million shares changed hands on Wednesday, from P6.54 billion worth on Tuesday.
There were 137 losers, 56 winners, while 38 were flat.
Foreign investors were net sellers yesterday at P613.26 million, nearly double of Tuesday's net purchases of P324.41 million. — RSCC
Source: http://www.bworldonline.com/content.php?section=StockMarket&title=stocks-extend-decline-as-us-equities-end-lower&id=135465
==================================================
We aim to continue promoting financial literacy on the area of stock market trading and investing to our countrymen both here and abroad through the following:
1. The Book: "The Responsible Trader – a Thinking Person's Guide for Trading the Philippine Stock Market" now earned the name "The Bible of Philippine Trading." You can download Chapter 1, Section 1 of the book here: http://theresponsibletrader.com/the-responsible-trader-hope-for-trading-knowledge-test/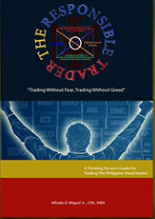 2. The Website: :http://www.theresponsibletrader.com where we publish our daily newsletter Top Ten Smart Money Moves, Stock Trading Lessons, and Inspirational Materials. (FREE)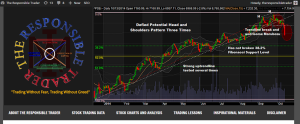 3. The YouTube Channel: https://www.youtube.com/theresponsibletrader – where you can learn the course "Master's Certificate in Technical Analysis" which was simplified in an easily understood manner. You can download these videos and learn them at your own convenient time. (FREE)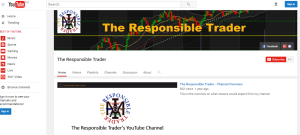 4. My Slideshare: http://www.slideshare.net/TheResponsibleTrader – where you can view and download copy of the Powerpoint Presentation of my TRT-POV (The Responsible Trader's Point of View) of the videos posted in our Youtube Channel. (FREE)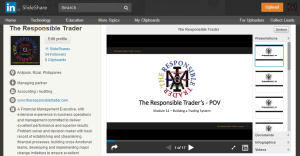 ===================================================
Good luck on all your TRADES today.
DISCLAIMER There is a very high degree of risk involved in TRADING. Past results are not indicative of future returns. Nothing contained in this newsletter constitutes a solicitation, recommendation, PROMOTION or endorsement of any security. In accordance with the Responsible TRADER's Creed: I will never tell and you take full responsibility for all your TRADING results
NOTES: Please take note of the following changes effective August 6, 2015: 1. Caption Market Breadth has been changed to Total Traded Value to simplify the presentation. 2. Market Breadth is expressed in terms of Number of Advances and Declines. Expressing this as a Ratio by using the larger number as Numerator we derive the Market Sentiment whether Bullish or Bearish. 3. Based on Past three-year data of Average Total Traded Values, following classifications will be used to make the presentation more relevant to present times. a. Low – Total Traded Value less than P8 Billion b. Medium – Total Traded Value P8 Billion but not more than P15 Billion c. High – Total Traded Value more than P15 Billion