Top Ten Smart Money Moves – September 16, 2016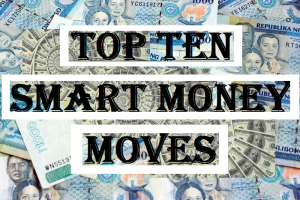 Top Ten Smart Money Moves, starting January 2015, is the official trading newsletter of The Responsible Trader to promote his advocacy, Responsible Trading. This newsletter contains the previous day's data from PSE, the Top Ten Foreign Buying and Selling, Top Ten in Total Traded Value, including Trading Notes based on the data of the previous day. This newsletter is given free to all the friends of The Responsible Trader and to members of the Facebook group and the other organizations where he is a member. For the previous issue where complete details about the newsletter was fully discussed, please refer to: Daily Top Tens October 17, 2014.
Trading Notes for Today – (Based on September 16, 2016 Data)
Total Traded Value – PhP 13.800 Billion – Medium
Market Breadth and Sentiment indicated by Advances Declines Ratio – (Ideal is 2:1 to be considered Bullish or Bearish) 102 Declines vs. 78 Advances   = 1.31:1 Neutral
Total Foreign Buying – PhP 8.463 Billion
Total Foreign Selling – (PhP 10.114) Billion
Net Foreign Buying (Selling) (PhP 1.651) Billion – 17th day of Net Foreign Selling after a day of Net Foreign Buying
Data from the Philippine Stock Exchange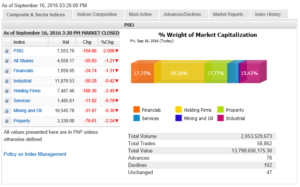 Screenshot courtesy of: www.pse.com.ph
PSE HEAT MAP
Screenshot courtesy of PSEGET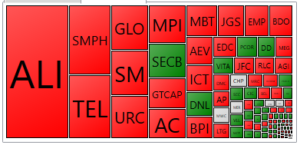 Top Ten Foreign Buying and Selling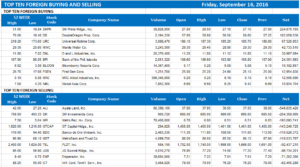 Top Ten in Total Traded Value
From now on, I will just quote the related article from Business World so that we will have everything in one piece: ==================================================
Stocks to slide further ahead of policy meetings
By Keith Richard D. Mariano, Reporter
Posted on September 19, 2016
THE BENCHMARK INDEX may continue sliding towards the 7,300 line this week, as investors keep a close watch on central banks, particularly the Federal Reserve that will decide on what could be the second rate hike in the United States since the recession.
"We are moving into what we may refer to as the 'central bank week'," A&A Securities, Inc. Head of Market and Research Justino B. Calaycay, Jr. said in a weekly market note.
The Bank of Japan (BoJ) is scheduled to meet on Sept. 20-21, followed by the Federal Open Market Committee (FOMC) in Washington on Sept. 20-21 and the European Central Bank's (ECB) non-monetary policy meeting on Sept. 21-22. The Bangko Sentral ng Pilipinas is also reviewing policy on Sept. 22.
"Markets have been focused on this period with mixed expectations — waiting for more stimulus from the BoJ and the ECB while holding their breath over prospects of upward rate adjustments by the US Federal Reserve," Mr. Calaycay said.
In a weekly outlook, 2TradeAsia.com pointed out that retail sales, industrial production and other macroeconomic data from the US have weakened the case for the upward adjustment of interest rates in the world's largest economy.
"Note that, however, the BoJ is also set to have its meeting and uncertainty is budding as policy makers are still divided whether to reduce their easing policies or to make its bond-buying program more flexible," it said.
The online brokerage pegged the immediate support and resistance of the Philippine Stock Exchange index (PSEi) at 7,500 and 7,700 for the week.
BPI Asset Management, meanwhile, placed the support level between 7,300 and 7,400. It expects the local market to continue falling amid the central bank meetings also expected to bring volatility across global equities.
"Investors are waiting for a clear policy direction from the Fed after economic data remained mixed," it noted. "Volatile trading will ensue [this] week unless US [consumer price index] for August disappoints significantly."
The uncertainty surrounding the timing of another rate hike in the US helped keep the local stock market in the negative territory last week.
The PSEi lost another 28.03 points or 0.37% to settle at 7,553.76 on Friday, as investors cashed in earlier gains amid the uncertainty over the FOMC meeting as well as the geopolitical concerns arising at home.
Foreign investors maintained a net selling position during the week at P4.25 billion, more than half the P7.20 billion recorded in the Sept. 5-9 period.
"The gains since [President Rodrigo R.] Duterte took office at noon of June 30, which at one point stood at 3.92%, has been wiped out," A&A Securities' Mr. Calaycay noted.
Source: http://www.bworldonline.com/content.php?section=StockMarket&title=stocks-to-slide-further-ahead-of-policy-meetings&id=133576
==================================================
THANK YOU VERY MUCH FOR YOUR SUPPORT! WE MADE IT TO THE TOP FIVE
Voting for the Angat Pilipinas Coalition for Financial Literacy Polls ended last night and we are glad to inform you that with your support, we were able to make it to the Top 5 in our Category – "Influential Author or the Year." Apart from the online polls, there will still be judging of the Top 5 nominees for each category with most number of votes. The judges will come from three different independent institutions. We would like to thank you for your Support. Win or Lose, we did our Best and that is the most important thing. More than the votes we received a lot of encouragement and these keep us going in our advocacy: Responsible Trading. Again, from me and The Responsible Trader_com: Maraming salamat po sa inyong walang sawang pagtangkilik at umaasa kami ng mas maganda pang samahan ngayon, bukas at magpakailanman.
1. The Book: "The Responsible Trader – a Thinking Person's Guide for Trading the Philippine Stock Market" now earned the name "The Bible of Philippine Trading." You can download Chapter 1, Section 1 of the book here: http://theresponsibletrader.com/the-responsible-trader-hope-for-trading-knowledge-test/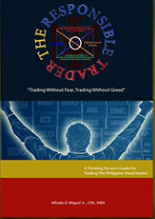 2. The Website: :http://www.theresponsibletrader.com where we publish our daily newsletter Top Ten Smart Money Moves, Stock Trading Lessons, and Inspirational Materials. (FREE)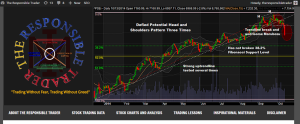 3. The YouTube Channel: https://www.youtube.com/theresponsibletrader – where you can learn the course "Master's Certificate in Technical Analysis" which was simplified in an easily understood manner. You can download these videos and learn them at your own convenient time. (FREE)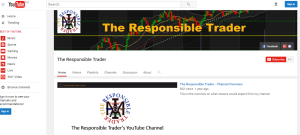 4. My Slideshare: http://www.slideshare.net/TheResponsibleTrader – where you can view and download copy of the Powerpoint Presentation of my TRT-POV (The Responsible Trader's Point of View) of the videos posted in our Youtube Channel. (FREE)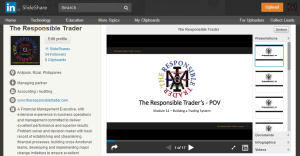 ===================================================
Good luck on all your TRADES today.
DISCLAIMER There is a very high degree of risk involved in TRADING. Past results are not indicative of future returns. Nothing contained in this newsletter constitutes a solicitation, recommendation, PROMOTION or endorsement of any security. In accordance with the Responsible TRADER's Creed: I will never tell and you take full responsibility for all your TRADING results
NOTES: Please take note of the following changes effective August 6, 2015: 1. Caption Market Breadth has been changed to Total Traded Value to simplify the presentation. 2. Market Breadth is expressed in terms of Number of Advances and Declines. Expressing this as a Ratio by using the larger number as Numerator we derive the Market Sentiment whether Bullish or Bearish. 3. Based on Past three-year data of Average Total Traded Values, following classifications will be used to make the presentation more relevant to present times. a. Low – Total Traded Value less than P8 Billion b. Medium – Total Traded Value P8 Billion but not more than P15 Billion c. High – Total Traded Value more than P15 Billion