Top Ten Smart Money Moves – September 19, 2016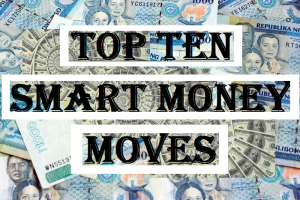 Top Ten Smart Money Moves, starting January 2015, is the official trading newsletter of The Responsible Trader to promote his advocacy, Responsible Trading. This newsletter contains the previous day's data from PSE, the Top Ten Foreign Buying and Selling, Top Ten in Total Traded Value, including Trading Notes based on the data of the previous day. This newsletter is given free to all the friends of The Responsible Trader and to members of the Facebook group and the other organizations where he is a member. For the previous issue where complete details about the newsletter was fully discussed, please refer to: Daily Top Tens October 17, 2014.
Trading Notes for Today – (Based on September 19, 2016 Data)
Total Traded Value – PhP 7.214 Billion – Low
Market Breadth and Sentiment indicated by Advances Declines Ratio – (Ideal is 2:1 to be considered Bullish or Bearish) 101 Declines vs. 90 Advances   = 1.12:1 Neutral
Total Foreign Buying – PhP 3.805 Billion
Total Foreign Selling – (PhP 4.697) Billion
Net Foreign Buying (Selling) (PhP 0.892) Billion – 18th day of Net Foreign Selling after a day of Net Foreign Buying
Data from the Philippine Stock Exchange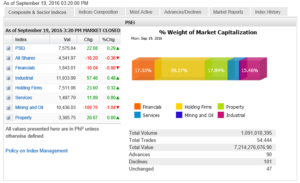 Screenshot courtesy of: www.pse.com.ph
PSE HEAT MAP
Screenshot courtesy of PSEGET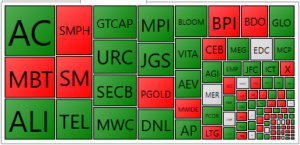 Top Ten Foreign Buying and Selling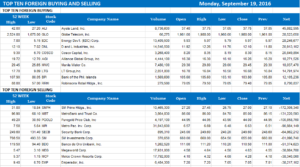 Top Ten in Total Traded Value
From now on, I will just quote the related article from Business World so that we will have everything in one piece: ==================================================
Stocks mixed as investors eye Fed, BoJ meetings
By Keith Richard D. Mariano, Reporter
Posted on September 20, 2016
STOCKS ended mixed on Monday as foreign investors await clarity on the monetary policies of the United States and Japan and as players took advantage of the cheap prices to expand their shareholdings later in the session.
The benchmark Philippine Stock Exchange index (PSEi) recovered 22.08 points or 0.29% to 7,575.84 while the broader all-shares dropped 16.20 points or 0.35% to 4,541.97 amid thin trading.
Investors stayed on the sidelines ahead of the policy meeting of the Federal Reserve in Washington on Sept. 20-21, Jonathan J. Latuja, research analyst at Unicapital Securities, Inc., noted in a mobile phone message.
"The market's just trying to hold the range while investors wait for the Fed meeting. The volume today (Monday) was relatively dry, hinting that market participants opted to stay in the sidelines amid the uncertainty," Mr. Latuja said.
Foreign investors, in particular, are watching out for the policy meeting of the Bank of Japan (BoJ) on Sept. 20-21 alongside that of the US central bank, Victor F. Felix, equity analyst at AB Capital Securities, Inc., noted separately.
Uncertainty prevailed in the local stock market in morning trade, with the PSEi losing as much as 33.95 points or 0.45% to touch an intraday low of 7,519.81.
The PSEi would eventually bounce back after local investors found an "entry point" to hunt for bargains, Mr. Felix said, with the main index rising to an intraday high of 7,576.84 toward the end of the session.
Property and services led the ascent, rising by 26.67 points or 0.79% to 3,365.75 and by 11.89 points or 0.80%to 1,497.70, respectively. The market also witnessed industrial stocks climb by 57.46 points or 0.48% to 11,933.99 and holding firms by 23.60 points or 0.31% to 7,511.06.
The mining and oil sector along with the financials counter, meanwhile, stayed in negative territory after losing 109.75 points or 1.04% to 10,436.03 and by 16.04 points or 0.86% to 1,843.01, respectively.
Decliners outpaced advancers, 101 to 90, while 47 names were unchanged.
Value turnover dropped to P7.21 billion, after 1.09 billion shares exchanged hands, from the P13.8 billion recorded on Friday with 2.05 billion issues traded.
Foreign investors dumped more shares on Monday. Net foreign selling, however, declined to P892.20 million from P1.65 billion the previous session.
AB Capital's Mr. Felix expects local stocks to continue trading sideways until the Federal Reserve decides on the implementation of another rate hike although the market has widely expected the US central bank to defer such action until December.
Regional markets could surge should the Fed refrain from increasing interest rates during its meeting this week, although "political noise" could temper such a rally in the Philippines, he said.
Source: http://www.bworldonline.com/content.php?section=StockMarket&title=stocks-mixed-as-investors-eye-fed-boj-meetings&id=133642
==================================================
THANK YOU VERY MUCH FOR YOUR SUPPORT! WE MADE IT TO THE TOP FIVE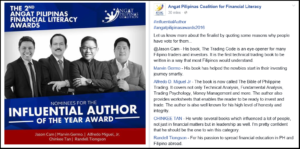 Voting for the Angat Pilipinas Coalition for Financial Literacy Polls ended last night and we are glad to inform you that with your support, we were able to make it to the Top 5 in our Category – "Influential Author or the Year." Apart from the online polls, there will still be judging of the Top 5 nominees for each category with most number of votes. The judges will come from three different independent institutions. We would like to thank you for your Support. Win or Lose, we did our Best and that is the most important thing. More than the votes we received a lot of encouragement and these keep us going in our advocacy: Responsible Trading. Again, from me and The Responsible Trader_com: Maraming salamat po sa inyong walang sawang pagtangkilik at umaasa kami ng mas maganda pang samahan ngayon, bukas at magpakailanman.
1. The Book: "The Responsible Trader – a Thinking Person's Guide for Trading the Philippine Stock Market" now earned the name "The Bible of Philippine Trading." You can download Chapter 1, Section 1 of the book here: http://theresponsibletrader.com/the-responsible-trader-hope-for-trading-knowledge-test/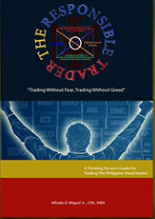 2. The Website: :http://www.theresponsibletrader.com where we publish our daily newsletter Top Ten Smart Money Moves, Stock Trading Lessons, and Inspirational Materials. (FREE)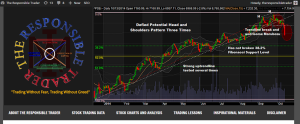 3. The YouTube Channel: https://www.youtube.com/theresponsibletrader – where you can learn the course "Master's Certificate in Technical Analysis" which was simplified in an easily understood manner. You can download these videos and learn them at your own convenient time. (FREE)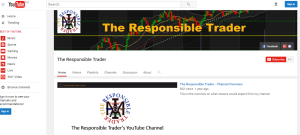 4. My Slideshare: http://www.slideshare.net/TheResponsibleTrader – where you can view and download copy of the Powerpoint Presentation of my TRT-POV (The Responsible Trader's Point of View) of the videos posted in our Youtube Channel. (FREE)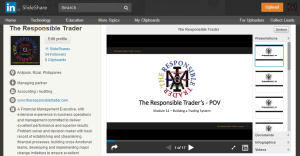 ===================================================
Good luck on all your TRADES today.
DISCLAIMER There is a very high degree of risk involved in TRADING. Past results are not indicative of future returns. Nothing contained in this newsletter constitutes a solicitation, recommendation, PROMOTION or endorsement of any security. In accordance with the Responsible TRADER's Creed: I will never tell and you take full responsibility for all your TRADING results
NOTES: Please take note of the following changes effective August 6, 2015: 1. Caption Market Breadth has been changed to Total Traded Value to simplify the presentation. 2. Market Breadth is expressed in terms of Number of Advances and Declines. Expressing this as a Ratio by using the larger number as Numerator we derive the Market Sentiment whether Bullish or Bearish. 3. Based on Past three-year data of Average Total Traded Values, following classifications will be used to make the presentation more relevant to present times. a. Low – Total Traded Value less than P8 Billion b. Medium – Total Traded Value P8 Billion but not more than P15 Billion c. High – Total Traded Value more than P15 Billion