What's in a Name – Part 2 – Responsible Trading – Is Just a Name
When I first introduced my advocacy in Stock Market Pilipinas,  all of the members responded enthusiastically to it.   Among the enthusiasts, two became very prominent and staunch supporters:   Bro INDO and Bro Shoegazer (I will  just use their usernames not their real names).  They consistently followed all my posts and wanted to know everything about it.
After posting everything about my Advocacy as I shared with on you (My Advocacy – Responsible Trading Parts 1,2 and 3) I started sharing trading lessons from videos on trading that I selected from YouTube.  Everytime I posted the videos, to encourage them to persevere and complete the lessons, I always said that at the end of the course, they will be able to develop their own trading system.  I told them that the lessons helped me a lot in developing my own trading system and although my Advocacy is called Responsible Trading, I call my trading system Ninjatrading meaning nimble and smart trading.  Nimble trading when I trade the "basuras" (penny stocks for 20% of my Portfolio) and smart trading when I trade the blue chips (80%) of my portfolio.  From time to time, they continued to ask me whether I can share to them my trading system so that they can copy and also call it Ninjatrading.  They want to imitate everything I have done and pattern their system after mine.  I still remember sharing these words from Bruce Lee: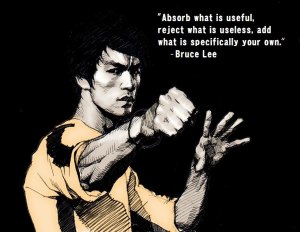 bruce lee image source:http://pixgood.com/bruce-lee-quotes-absorb-what-is-useful.html
Please allow me to digress a bit from my topic. This famous saying attributed to Bruce Lee is a perfect example of what he said.  Let us translate in context (not verbatim)  what he said in Filipino:
Absorb What Is Useful  in Filipino means "Pulutin ang Mabuti"
Reject What Is Useless in Filipino means "Ang Masama ay Iwaksi"
I guess my readers already know the point I am trying to drive at.  The above words are what we usually hear from our parents when they want to give us sound advice.  I guess the above phrases were the influence of a Filipino, Mr. Dan Inosanto, the best friend of Bruce Lee.  And here is where Bruce Lee became original.  He added:  " add what is specifically your own."
I gave the same advice to Bro INDO and Bro Shoegazer.  Still following the elements of Responsible Trading, they have now adapted Responsible Trading and added what is specifically their own:
For Bro INDO he calls his trading system  IT2W – Indotrading2Win www.indotradingtowin.blogspot.ae and he even wears the Seal on his Blog: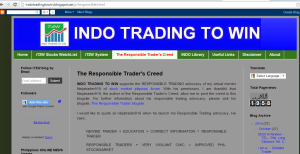 This is what BRO INDO has to say:
"I started my trading/investing journey in Philippine Stock market on September 2009. I don't have a formal education when I started, just a few words shared by my friend. I didn't even attend a seminar but I learned a lot by asking questions in stock market forums  (stock market pilipinas forum in particular) and reading a lot through the internet.
I am fortunate then when I started because the market somehow started to turn from bearish to bullish trend. I simply followed the stock that is the crowd's favorite as my friend suggested. Many times, I felt sorry for myself when I sell the stock and later noticed that its price continued to rise while I was holding onto the stocks with prices continuously going down. However, I can say that my early years of experience in stock market is not that frustrating, I still managed my account with some profit.
I felt relieved when The Responsible Trader himself, Bro Ninjatrader919, became a member in Stock Market Pilipinas forum and launched his advocacy. I still remember, I was like a child asking him all the questions that came to my mind.  Some questions might have sounded stupid but Bro Ninja was so kind to patiently answer all my queries and clarified all my doubts. I was determined then to follow his advocacy whatever it took me. I discovered lately, being a Responsible Trader, has so many advantages in our journey. This includes, more time with my family because I don't need to be frequently in front of my pc. I am not worried whatever happen to the stock I  am holding. This makes my trading/investing life easy, stress-free and even makes my trading journey fun and full of excitement."
For Bro Shoegazer he calls it Shoegaze Trading http://shoegazer812.wordpress.com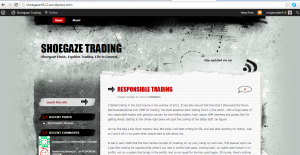 This is what he has to say:
"I started trading in the local bourse in the summer of 2012. It was also around that time that I discovered the forum stockmarketpilipinas.com (SMP for brevity), the most awesome stock trading forum in the world,  with a huge roster of very responsible traders with genuine concern for their fellow traders, both regular SMP members and guests. But I'm getting ahead. Getting to the climax right away will spoil the coming of the better stuff. Go figure!
Let me first take a trip down memory lane. But today I will start writing for life, and also start rewriting my history. Just so I won't roll in my grave when people start to talk about me.
It was in early 2008 that the then remote concept of investing on my own, being my own man, first dawned upon me. I was then looking for opportunities where I can rake in profits right away. Looking back, my sights were locked in on profits, not on a system that brings in the profits. And so my quest for the holy grail began. Of course, there's nothing more convenient than searching almost everything on the internet.  It was through hours of browsing that I bumped into CitisecOnline (now COL Financial, or simply, COL). But alas, nothing came out of it. I resumed going about with my old miserable routine. Work, spend, work, spend. Tiring. Boring.
In 2011, I went home to the province for a well-deserved vacation. Well, getting away from the hustle and the bustle of the Metro is already a well-deserved vacation.
On one fine day… Nah.
On one rough night, under the influence of Ginebra and Marlboro Reds, and when sleep was elusive, too many thoughts were spinning in my head. Lying in bed just didn't do the trick. In an attempt to shake it off, I turned to my antiquated phone for comfort, trying to look for anything that could keep me both calm and busy. After spending useless minutes of intermittent web surfing and dozing off, I almost gave up. However, just when I was about to sleep my melancholy off, I was able to find a website on stock trading, stockmarketero.com. I couldn't Google it now. But if my memory serves me right, it tells me it's something like that. From there, I ended up at the website of COL.
When I got back to Manila, I immediately opened an account with COL. Then hell broke loose. But again, I'm getting ahead. Let me first tell a tale about three friends who treat trading like it's a plague.
When 2011 was drawing to a close, I tried to invite a lawyer-friend and an insurance agent to try stock trading. My lawyer-friend bluntly stopped me at my tracks. He said he doesn't have time for stock trading since he has several businesses to look after. The insurance agent showed more interest but ended up brushing my offer off. I wasn't discouraged. I also invited my officemates to try it out. My two officemates and I even had to invite a newly minted financial analyst cum stock trader to teach us how to do it. We paid a little over 1,000 pesos each for the three-hour session. It was only I who really showed keen interest in trading. When I started to trade and by a stroke of good fortune I was able to gain handsomely on a hot stock at the time, I showed my humble portfolio to one of them. I couldn't forget how he reacted to it. Although it was beginner's luck, I had the temerity to ask him whether I should lock in my profits. He said I should ride it out. I followed him, blindly. But I only told him that I rode it out and sold near the highs. I never told him that I bought back at the highs and was devastated that my gains and fresh funds infused into that wonderful stock were all reduced to smithereens. I can only laugh about it now. What a pest.
Months into my foray into the world of stock trading, I invited another officemate to give stock trading a try. He brushed me off right away, telling me sarcastically that he will never get into gambling. I tried to explain to him that it's not gambling. But to no avail. It's hard to accept why some people say a lot of sill things if they don't or refuse to understand a relatively new concept. A few months after that fateful incident, he approached me and told me that his lady friend got into stock trading and her bank account's beginning to gain weight. But he never really gave stock trading a try. I can't figure out whether it's his loss or mine. Mine, because perhaps I wasn't that persuasive enough to explain to him how trading works. Or his, because maybe he missed out on an opportunity to gain more friends in the crazy but truly exciting world of equities trading.
In 2012 and this year, I attended two technical analysis seminars spearheaded by one of the pioneers of SMP, Mr. GinhawaIbibigay, arguably the best daytrader in the land, who, of late, gave up daytrading in favor of position trading. I also devoured countless hard and soft copies of books on trading. And so I thought I was ready to daytrade. I was beginning to feel confident. I even had the temerity to shepherd fellow greenhorns on SMP who are glued to their monitors practically the entire day. I began trading almost everyday. Thanks, but no thanks, to my newfound knowledge and confidence, my dwindling minuscule capital has slowly been getting close to a whopping negative 50%!
When my friend at SMP, Ninjatrader919, who now goes by the name The Responsible Trader, invited everyone on SMP to like his page on Facebook and follow him, I immediately followed the herd.
Today, I will start to abide by his creed. I shall now forever be one of his most loyal followers. I know someday I will be able to recoup my losses. One step at a time. I could only think about an excruciating journey. But I strongly believe that I am prepared for the long hike. I may have fallen, been bruised and left for dead, but I am trying to slowly get back up on my feet. Although it's been days since I followed The Responsible Trader on Facebook, it was only today that I decided to bury my old self. And to eventually rise from the ruins of my own folly. To become resurrected like the Phoenix. And the only way to do it is the Ninja Way – Responsible Trading.
Everyone says there is no holy grail in trading. I beg to disagree. There is –RESPONSIBLE TRADING."
Just for the sake of self evaluation, this is a movement not an organization, a trader may consider himself either as a Supporter or Practitioner.  A Supporter is one who understands and follows but does not practice.  A Practitioner, on the other hand is a Supporter who has gradually learned to understand, accept, follow and practice the four elements of Responsible Trading.  Along this line Bro INDO and Bro Shoegazer consider themselves as Practitioners.
One time I made a post and stated that "Maski basurero pwede ring maging Responsible Trader". And I got a reply that the basureros (those who trade penny stocks are the most responsible traders because they already  know all the elements of  Responsible Trading even before I came up with the advocacy.  No argument on this one. As long as you put all the elements into practice, it does not matter what you call it.  I cannot walk to Bro Spyfrat and tell him that his 50 SMA Kiss System is Responsible Trading.  As far as trading is concerned, Bro Spyfrat is an elder and I am just a toddler since he is already well known in Philippine trading even before I started my trading career.  I only started my trading career after I left the corporate world to pursue my public practice in consultancy.
I am glad that my advocacy is slowly getting traction in the world of trading. I am happy when at times I get quoted by some traders when they make their posts in forums.  Please allow me to quote:  "Ayon nga kay The Responsible Trader, it is the trader's choice to pick the stocks and the entry and the exit. Wag niyo kong sisisihin kapag deadball ang FOO price. pareparehas lang tayo. Hindi ko alam kung magkano ang FOO price. – Ms Nikki Yu"
Responsible Trading, my Advocacy is universal and it is offered to everyone without exception.  I If you feel you can benefit from it take it.  If you feel that it will not benefit you in any way, leave it as is and please do not destroy it.  The ultimate test of an idea is whether it can withstand the test of time. Let us all move on and move forward and just let Time be the final judge.
What's in a name?  Please allow me to end, with another quote from Bruce Lee: (just replace the words "Jeet Kune Do" and "Gung Fu" with Responsible Trading.)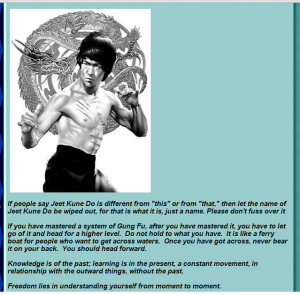 bruce lee image source: http://jeetkunedoindia.tripod.com/id30.html
Please join me in a never-ending journey as we truly become Responsible Traders.